Opening of News Center for Tsuneishi Group~Collecting and Disseminating Information from Tsuneishi Group Companies
May 2, 2014
[Services]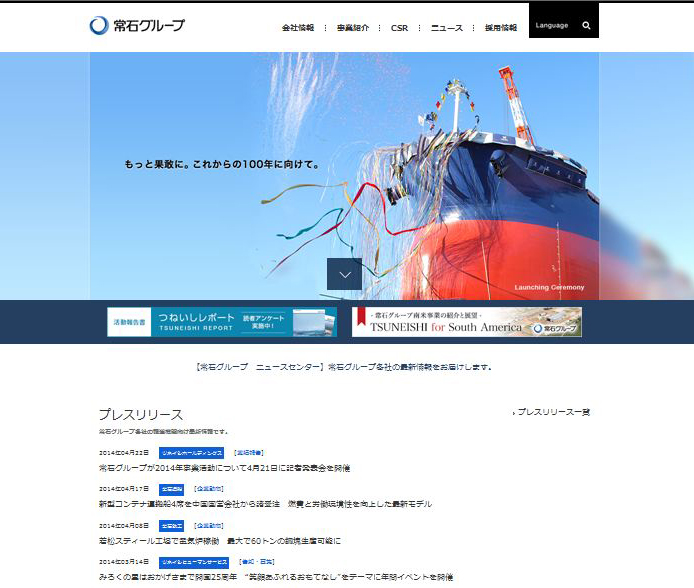 Tsuneishi Holdings (head office: Fukuyama city, Hiroshima. Representative Director, Chairman, and President: Yasuharu Fushimi), whose core companies are Tsuneishi Shipbuilding and Kambara Kisen, has renewed and reopened the Tsuneishi Holdings website as the Tsuneishi Group News Center, so that news about activities in the Tsuneishi Group can reach an even greater number of people.■ Tsuneishi Group News Center website
https://www.tsuneishi-g.jp
As a news center for the Tsuneishi Group, this site presents information about Tsuneishi Shipbuilding which builds bulk carriers, container carriers, and the like, Kambara Kisen which provides transport services such as on regular container routes between Japan and China, Tsuneishi Kamtecs which is aiming for complete recycling of waste materials, and Tsuneishi Human Services which provides services rooted in local communities, as well as other Tsuneishi Group business activities and CSR activities in Japan and overseas.
This information is being presented in three languages: Japanese, English, and Chinese, so that Tsuneishi Group customers, employees, and their families at various overseas locations can better understand our business.
■ Features of Tsuneishi Group News Center
・Presents summaries of the activities of Group Companies as a News Center for the Tsuneishi Group
・Provides press releases, more frequently updated news topics, and up-to-date information
・Is optimized for various display terminals to provide information that can be viewed by many people
・Includes buttons for sharing on social media and enhanced delivery of videos about our business
Tsuneishi Holdings Corporation
Representative Director, Chairman, and President: Yasuharu Fushimi
Head office: 1083 Tsuneishi, Numakuma-cho, Fukuyama City, Hiroshima Prefecture
Business: Since its founding in 1903, the Tsuneishi Group has been globally active in the Philippines, China, and elsewhere in four business segments: shipbuilding, shipping, environment & energy, and services; with products and services that contribute to global economic development and provide jobs in local communities.
- For inquiries regarding this matter, contact: -
Tsuneishi Holdings Corporation
Marketing Communication Dept.
pr@tsuneishi.com
Related URL:https://www.tsuneishi-g.jp