Tsuneishi Group Commercial wins a silver medal in the Broadcaster Association Commercial Competition
October 21, 2010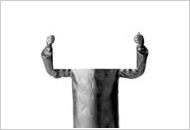 A commercial produced by the Tsuneishi Group has won an ACC Silver Medal in the radio section of the All Japan Radio & Television Commercial Confederation "ACC CM Festival."
The commercial, broadcast on Saturday nights during the 11pm program presented by Keisuke Kuwata, takes the Tsuneishi Shipbuilding Company as its theme.
Yoshiro Furue, a team leader in the manufacturing division at the Tsuneishi Factory of Tsuneishi Shipbuilding Company, takes part in the commercial. He plays the part of a legendary welder talking about welding with a group of younger employees at a local drinking establishment. The event, the largest Japanese commercials competition, is taking place this year for the 50th time. The awards ceremony will take place on November 1st at The Prince Park Tower Tokyo in Tokyo, with the presence of the Minister of Public Management, Home Affairs, Posts and Telecommunications. You can listen to ACC here .