TESS45 Subsequent Model "TESS45BOX" First Ship Launches from Group Shipyard in China
May 7, 2014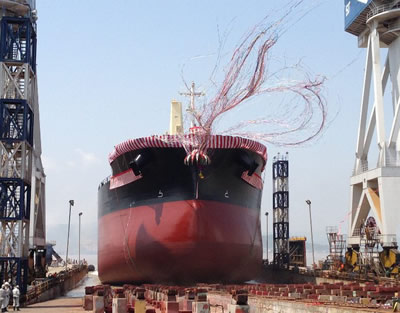 On April 30, Tsuneishi Shipbuilding Co., Ltd. (head office: 1083, Tsuneishi, Numakuma-cho, Fukuyama city, Hiroshima, Representative Director and President: Takao Kawamoto) held a launching ceremony for the first of a new type of ship, the TESS45BOX (45,400-ton box-type bulk carrier), in the group company Tsuneishi Group (ZHOUSHAN) Shipbuilding Inc. (hereafter, Tsuneishi Group (Zhoushan) Shipbuilding).
TESS45BOX is a new developed ship subsequent to the TESS45 45,000-ton bulk carrier, of which a total of 69 vessels had been built since the 1990s. She covers the diversified patterns of calling at port for bulk carriers ranging from 37,000 to 45,000 tons. At 183 meters in length, this new model is 3 meters shorter than the TESS45 (45,000 ton type bulk carrier), and this more compacted size enables to satisfy of more flexible combinations of port calls. A new box shape (for box-shaped cargo) has been adopted in this model, to enable to fix to the requirement of high efficient loading and shipment not only of bulk cargo such as grain and coal but also of square-shaped cargo such as pulp and steel products such as pipes. This increases value for customers, such as by making it easy to load and unload cargo through the wide access area by increasing of the efficiency in cargo handling and maintenance. Also, various improvements in hull shape and environment devices over the 30 year development of the TESS※1 Series have been introduced, and these have resulted in a more energy-saving vessel, which has about 13% higher fuel efficiency than the one of TESS45.
TESS45BOX was developed and reintroduced to the market in 2011, and seven orders of this type ship have been received so far (as of the end of April 2014). The first vessel to be built is one of three that were ordered in April 2012 by an amicable overseas ship owner. This ship was successfully launched in the view of the ship owner and representatives of Tsuneishi Group (Zhoushan) Shipbuilding at 11:25 AM on April 30, and will be completed in early June 2014. Other two more vessels of the same type are under construction at Tsuneishi Group (Zhoushan) Shipbuilding and are scheduled to be completed in 2014.
*1 Tsuneishi Economical Standard Ship. The first ship in this series was a TESS40 (40,000 ton type bulk carrier) built in 1984. After that, variation was increased in the TESS45, TESS52, and TESS58 models, and in January 2012 the 300th ship in the Handymax Series was completed.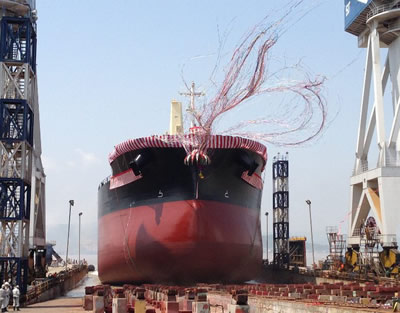 About the first TESS45BOX
■ Main particulars
Type
45,400MT type bulk carrier
Length
183 meters
Breadth
30.4 meters
Depth
16.5 meters
Deadweight
45,400 metric tons
Gross tonnage
27,700 tons
Cargo access area size

Cargo hold No. 1:
16.8 meters (L) ×18.4 meters (W)
Cargo hold No. 2 to 5:
20 meters (L) × 25.2 meters (W)

Main Engine
Mitsui MAN B&W diesel engine 6S50MC-C8.2
Service speed
14 knots
Shipyard
Tsuneishi Group (ZHOUSHAN) Shipbuilding Inc.
■Features
Equipped with "MT-FAST" multiple-wing structure that attaches to the front part of the propeller. This improves propulsion efficiency by smoothing out water flow. Co-developed with MTI, a Nippon Yusen Group company.
Applied with "SEAWORTHY" system for reducing wave resistance in the bow, which allows the sea margin (for increased wave resistance) to be reduced by as much as 5%. This was jointly developed with Hiroshima University.
Equipped with accommodation shaped to reduce wind resistance. This was also jointly developed with Hiroshima University.
Strongly reinforced bottom enables loading of heavy objects such as steel products.
Standard-equipped with ballast water treatment equipment.
- For inquiries regarding this matter, contact: -
Tsuneishi Holdings Corporation
Marketing Communication Dept.
Headquarters (Fukuyama) Shimizu or Onishi, TEL: 084-987-4915
Tokyo Office: Sakakieda, TEL: 03-3264-7733