Japan's first resort complex for cycling enthusiasts Onomichi U2 to open on March 22nd
February 13, 2014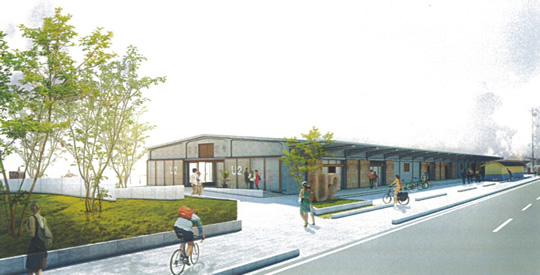 Tsuneishi Human Services and DiscoverLink Setouchi announce the grand opening on March 22, 2014, of Onomichi U2, Japan's first resort complex offering a complete range of services for cycling enthusiasts, located in Onomichi, Hiroshima Prefecture, at the Honshu terminus of the well-known Setouchi Shimanami Kaido Cycling Road.
Onomichi U2 features a complete range of services for cycling enthusiasts, centered around the Hotel Cycle, a hotel designed exclusively for cyclists and the first in Japan at which guests can actually check in while on their bicycles and store their rides in their room. In addition, the Giant Store, featuring products by Giant Bicycles, provides support for safe and enjoyable cycling trips with rentals of authentic sports bikes as well as expert maintenance performed in store by skilled staff members. And the Yard Cafe has a unique "cycle-through" system, where guests can purchase finger food and special drinks that can be consumed while riding. Onomichi U2 is the perfect place for cycling enthusiasts to spend their leisure time.
Formerly the site of maritime warehousing, Onomichi U2 is now a 2,000 m² resort complex featuring a restaurant, bar, cafe, bakery, retail shop, and event facility. It is one of the latest attractions added to the Onomichi West Bay Area.
<Overview of facilities>
■Onomichi U2
Address :

5-11, Nishigoshocho, Onomichi, Hiroshima 722-0037 Japan

Facilities:

The Hotel Cycle, where guests can store their bikes in their rooms
The Giant Store, featuring Giant Bicycles
The Restaurant, featuring seafood from the Seto Inland Sea
The Yard Cafe, where cyclists can use the "cycle-through" system
The Butti Bakery, featuring bread made with natural Leuven yeast
The U2 Shima Shop, featuring daily amenities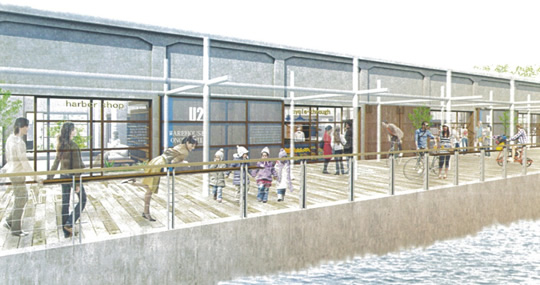 <Management>
■TSUNEISHI HUMAN SERVICES Inc.

<Operation>
■DISCOVERLINK SETOUCHI Inc.

― Contact Information ―
[Onomichi]
DISCOVERLINK SETOUCHI Inc.
Onomichi U2 Office
TEL:0848-21-2299
[Tokyo]
TSUNEISHI HOLDINGS CORPORATION
Marketing Communications Dept., Tokyo office
TEL:03-3264-7733