Research paper on discovery of an anchor chain's swirling phenomenon won "Research Paper Award by The Japan Society of Naval Architects and Ocean Engineers"~Achieved by joint research with Hiroshima University~
June 1, 2012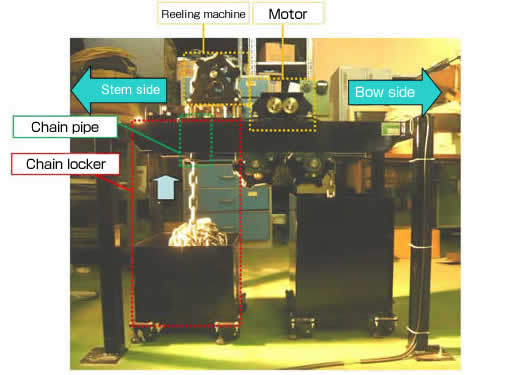 The research paper on "Lateral vibration of a rising anchor chain" based on "Discovery of an anchor chain's swirling phenomenon" which Graduate School of Engineering at Hiroshima University (hereinafter called Hiroshima University) and Tsuneishi Shipbuilding Co., Ltd. (hereinafter called Tsuneishi Shipbuilding Company, CEO: Takao Kawamoto) collaborated on has won a "2012 Research Paper Award by The Japan Society of Naval Architects and Ocean Engineers." This paper was evaluated and received an award for its dramatic revelation of a swirling phenomenon which was not clear and showed preventive measures, and it was a good example of cooperation between industry and academia, achieving good results for Hiroshima University and Tsuneishi Shipbuilding Company.
This anchor chain's swirling phenomenon had been researched since 2007 to resolve a problem caused when the anchor chain swings inside the chain locker and damages the locker wall during anchoring. We analyzed data by introducing the model test machine which can replicate the same phenomenon on an actual ship, and learned that the chain's length and the anchoring speed affect each other and sympathetic vibrations generate the swirling phenomenon. As a preventive measure, we suggested the  prevention of swirling phenomenon by lengthening the chain pipe to make the chain seem shorter, and minimizing the lateral vibration amplitude to prevent sympathetic vibration. Reducing the risk of damage to the locker wall contributes to higher quality shipbuilding. This award is given for research paper, invention, or to an engineer who/which contributes to the development of maritime industries through new developments in technology or academic achievements in the field of naval architecture and ocean engineering. The award ceremony was held at Kobe City Industrial Development Center on May 17th.
In 2004, Hiroshima University and Tsuneishi Shipbuilding Company concluded a comprehensive collaborative research treaty to co-develop technologies for environmental preservation and the design and building of ships. We'll continue research so that we can contribute additional value to shipbuilding and improve quality through this collaborative research structure.
■Model test machine which replicates the anchor chain movement during anchoring (Scale size: 1/10)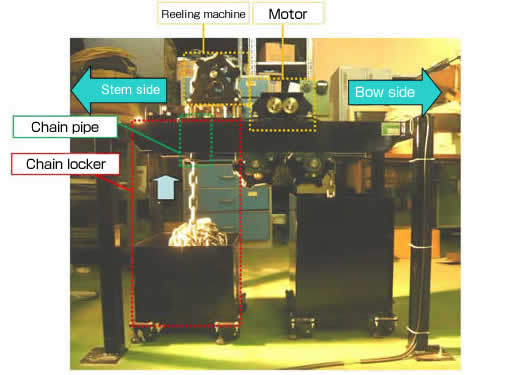 Experiment of anchoring a chain was performed 10-50 times per condition, by changing the chain pipe length and raising chain speed.
We confirmed chain movement with dots on the screen of the recorded movie. Then we graphed the results to discover the cause of chain's swirling phenomenon.
■To view this research paper, check the following URL: Journal of the Japan Society of Naval Architects and Ocean Engineers
 https://www.jstage.jst.go.jp/article/jjasnaoe/13/0/13_0_249/_article/-char/ja/
- Contacts for this information -
Tsuneishi Holdings Corporation
Company Communication/CSR Room
Shimizu/TEL: 084-987-4915