Large model ship at 1/10 scale of KAMSARMAX bulker, "Joushou-maru" has been completed for data collection while cruising at sea.The data collected will be used for product development.
September 29, 2011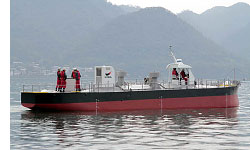 On September 29th, Tsuneishi Shipbuilding Co., Ltd. (CEO: Takao Kawamoto) completed construction of the "Joushou-maru," a large model ship at 1/10 scale of the original 82,000 ton bulk carrier "KAMSARMAX Bulker"*1 at Tsuneishi Repair Factory. While cruising at sea, it will collect a range of data including ocean and performance data to be used in future product development.
While cruising at sea, the Joushou-maru will be able to test new technology and measure the effects of wind, wave and tides, under almost the same conditions as a real ship. Generally, in developing a ship or marine structure, both CFD (Computational Fluid Dynamics) and tank test, using a scale model *2 are performed. But by using this ship, we can perform tests which are difficult to verify in a tank, and collect more accurate data by analyzing actual ocean data. Through this challenge, we'll improve product performance, enhancing fuel consumption, environmental capability, and operational profitability.
*1
It is named after the fact that the ship size complies with the port entry limit (maximum length, 229 meters) in KAMSAR port which is the major bauxite port in Guinea on the west coast of Africa. In 2002, this model was developed and became one of the Tsuneishi Shipbuilding Company's main products. The 100th ship was completed in February, 2011.
*2
A method of simulating actual phenomena, by analyzing the water flow. Using a scale model, current and resistance around the ship can be calculated using the computer.
Major Characteristics of large model ship
at 1/10 scale of KAMSARMAX Bulker, "Joushou-Maru"
| | |
| --- | --- |
| Type | Small boat |
| Name | Joushou-maru |
| Length x Breadth x Depth | About 22.9m x 3.23m x2 2.1m |
| Gross tonnage | 18 tons |
| Full draft | 1.44 m |
| Main engine | Electric motor (inverter control) |
| Max. passenger | 8 |
― Contact for this information ―
Tsuneishi Holdings Corporation
Company Communication/CSR Room: Imai
TEL: 084-987-4915