Tsuneishi Heavy Industries Cebu (THI) pays construction costs for the Balamban campus of University of San Jose Recoletos
July 16, 2009
The Philippines subsidiary company of TSUNEISHI Holdings Corporation (Head Office: 1083 Tsuneishi Numakuma-cho Fukuyama-city, Hiroshima, CEO: Katsushige Kambara), Tsuneishi Heavy Industries Cebu (THI) paid all construction costs, amounting to 300 million pesos (*2), to build a Balamban campus for the University of San Jose Recoletos (*1), with the aim of improving educational opportunities in the town of Balamban on Cebu island, a center of activities.
At THI's suggestion, THI, USJ-R, and Cebu Industrial Park Developers (*3) (CIPDI) signed a memorandum in July of 2008, and construction of the Balamban campus of the University of San Jose Recoletos began in September. Classes began in June of 2009. In this first year, 189 elementary school students (1st through 5th grade), 114 high school students (10th and 11th grade) were enrolled and are now studying hard. Next year, 6th, 12th and 13th grade classes will be added, and a technical college will open on the campus.
THI has supported development in Balamban through activities such as the construction of a food market, waterworks facility, a town hospital, and planting activities in mountains, all with the goal of becoming a shipbuilding company that grows along with its local community. Balamban's mayor Alex Binhai said, "THI has an enormous economic effect on the local area. Both local residents and the town itself are energized by the expansion of job opportunities and increased income."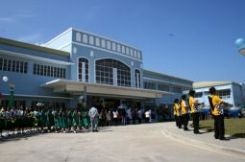 Opening ceremony of USJ-R Balamban campus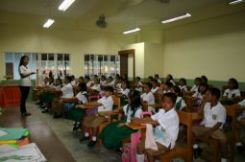 Classroom
*1: One of the premier private universities in the Philippines and Cebu state. The main campus is located in Cebu city.
*2: When the project was funded, the exchange rate was about 2.5 yen to the Philippine peso. Total costs came to about 750 million yen.
*3 A joint partnership of The Tsuneishi Group and local partner company, the Aboitiz Group.
-Note-
Outline of Baramban Campus

| | |
| --- | --- |
| Outline : | Steel-frame 2-storied building |
| Ground-floor area : | 49,375m2 |
| Architectural area : | 13,847m2 |
| Number of classroom : | 28 |
| Major facilities : | Elementary and high school buildings (including classrooms, library and computer room), chapel, cafeteria, lawn grounds, a roofed multi-purpose court, administration building, and priest's residence. |