Launching ceremony live streaming video
June 5, 2017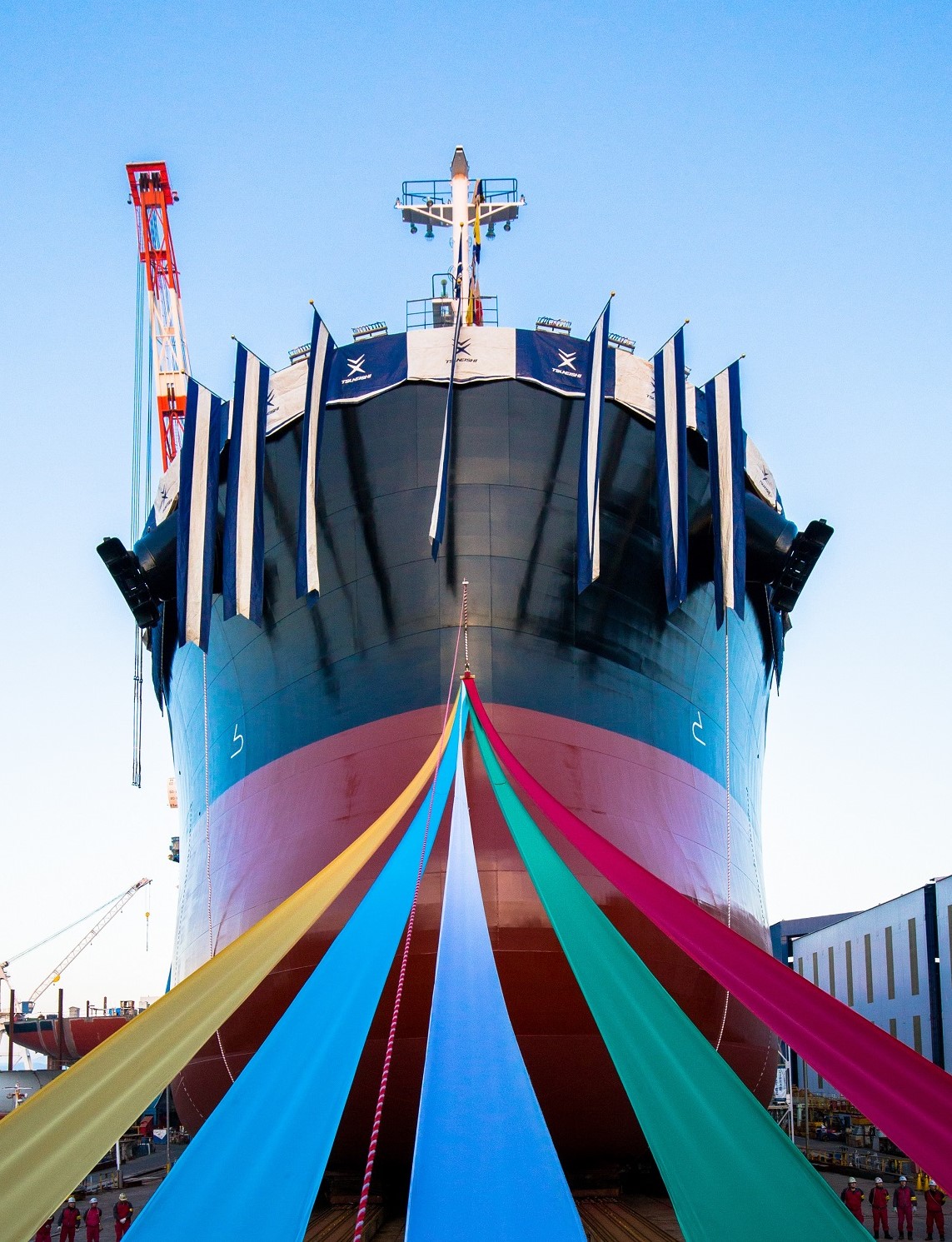 TSUNEISHI SHIPBUILDING Co., Ltd. (HQ: Fukuyama, Hiroshima, Japan) will provide a live video of a ship launching ceremony, which is held every few months.
The ceremony is scheduled for June 26th, 2017 at 10:05 (JST) on USTREAM channel:
http://www.ustream.tv/channel/Tsuneishi
※Launch time is subject to change. Please see the details below.
http://www.tsuneishi.co.jp/english/
This ship utilizes the latest AEROLINE technology to reduce wind resistance, which combines a cut-corner (reduced front area) design for accommodation of a tower configuration with a streamlined shape for the upper bow. It is equipped with FAIS (Fresh Air Intake System), which directly intakes cool air from outside to increase the engine's fuel efficiency.
The ship has five cargo holds with end-folding hatch covers. Cargo hold hatchways are built at maximum width to improve loading and unloading efficiency. Grain, coal, and steel coils can all be transported. High-density materials like iron ore can be loaded into alternating cargo holds(No. 1, No. 3 and No. 5). This bulk carrier is also equipped with a G/E exhaust gas heat recovery unit and ballast water management system, which are environmentally friendly.
We hope that you can spare about 20 minutes to watch the exciting launch of this ship, which represents the best shipbuilding technologies that Japan has to offer.
- Ceremony Schedule 10:05-10:25 (JST)
1. Opening Address
2. Flower Bouquet Presentation
3. National anthem and hoisting the national flag (Greece・Japan)
4. Cutting the line & tossing rice cakes
- About the ship being launched
Length x breadth x depth: About 200.00 metres x 32.26 metres x 18.60 metres
Dead weight:About 63,700 metric tonnes
Gross Tonnage:About 36,000 gross tonnes
Main Engine:MAN-B&W 6S50ME-B9.5
Service Speed:About 13.8 knots
Class:Bulk carrier
- If you would like to join us at the launching ceremony, please contact:
TSUNEISHI SHIPBUILDING Co., Ltd.
General Affairs Group, General Affairs Dept.
Head Office (Fukuyama) TEL: +81-84-987-1101
- For other inquiries:
TSUNEISHI HOLDINGS CORPORATION
Marketing Communication Dept.
pr@tsuneishi.com
Tokyo Office TEL: +81-3-3264-7733