Supporting Education. Recent Opening of"TSUNEISHI Class"and Scholarship Ceremony
January 25, 2017
[CSR]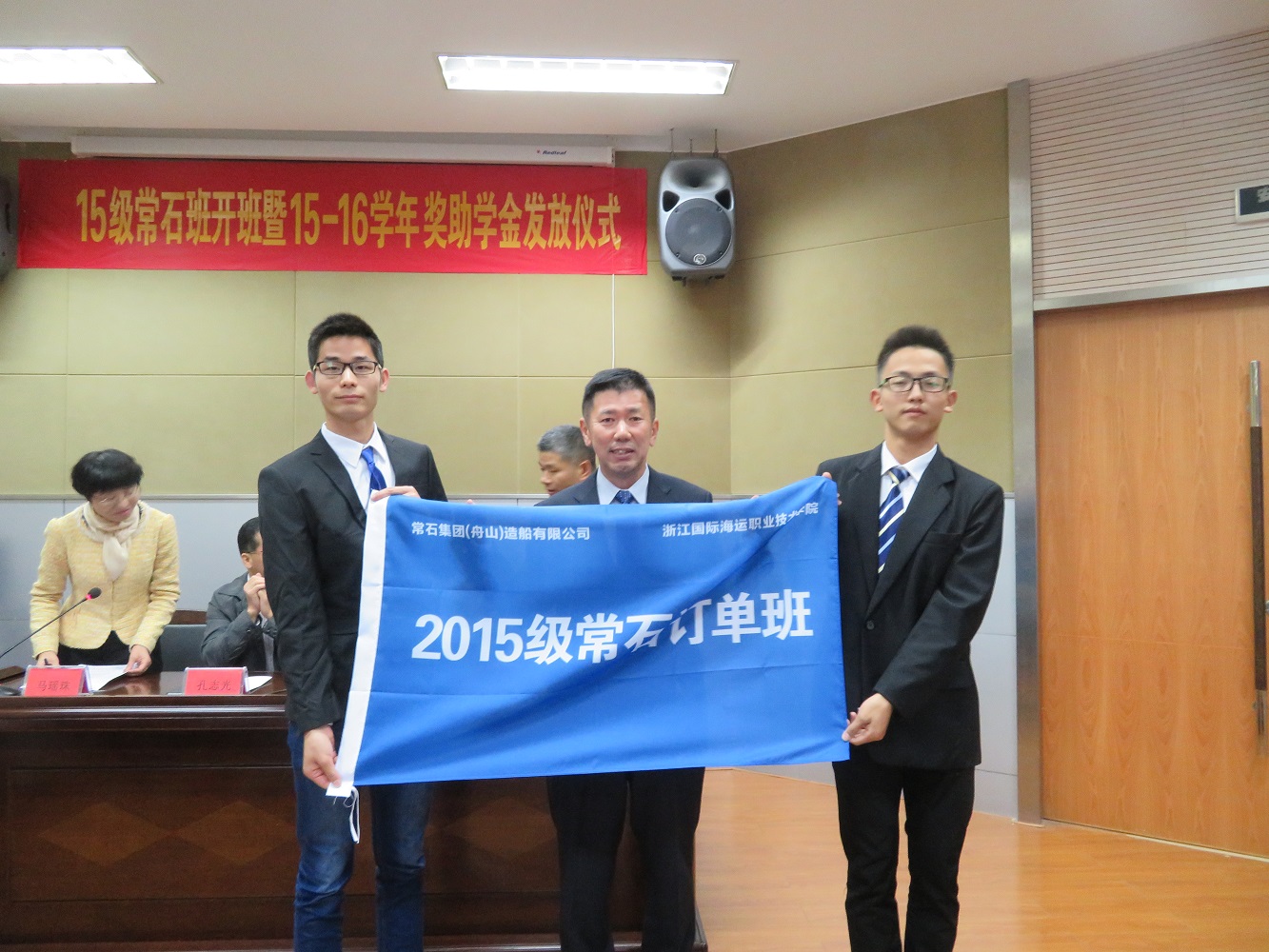 Guided by the corporate heritage and philosophy of TSUNEISHI GROUP to "energize the local community" and to emphasize education, the 2015 "TSUNEISHI Class" Opening and the 2015-2016 TSUNEISHI Scholarship Ceremony were held on November 9 at Zhejiang International Maritime College with the support of TSUNEISHI GROUP (ZHOUSHAN) SHIPBUILDING, Inc.
Guests of honor including President Sachio Okumura of TSUNEISHI GROUP (ZHOUSHAN) SHIPBUILDING, Inc., and Director of General Affairs Fu Genqing, attended, along with officials of Zhejiang International Maritime College.
During the ceremony, President Sachio Okumura awarded scholarships to the honor students and took photographs with them. He commented, "The TSUNEISHI GROUP was founded 113 years ago, the shipbuilding business of which shall celebrate its 100th anniversary next year. The cultivation of talent is the cornerstone of a thriving business, and our 100-year corporate development as well as technical heritage cannot be achieved without the devotion of every employee. TSUNEISHI ZHOUSHAN shall continue its efforts to cultivate talent for the shipbuilding industry and to support education in the local community."
The official representative of Zhejiang International Maritime College expressed the sincere gratitude of the College towards TSUNEISHI ZHOUSHAN for its ongoing attention and support for the College and the cultivation of students. He explained how the College persists in its teaching goals to "enlighten every student and help them to attain excellence." Students are expected to devote themselves earnestly and wholeheartedly to practical learning and career planning, and to consciously boost their learning. The ideal is for the College to develop and provide the highly trained technicians that TSUNEISHI ZHOUSHAN needs, and for their mutual cooperation to promote innovative maritime business.
The "TSUNEISHI Class" Opening and the TSUNEISHI Scholarship Ceremony have once again reflected the corporate philosophy of TSUNEISHI GROUP to "energize the local community and develop the local economy," as well as to put emphasis on education and social responsibilities. To nurture Zhousan's progress and strengthen cooperation with the community, the TSUNEISHI GROUP launches and actively participates in various social services. During the cooperation with Zhoushan, the TSUNEISHI GROUP has offered considerable support to the expansion and renovation of the nursery on Xiushan Island with the aim of improving childcare services, so that employees will not have to worry about their children. Furthermore, the Group provides comfortable housing on the island in pursuit of an agreeable living environment, which helps to attract more talent to the Group.
– About TSUNEISHI GROUP (ZHOUSHAN) SHIPBUILDING, Inc. –
This shipyard, the Chinese group company of TSUNEISHI SHIPBUILDING Co., Ltd. (head office: Fukuyama, Hiroshima Prefecture,Japan) located in Zhejiang Province, China, has the capacity to build about 30 vessels per year, centred on 30,000-tonne to 100,000-tonne class bulk carriers and container carriers.
URL: http://www.tsuneishi-zs.com/en/
Business: Shipbuilding
Established: December 2003
Employees: Approx. 4,300 (as of December 2015, including subcontractor employees)
Location: Xiushan Island, Daishan County, Zhoushan City, Zhejiang Province, China
Shipyard area: Approx. 1,300,000 square metres
Main facilities: Two berths, one building dock, two 700-tonne gantry cranes, one 3,000-tonne floating crane, etc.
Ship types delivered: Bulk carriers, Container carriers, Tug boats
For inquiries, contact:
TSUNEISHI HOLDINGS CORPORATION
CSV Division, Marketing Communication Dept.
pr@tsuneishi.com