TSUNEISHI KAMTECS and Futaba Sankyo promotes recycling by making use of its fermentation technology
December 28, 2015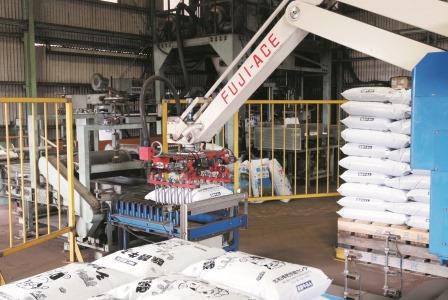 TSUNEISHI KAMTECS CORPORATION (Head Office: Fukuyama City, Hiroshima Prefecture) is striving to enhance its waste recycling technology by utilizing the fermentation technology owned by Futaba Sankyo Co., Ltd. (Head Office: Higashi Hiroshima City).
■TSUNEISHI KAMTECS CORPORATION
http://www.kamtecs.co.jp/en/
Futaba Sankyo has an outstanding technology in creating composts through aerobic microbial fermentation of waste sludge and residual food, and is licensed by Hiroshima Prefecture as a recycling company registered under the Food Recycling Law. TSUNEISHI KAMTECS and Futaba Sankyo are working together to promote environmentally friendly waste treatment by implementing technologies that do not require the use of fuel and by recycling through waste composting.
[TSUNEISHI KAMTECS CORPORATION]
TSUNEISHI KAMTECS CORPORATION is a company operating in the environment and energy business. The company is a member of the Tsuneishi Group, which has a history of more than 100 years with a business centered on shipbuilding and marine shipping. TSUNEISHI KAMTECS started with the treatment of waste oils emitted from ships, and has grown today into a business that promotes efficient recycling of energy and resources by detoxifying general and industrial waste. The company is also actively expanding business into other areas in Asia that is showing rapid economic development, and striving to resolve the world's problems in waste disposal.
URL: http://www.kamtecs.co.jp/en/
■ Business Outline: Industrial waste treatment, recycling, etc.
■ Founded: May 1967
■ No. of employees: Approx. 100 (as of December 2014)
■ Address: 1083 Tsuneishi, Numakuma-cho, Fukuyama City, Hiroshima Prefecture, Japan
■ Factory: Approx. 180,000 square meters at the Fukuyama Factory, and approx. 10,000 square meters at the Tsuneishi Factory
■ Affiliated Companies: TSUNEISHI KAMTECS SAITAMA Co., Ltd., EARTH CREATE OFFICE Co., Ltd., etc.
For inquiries:
TSUNEISHI KAMTECS CORPORATION
[ Tokyo Office ]
Kioicho Bldg. 3-12 Kioi-cho, Chiyoda-ku, Tokyo 102-0082 JAPAN
TEL: +81-3-6265-6380