A prayer of safety festival held to mark the start of the construction of pusher boats at the Tsuneishi Group's ship building yard in Paraguay, ASTILLERO TSUNEISHI PARAGUAY S.A.
July 30, 2014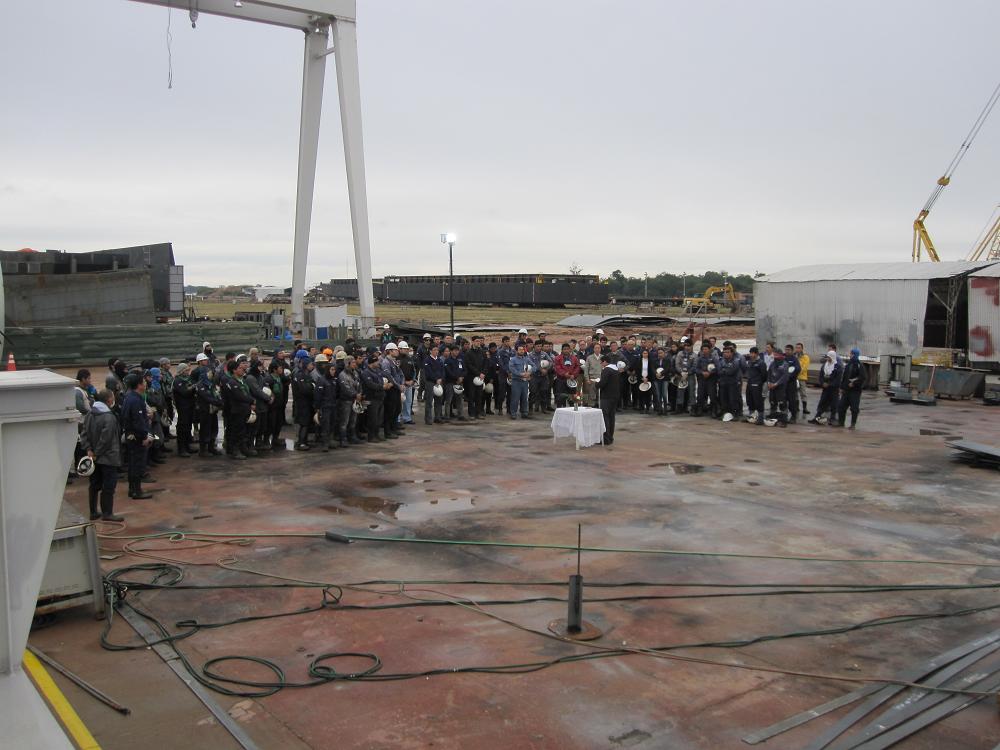 A prayer for safety ceremony was held on July 9th (local time) to mark the first ship construction at ASTILLERO TSUNEISHI PARAGUAY S.A. The ships are 6,000-HP, shallow-draft (4-main engine, 4-propeller shaft) pusher boats for river transportation to be delivered to Uruguayan ship owners.
Introduction to Tsuneishi Group's South-American Activities
http://www.glocal-japan.com/southamerica/english/
About 100 of ASTILLERO TSUNEISHI PARAGUAY S.A.'s directors and employees attended the ceremony. A local priest offered prayers and used holy water in a cleansing ritual while the Paraguayan, Filipino, Japanese who were present all prayed for the safe construction of the first boat.
The connection between the Tsuneishi Group and South America began in 1956, when the Tsuneishi Shipbuilding Company's second president Hideo Kambara, who was the mayor of Numakuma-gun in Hiroshima Prefecture (currently Numakuma-cho,Fukuyama City)at the time, offered his support for a project aimed towards emigration to Paraguay.
In recent years, the Tsuneishi Group, which primarily focuses on developing global ship construction and marine transportation businesses, has observed a marked increase in the necessity for river transportation and infrastructure maintenance in line with the growth of the South American export industry and overall economic development.
Established in 2008, ASTILLERO TSUNEISHI PARAGUAY S.A. is a shipyard where river transport barges and pusher boats are constructed and repairs are carried out.
Through the establishment of companies such as, GL SOUTH AMERICA S.A.(agriculture and farming management),KAMBARA CONSTRUCCION Y DESARROLLO S.A.(infrastructure and building and construction infrastructure maintenance), TCV PARAGUAY S.A.(development of automotive maintenance and used parts trading companies), TSUNEISHI PARAGUAY IRON WORKS S.R.L.(machining,ship outfitting and pipe production for pusher boats), we are hoping to contribute to the economic development of Paraguay in a wide range of business fields.
■Tsuneishi Group South America Operation Companies
ASTILLERO TSUNEISHI PARAGUAY S.A. ・・・River transportation barge and pusher boats construction and repair
GL SOUTH AMERICA S.A.・・・River transportation, agriculture, farming and forestry
KAMBARA CONSTRUCCION Y DESARROLLO S.A.・・・Infrastructure and building, construction
TCV PARAGUAY S.A.・・Automotive maintenance and repair services, automobile part manufacture and sale, etc.
TSUNEISHI PARAGUAY IRON WORKS S.R.L.・・・Machining,ship outfitting and pipe manufacture
■TSUNEISHI HOLDINGS CORPORATION
President and Representative Director: Yasuharu Fushimi
Headquarters: 1083 Tsuneishi,  Numakuma, Fukuyama, Hiroshima
Company Details: Since its establishment in 1903, through global expansion of its four fields of business(service, environmental and energy, shipping and shipbuilding )to countries such as China and the Philippines, the Tsuneishi Group has been providing services and products which support global economic development and the livelihood of local societies.
The Tsuneishi News Center transmits a wide variety of timely information regarding Tsuneishi Group's business activity as well as domestic and foreign CSR activities, etc.
▼Tsuneishi News Center
https://www.tsuneishi-g.jp/english/
- For further information, please contact:
Tsuneishi Holdings Corporation
Marketing Communication Department
pr@tsuneishi.com
Fukuyama City Headquarters Tel:+81-84-987-4915
Tokyo Office Tel:+81-3-3264-7733