"Tsuneishi Olympic" was held to compete shipbuilding skills.
November 5, 2013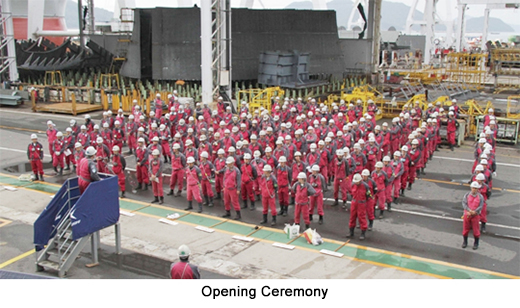 "Tsuneishi Olympics" is a competition in which shipbuilding technicians compete with each other using the skills which they've acquired through their daily work. This year marked the 13th Olympics at Tsuneishi Factory with 206 young and experienced technicians participating, including trainees from the Philippines and China. It started with a pledge for fair play: "As men of Tsuneishi Shipbuilding, we will use the skills which have been cultivated daily and compete with each other fairly and safely."
Competitions were held in 9 categories including welding, steel cutting, painting, and transportation which are crucial for shipbuilding. At each venue, participants presented accurate, cool-headed demonstrations of technique while the judges strictly checked the safety and quality of their work.
At the closing ceremony, factory manager Masahiro Kawakita made a speech. "The foundation of shipbuilding depends on respective workers skills. These Tsuneishi Skill Olympics are a good chance to emphasize those skills. From now on, please make efforts to improve your skills." Uniforms, with"GOLD" or "SILVER" embroidered letters as a proof of honor, will be presented to the award winners later.
Succession of skills is one of the biggest issues for the Japanese shipbuilding industry. Tsuneishi Skill Olympics is taking an important role to pass down Tsuneishi Shipbuilding's production skills to the next generation through training young technicians as well as presenting the skills they acquire in their daily work.
Since 2001, when this competition started with only the welding category, it has been expanded every year to include painting, furnishing, and transportation categories as requested by the employees, becoming a whole-factory competition now.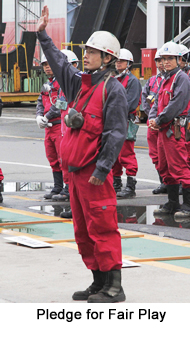 ◇Comments from the Gold Prize Winners
■Welding
Kazuki Daitoku from Outer Work Group, Production Department, Tsuneishi Shipbuilding Company
"I've been working here for 8 years and participated in this competition 4 times. And finally I won the gold prize. I'm so happy because I could see my skill improving every year. From now, I'd like to have the ability to train my junior fellows and lead my workplace as well as improving my skill."
■Gas Cutting
Tito Junior Kanobida from Minato Kogyo Corporation (Subcontracting Company)
"It's been 3 years since I started training at Tsuneishi Shipbuilding Company. I could show what I do every day perfectly. I'd like to do my best to continue improving my skills."
■Brush Painting of Elevating Ladder
Xu Zengshuai from Bisho Kogyo Corporation Subcontracting Company
"This is my first year as an employee and I participated in this competition without putting pressure on myself because I thought it was just my first try. But I got the gold prize. I'm so surprised and happy with this result. This result let me have confidence that I'm successfully gaining the skills which I have been training in the workplace."