First Aluminum Ship Completed by TFC, a Company Supported by the Tsuneishi Group
October 7, 2013
[CSR]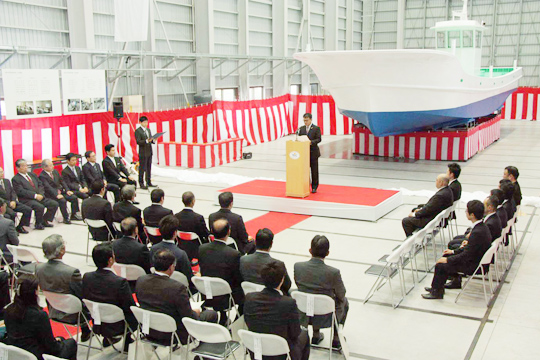 TFC Co., Ltd. (Yamada Factory location: 1-59 Osawa, Yamada Town, Shimohei County, Iwate Prefecture) has recently completed the construction of its first aluminum ship, which it unveiled at a ceremony held on October 7, 2013. The Tsuneishi Group is supporting TFC's activities as part of our efforts to contribute to the recovery and revitalization of the region affected by the Great East Japan Earthquake and Tsunami.
TFC was founded shortly after the earthquake struck, in July of 2011. The company's 15 employees—all of whom come from Yamada, Otsuchi, Miyako and other heavily hit areas along the coast of Iwate Prefecture—have been actively engaged in shipbuilding since receiving their technical training at Tsuneishi in Hiroshima Prefecture. TFC currently has plans to construct guard ships, fishing boats, sightseeing ships and more.
The Tsuneishi Group has provided various forms of support for TFC's activities, including offering training support and cooperation and providing company housing to TFC employees who are undergoing technical training.
【 Outline of TFC's 1st Ship 】
[ Size ]
Length: 17.7m × Width: 4.2m × Height: 1.45m
Weight: 9.7Tons
[ Main Engine ]
6CXBP-GT
Capacity: 302kW (410ps)