TSUNEISHI SHIPBUILDING completes the first ship of its new model WIDE KAMSARMAX – an eco-ship that retains the versatility of KAMSARMAX while increasing loading capacity
August 23, 2022
[Products]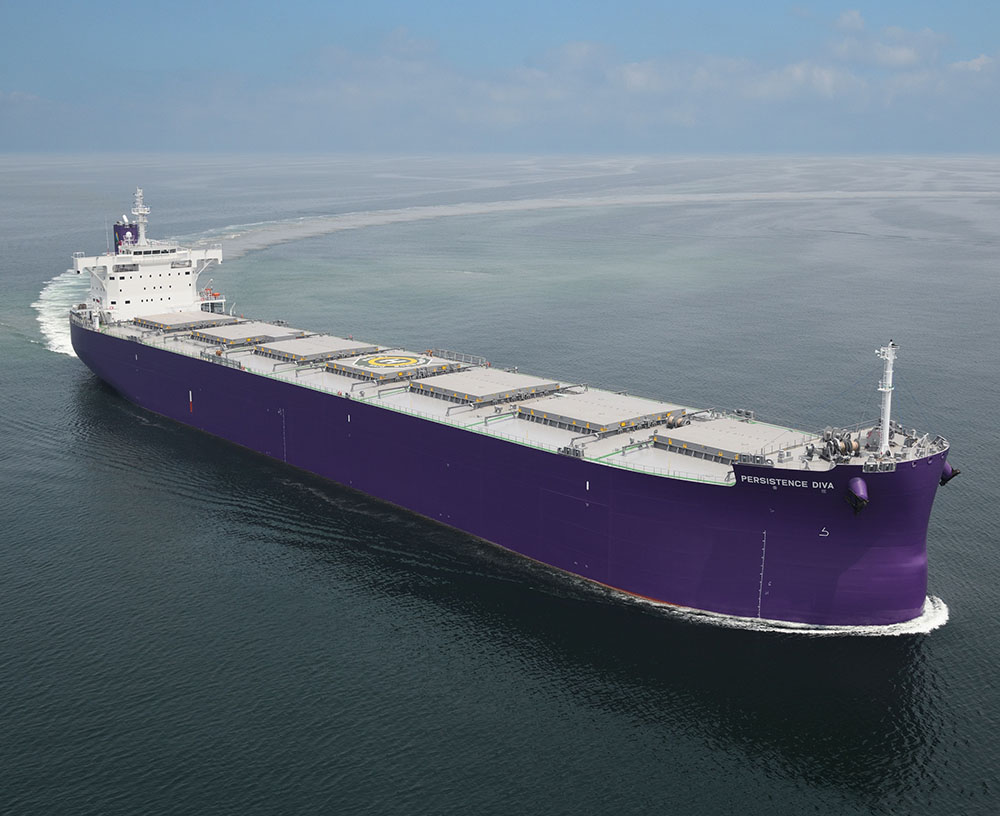 TSUNEISHI SHIPBUILDING Co., Ltd. (HQ: 1083 Tsuneishi, Numakuma-cho, Fukuyama, Hiroshima, Japan; President & Executive Officer: Sachio Okumura) completed its first WIDE KAMSARMAX, an 88,000 MT bulk carrier, on July 28 at the Tsuneishi Factory.
Inheriting its name from the best-selling KAMSARMAX brand under which 300+ ships have been built, the WIDE KAMSARMAX is a new eco-ship that retains its versatility while increasing cargo loading capacity.
WIDE KAMSARMAX has approximately 6,000 MT more deadweight tonnage (*1) than KAMSARMAX for heightened transport efficiency. Cargo capacity was also increased by approximately 5,300 m³, enabling large-volume loading of low-density cargo, such as grains. To retain versatility, the length remains at 229 m, (same as that of the KAMSARMAX), while breadth is 36 m, making it possible to enter approximately 90% of the ports that TSUNEISHI SHIPBUILDING-built KAMSARMAX ships have called at to date.
Compared to the KAMSARMAX, we improved fuel consumption per ton-mile by approximately 5% with this ship model development and the application of our unique MT-FAST (*2) energy-saving technology. We also meet the international NOx emission Tier III regulation and use a full-double fuel tank to prevent oil spills, combining reduced environmental burden with economy from excellent fuel efficiency.
■WIDE KAMSARMAX details (TSUNEISHI SHIPBUILDING's Products page)
https://www.tsuneishi.co.jp/english/products/wide-kamsarmax/
<Key specifications of this ship>
Ship name: PERSISTENCE DIVA
Length overall x breadth x depth: Approx. 229 m x 36 m x 20 m
Deadweight: Approx. 88,900 MT
Cargo capacity: Approx. 103,500 m³
Full-load draft: 14.45 m
Gross tonnage: Approx. 47,000
*1: Deadweight tonnage
The total weight of cargo, fuel, water, food supplies that can be loaded onto a ship.
*2: MT-FAST
An energy-saving device that improves propulsion efficiency by approximately 3 to 5% by attaching multiple fins in front of the propeller to adjust water flow. Winner of the Japanese Environment Minister's Award in 2018.
■About TSUNEISHI SHIPBUILDING
Marking its 100th anniversary in 2017, TSUNEISHI SHIPBUILDING (Fukuyama, Hiroshima, Japan) engages in shipbuilding and repairs, and is the anchor company of the TSUNEISHI Group, which conducts business mainly in the shipbuilding industry and maritime transport. With manufacturing bases in Japan (Tsuneishi Factory, the HQ), Philippines, and China, the company builds bulk carriers, container carriers, tankers, etc.
Website: https://www.tsuneishi.co.jp/english/
President & Executive Officer: Sachio Okumura
Field of Business: Shipbuilding, ship repair
Established: July 1917
Capital: 100 million yen
Employees: 838 (as of December 2021)
Business Locations: Tsuneishi Factory (Fukuyama, Hiroshima, Japan)
Shipbuilding Affiliates:
TSUNEISHI HEAVY INDUSTRIES (CEBU), Inc. (Cebu Island, Philippines)
http://www.thici.com/
TSUNEISHI GROUP (ZHOUSHAN) SHIPBUILDING, Inc. (Zhejiang Province, China)
http://www.tsuneishi-zs.com/
TSUNEISHI IRON WORKS Co., Ltd. (Fukuyama, Hiroshima, Japan)
https://www.tsuneishi-iw.jp/
TSUNEISHI TRADING Co., Ltd. (Fukuyama, Hiroshima, Japan)
https://www.tsuneishi-trading.co.jp/
TSUNEISHI ENGINEERING Co., Ltd. (Fukuyama, Hiroshima, Japan)
http://www.tsune-e.com/
MIHO SHIPYARD CO., LTD. (Shizuoka, Shizuoka Prefecture, Japan)
http://www.mihozosen.co.jp/
Mitsui E&S Shipbuilding Co., Ltd. (Chuo-ku, Tokyo, Japan)
https://www.mes.co.jp/shipbuilding/
KANDA DOCKYARD Co., Ltd. (Kure-shi, Hiroshima, Japan)
https://kandadock.com/
For further information, please contact:
Communication Dept.
TSUNEISHI HOLDINGS CORPORATION
+81-84-987-4915
pr@tsuneishi.com