TSUNEISHI Group FY2021 Consolidated Performance Report
May 13, 2022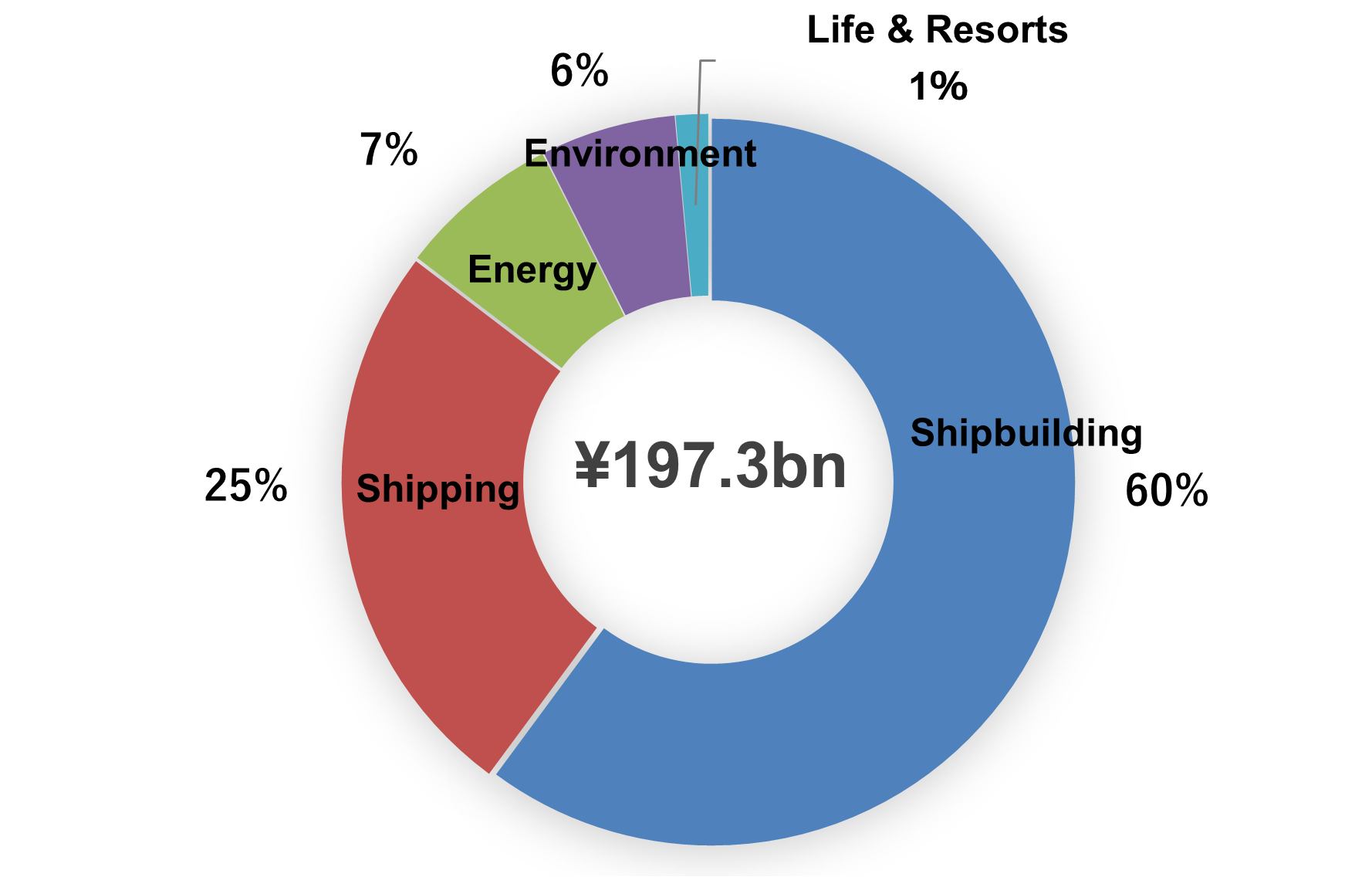 FY2021 consolidated sales for TSUNEISHI HOLDINGS CORPORATION (HQ: 1083 Tsuneishi, Numakuma-cho, Fukuyama, Hiroshima, Japan; President: Hirotatsu Kambara) were 197.3 billion yen (-62.5-billion-yen YoY). Regarding our core businesses in the shipbuilding and shipping industries, economic activity has recovered especially in developed countries, triggering a surge of demand for marine freight. In addition to an upturn of market conditions for ship chartering, prices have risen for new shipbuilding. We received orders to build 81 ships, mainly bulk carriers and container carriers. However, the situation remains unstable due to rising market/resource prices and intensifying component/material shortages due to the Ukraine situation on top of the continuing COVID-19 pandemic. We will closely monitor their impact on our businesses and implement measures as needed.
By business segment, Shipbuilding earned 147.7 billion yen (-41% YoY), Shipping earned 62.0 billion yen (+107% YoY), Environment generated 14.7 billion yen (+12% YoY), Energy came to 17.7 billion yen (+5% YoY), and Life & Resorts earned 3.5 billion yen (+6% YoY). (All figures are before offsetting internal transactions.)
 
TSUNEISHI HOLDINGS upholds "Moving Forward, Moving Mountains" as the shared vision of the Group. For the Group's medium-term business plan from FY2022, we presented the policy of quickly adapting to changes in the business environment and being conscious of increasingly diverse social issues to create sustainable social and economic value. By harnessing the unique business strengths of our Group companies to create new value in response to the expectations of the market and our communities and by engaging in ESG, we will achieve sustainable growth for the TSUNEISHI Group.
■TSUNEISHI Group FY2021 Consolidated Sales
・ Fiscal Year: January–December
・ FY2020: First year that the percentage-of-completion method was applied for the shipbuilding business (completed-contract method sales + percentage-of-completion method sales)
・ FY 2021: Percentage-of-completion method sales for the shipbuilding business
・ FY 2022 onward: new revenue-recognition method applied
・ Consolidated companies: 44 companies (23 in Japan, 21 abroad), including TSUNEISHI HOLDINGS
[Shipbuilding Business]
■FY2021 Overview
As market conditions improved for ship chartering with the recovery of economic activity, especially in developed countries, we received orders for 81 ships and built 41 ships. The percentage-of-completion method was newly applied to shipbuilding business accounting for FY2020, bringing FY2021 sales to 147.7 billion yen (-101.9-billion-yen YoY).
• Sales: 147.7 billion yen (FY2020 249.6 billion yen, -41% YoY)
• Number of ships built: 41 (FY2020: 44)
TSUNEISHI SHIPBUILDING, TSUNEISHI HEAVY INDUSTRIES (CEBU), TSUNEISHI GROUP (ZHOUSHAN) SHIPBUILDING combined
• Number of ships ordered: 81 (FY2020: 33)
■Medium-Term Business Plan
While focusing management resources on our key product of medium-size ships, we will engage in R&D and the construction of ships that employ new fuels/technologies with the aim of reducing GHG emissions. We will develop and supply next-generation ships that combine economy with less burden on the environment. At the same time, we will drive digital innovation, targeting the provision of new services such as ship monitoring, navigation support, and unmanned operation. Through these initiatives, we will pursue the advancement of technologies and services and aim to maximize customer lifetime value through all situations ranging from shipbuilding and repairs through ship operation.
We will also achieve sustainable growth for the group by expanding our repair and small-size ship businesses and design capabilities through partnerships with Mitsui E&S Shipbuilding and Kanda Dockyard.
The factory of TSUNEISHI HEAVY INDUSTRIES (CEBU), Inc. sustained major damage from Typhoon Rai (Odette) that crossed the Philippines on December 17, 2021. The entire group is working together to achieve early recovery and to provide aid for regional rebuilding by cooperating with local entities.
Comment from Sachio Okumura, President of TSUNEISHI SHIPBUILDING
The shipbuilding business takes the TSUNEISHI Group-shared vision of "Moving Forward, Moving Mountains" one step further, upholding our own vision of "Innovate ourselves, create new value" with the two pillars of green technology and digital innovation to achieve the medium-term business plan mentioned above.
[Shipping Business]
■FY2021 Overview
Marine freight is picking up with global economies on the road to recovery, and ton-miles (number of tons of freight x transported distance) have increased due to diversified trade patterns. Multiple factors such as these have driven the ship-chartering market to a high level, enabling us to secure strong profits. For the container liner business, profitability has improved with the penetration of a new surcharge (container imbalance charge) introduced in October. Container transport volume increased by 12% YoY, a record high.
• Sales: 62.0 billion yen (FY2020: 29.9 billion yen, +107% YoY)
• Container transport volume: 159,000 TEU (FY2020: 142,000 TEU, +12% YoY)
■Medium-Term Business Plan
We will promote decarbonization and aim for sustainable management through various activities, such as collaborating with TSUNEISHI SHIPBUILDING to introduce next-generation environmental ships. We will build a stable revenue structure by diversifying our lineup of ship models to reduce market fluctuation risks and boosting resilience against the pricing fluctuations that are unique to the shipping business. For ship management, we will boost performance, such as safe operation and low cost, aiming to become the ship management company of choice for clients.
[Environment Business]
■FY2021 Overview 
Amid the push for waste disposal and recycling to be handled domestically, we actively worked to capture more orders and achieved record-high sales of 14.7 billion yen (+1.6-billion-yen YoY). At the Fukuyama Factory, orders for industry disposal increased in volume by 7% YoY and sales grew 11% YoY. At the Tsuneishi Factory, the ship waste oil processing business also increased sales YoY. The Saitama Factory worked to increase orders by targeting the greater metropolitan area, achieving a YoY increase for both order volume and order unit prices.
• Sales: 14.7 billion yen (FY2020:13.1 billion yen, +12% YoY)
■Medium-Term Business Plan
With our own vision of "Becoming an indispensable presence for achieving a sustainable society," we aim to build a recycling-oriented supply chain and promote a reduced burden on the environment. We will also work to improve the recycling rate of industrial and non-industrial waste and to invest in facilities and develop products to reduce CO2 emissions and decarbonize, thus contributing to the achievement of the SDGs.
[Energy Business]
■FY2021 Overview 
Sales volume decreased in the energy business with COVID-19-related activity restrictions and the prevalence of fuel-efficient vehicles. However, fuel oil retail prices rose along with crude oil prices. In the auto service business, the opening of the "Mach Shaken" Fukuyama-Akebono branch, which conducts car trade proposals for existing customers and speedy vehicle inspections, boosted volume of both vehicle sales and vehicle inspections. For the car recycle business, the number of procured scrapped cars declined, but revenue increased with the rise of scrap prices.
• Sales: 17.7 billion yen (FY2020: 16.9 billion yen, +5% YoY)
■Medium-Term Business Plan
In response to the global trend of decarbonization, we will provide suitable energy and mobility services and aim to further develop the business and to optimize working styles.
•Respond to the new era of energy
・For existing businesses, invest in areas where we are competitive and aim to secure the profit of the remaining players
・For new businesses, aim to capture an advantageous position at an early stage in the region
・Secure and nurture human resources who can accommodate various changes and handle upgraded goods
•Develop new businesses/goods
・Build the foundations for overseas business
・Address local communities with aging and declining populations
・Cultivate employees who can flexibly handle new businesses/goods
 
[Life & Resorts Business]
■FY2021 Overview 
With no end to the COVID pandemic in sight, we prudently took transmission-prevention measures such as temporarily closing or shortening business hours of our cruise ships, amusement parks, hotels, restaurants, and other facilities. Some economic activity is resuming as the state of emergency declaration has been lifted and 2021 sales showed a modest YoY increase. However, with the repeated cycle of emerging variants spiking COVID transmission, it is expected that more time is needed for full-scale recovery. The situation continues to be severe.
• Sales: 3.5 billion yen (FY2020: 3.3 billion yen, +6% YoY)
■Medium-Term Business Plan
The recovery of hotel/tourism demand is expected to remain unpredictable with overseas travel restrictions and requests to refrain from inter-prefecture travel. Despite this, we will continue to provide quality services to guests and to improve customer draw while placing the highest priority on safety and security. We will also make a companywide effort to improve earnings by reducing costs. We aim to contribute to the region's development by utilizing local resources.


For further information, please contact:
Communication Dept.
TSUNEISHI HOLDINGS CORPORATION
+81-84-987-4915
pr@tsuneishi.com