TSUNEISHI SHIPBUILDING receives first LPG carrier order
March 18, 2022
[Products]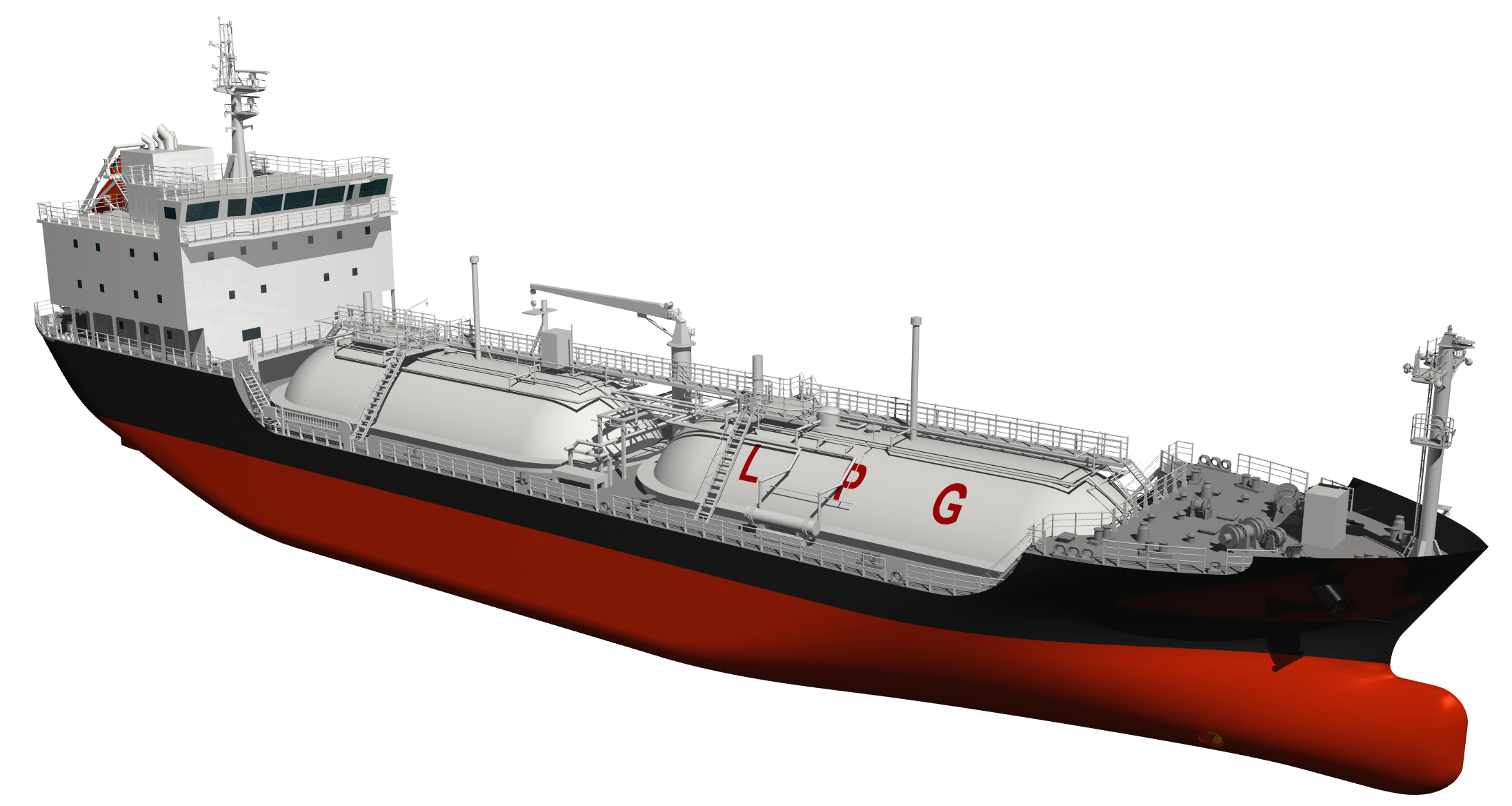 TSUNEISHI SHIPBUILDING Co., Ltd. (HQ: 1083 Tsuneishi, Numakuma-cho, Fukuyama, Hiroshima, Japan; President: Sachio Okumura; hereafter TSUNEISHI SHIPBUILDING) has signed a contract with an owner in Japan to build four LPG carriers. The first ship is scheduled to be completed at Tsuneishi Factory in 2023.
The LPG carrier will have a 5,000m3 cargo tank capacity, an overall length of about 99m, a breadth of 17.6m, and a depth of 8m. This ship retains the versatile main dimensions of the 5,000m3 LPG ship class. It features a hull form that reduces propulsion resistance and the newest main engine to comply with the CO2 emission regulations of EEDI (*1) Phase 3. Equipped with SCR (*2), this LPG carrier qualifies as an eco-ship with excellent propulsion and environmental performance that satisfies the requirements of the NOx Tier III regulations.
For the design and the construction of the cargo tank and related systems, which are crucial for building LPG carriers, TSUNEISHI SHIPBUILDING is collaborating with highly experienced Mitsui E&S Shipbuilding Co., Ltd. (HQ: 6-4, Tsukiji 5-chome, Chuo-ku, Tokyo, Japan; President: Isamu Funatsu). By combining the expertise of both companies, TSUNEISHI SHIPBUILDING will construct ships that balance the economy of energy efficiency with the reduction of environmental impact.
*1 EEDI: Energy Efficiency Design Index is a technical measure mandated by international treaties of the IMO (International Maritime Organization), made applicable to newly-built ships with the aim of gauging and reducing their CO2 emissions.
*2 SCR: Selective Catalytic Reduction is an exhaust gas treatment equipment that reduces the NOx (nitrogen oxide) emissions generated by engines to a level that satisfies the requirements of the NOx Tier III regulations.
About the LPG carrier:
Length x breadth x depth: About 99m × 17.6m × 8m
Cargo tank capacity: 5,000m3
Draft: 6.1m
Gross tonnage: 4,800
About TSUNEISHI SHIPBUILDING Co., Ltd.
Marking its 100th anniversary in 2017, TSUNEISHI SHIPBUILDING (Fukuyama, Hiroshima, Japan) is the anchor company of the TSUNEISHI Group, which mainly engages in shipbuilding and maritime transport. With manufacturing facilities in Japan (Tsuneishi Factory, the HQ), Philippines, and China, the company builds bulk carriers, container carriers, and tankers, among others.
URL: https://www.tsuneishi.co.jp/english/
President: Sachio Okumura
Field of Business: Shipbuilding, ship repair
Established: July, 1917
Capital: 100 million yen
Employees: 869 (as of December 2020)
Business Locations: Tsuneishi Factory (Fukuyama, Hiroshima, Japan)
Shipbuilding Affiliates:
TSUNEISHI HEAVY INDUSTRIES (CEBU), Inc. (Cebu Island, Philippines)
http://www.thici.com/
TSUNEISHI GROUP (ZHOUSHAN) SHIPBUILDING, Inc. (Zhejiang Province, China)
http://www.tsuneishi-zs.com/
TSUNEISHI IRON WORKS Co., Ltd. (Fukuyama, Hiroshima, Japan)
https://www.tsuneishi-iw.jp/
TSUNEISHI TRADING Co., Ltd. (Fukuyama, Hiroshima, Japan)
https://www.tsuneishi-trading.co.jp/
TSUNEISHI ENGINEERING Co., Ltd. (Fukuyama, Hiroshima, Japan)
http://www.tsune-e.com/
MIHO SHIPYARD CO., LTD. (Shizuoka, Shizuoka Prefecture, Japan)
http://www.mihozosen.co.jp/
For further information, please contact:
Communication Dept.
TSUNEISHI HOLDINGS CORPORATION
+81-84-987-4915
pr@tsuneishi.com