TSUNEISHI SHIPBUILDING to collect actual operation data by IoS-OP open platform: for use in ship model development to reduce CO2 emissions
June 10, 2021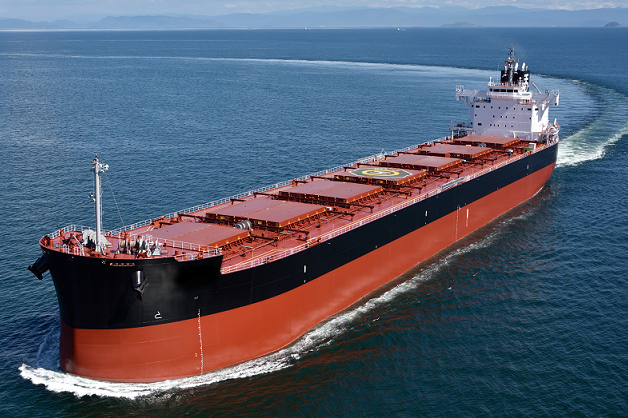 TSUNEISHI SHIPBUILDING (HQ: 1083 Tsuneishi, Numakuma-cho, Fukuyama, Hiroshima, Japan; President: Sachio Okumura) will begin collecting actual operation data for some of its built ships by the open platform for ship operation data, IoS-OP*1, for the first time.
By evaluating ship's performance and identifying equipment operation status at sea and then applying the data to new ship model development, we will reduce CO2 emissions and, consequently, improve added value for clients.
About 800 operation data items will be collected, including Voyage Data Recorder (VDR) information, fuel and power consumption volume from the main engine, generator, and auxiliary machinery, as well as draft and shaft horsepower. A monitoring system is being integrated on the 82,000 MT KAMSARMAX bulk carrier currently under construction and data measurements will be taken from the sea trial stage.
The collected data will be stored in IoS-OP, which has an established set of rules and equipment as an open platform to ensure safe use of data.
With increasing opportunities worldwide to address global warming, the maritime industry is also accelerating its initiatives to reduce CO2 emissions. In addition to the CO2 emissions regulation EEDI*2 for newly-built ships, EEXI*3 for in-service ships and an operational carbon intensity rating system*4 are expected to go into effect as early as 2023. Performance evaluations at sea are expected to increase in importance.
TSUNEISHI SHIPBUILDING will collect sea data that reflect maritime weather conditions, cargo loading conditions, etc. with the aim of applying the data to reevaluate design standards for new ship model development and to develop new technologies. By developing ships with excellent fuel efficiency and reducing CO2 emissions, we will reduce the burden on the environment while enhancing added value for clients.
We will collect actual operation data from KAMSARMAX for now, but intend to eventually expand this to our other key ship models.
Comment from Sachio Okumura, President of TSUNEISHI SHIPBUILDING
"Opportunities are increasing in the maritime industry to reduce the burden on the environment. We wish to assist clients who are addressing environmental issues by applying big data collected by IoS-OP to build ships with lower CO2 emissions. TSUNEISHI SHIPBUILDING will improve environmental technologies and accelerate digitalization initiatives in anticipation of the constantly changing needs of society and clients and to accommodate those changing needs."
*1 IoS-OP: Internet of Ships Open Platform. An operating data open platform offered by Ship Data Center Co., Ltd. This is a shared foundation that enables data supply to various services and data usage rights for shipyards, makers, and others by sharing between associates without infringing upon the profits of data providers such as ship companies. The IoS-OP Consortium is a membership organization comprising 64 companies as of the end of April 2021.
*2 EEDI: Energy Efficiency Design Index. An international regulation of the International Maritime Organization (IMO) to reduce CO2 emissions from newly-built ships. The current mandatory reduction rate for bulk carriers is 20% or more below the reference line; by 2025, the requirement will be 30% or more below the reference line.
*3 EEXI: Energy Efficiency Existing Ship Index. An international regulation of the International Maritime Organization (IMO) that requires in-service ships to have the same level of fuel efficiency as newly-built ships. This is expected to go into effect in 2023.
*4 Operational carbon intensity rating system: A rating system (from A to E) by the International Maritime Organization (IMO) according to the Carbon Intensity Indicator (CII) of a ship for one year. Member countries and port authorities etc. are encouraged to provide incentives for ships that receive a high rating (A or B), while ships that receive a low rating (D for three consecutive years or E) are required to submit a corrective action plan and to implement this in operation. This is expected to go into effect as early as 2023.
About TSUNEISHI SHIPBUILDING Co., Ltd.
Marking its 100th anniversary in 2017, TSUNEISHI SHIPBUILDING (Fukuyama, Hiroshima, Japan) is the anchor company of the TSUNEISHI Group, which mainly engages in shipbuilding industry and maritime transport. With manufacturing bases in Japan (Tsuneishi Factory, the HQ), Philippines, and China, the company builds bulk carriers, container carriers, tankers, etc.
URL: https://www.tsuneishi.co.jp/english/
President: Sachio Okumura
Field of Business: Shipbuilding, ship repair
Established: July, 1917
Capital: 100 million yen
Employees: 869 (as of December, 2020)
Business Locations: Tsuneishi Factory (Fukuyama, Hiroshima, Japan)
Shipbuilding Affiliates:
TSUNEISHI HEAVY INDUSTRIES (CEBU), Inc. (Cebu Island, Philippines)
http://www.thici.com/
TSUNEISHI GROUP (ZHOUSHAN) SHIPBUILDING, Inc. (Zhejiang Province, China)
http://www.tsuneishi-zs.com/
ASTILLERO TSUNEISHI PARAGUAY S.A. (Villeta, Central, Paraguay)
http://www.tsuneishi.com.py/
TSUNEISHI IRON WORKS Co., Ltd. (Fukuyama, Hiroshima, Japan)
https://www.tsuneishi-iw.jp/
TSUNEISHI TRADING Co., Ltd. (Fukuyama, Hiroshima, Japan)
https://www.tsuneishi-trading.co.jp/
TSUNEISHI ENGINEERING Co., Ltd. (Fukuyama, Hiroshima, Japan)
http://www.tsune-e.com/
MIHO SHIPYARD CO., LTD. (Shizuoka, Shizuoka Prefecture, Japan)
http://www.mihozosen.co.jp/
For further information, please contact:
Communication Dept.
TSUNEISHI HOLDINGS CORPORATION
+81-84-987-4915
pr@tsuneishi.com