TSUNEISHI Group FY2020 Consolidated Performance Report
May 21, 2021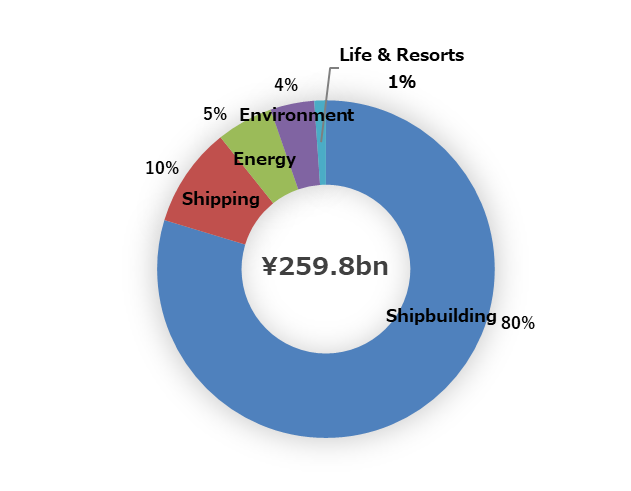 Consolidated sales for TSUNEISHI HOLDINGS CORPORATION (HQ: 1083 Tsuneishi, Numakuma-cho, Fukuyama, Hiroshima, Japan; President: Hirotatsu Kambara) reached 259.8 billion yen (+31.1 billion yen YoY) in FY 2020, which is partly attributable to a revision of accounting standards in the shipbuilding business from this fiscal year. On the other hand, the COVID-19 pandemic from the start of the year stagnated economic activity in Japan and abroad, triggering an economic downturn that inevitably impacted the performance of our group businesses.
By segment, the shipbuilding business earned 249.6 billion yen (+52% YoY), the shipping business generated 29.9 billion yen (-36% YoY), the environment business earned 13.1 billion yen (+5% YoY), and energy business sales were 16.9 billion yen (-29% YoY). The life & resorts business earned 3.3 billion yen (-58% YoY). (All figures are before offsetting internal transactions.)
TSUNEISHI HOLDINGS has upheld "Moving Forward, Moving Mountains", the shared vision of the Group. For the Group's medium-term business plan starting in FY2021, we unveiled the guiding principle of contributing to the achievement of SDGs by providing products and services that will advance a sustainable society. By utilizing the unique business strengths of our Group companies to create new value, we will meet the expectations of the market and communities and work to resolve social issues.
■TSUNEISHI Group FY2020 Consolidated Sales
・Fiscal year 2020: Jan–Dec 2020
・Consolidated companies: 41 companies (20 in Japan, 21 abroad), including TSUNEISHI HOLDINGS
【Shipbuilding Business】
■FY2020 Overview
Despite limitations in conducting sales in person to overseas shipowners and other buyers, we received orders for 33 ships and built 44 ships. The percentage-of-completion method was applied to accounting for FY2020, resulting in sales of 249.6 billion yen (+85.0 billion yen YoY.)
•Sales: 249.6 billion yen (FY2019: 164.6 billion yen, +52% YoY)
•Number of ships built: 44 (FY2019: 46)
 *TSUNEISHI SHIPBUILDING, TSUNEISHI HEAVY INDUSTRIES (CEBU), TSUNEISHI GROUP (ZHOUSHAN) SHIPBUILDING combined
•Number of ships ordered: 33 (FY2019: 44)
■Medium-Term Business Plan
In addition to building medium-size bulk carriers, container carriers, and oil product carriers, which are our areas of expertise, we will focus our business resources on building new ship models, such as RORO and LPG ships, at the TSUNEISHI Factory. By improving operational efficiency, cutting costs, and improving productivity, we will boost earning capacity. We also aim to implement clean technology to reduce the environmental burden, boost brand value by promoting digitalization (ship monitoring, operation assistance, unmanned operation, etc.), and improve customer lifetime value.
Comment from Sachio Okumura, President of TSUNEISHI SHIPBUILDING
We will continue to provide high value-added ships with fuel efficiency and environmental performance to contribute to our customers and be a global company that reduces the burden on the global environment.
【Shipping Business】
■FY2020 Overview
While impacted by the stagnation of the dry bulk market, we were able to limit the loss of income as the chartering fees of product carriers soared with heightened demand for at-sea storage of crude oil in 1H; consolidated sales for the shipping business came to 29.9 billion yen (-17.0 billion yen YoY). In the logistics business, KAMBARA LOGISTICS started construction of a hazardous material warehouse (new business) that will become a new business pillar and aims to start operations in October 2021. In addition, container transport volume decreased by 9% YoY.
•Sales: 29.9 billion yen (FY2019: 46.9 billion yen, -36% YoY)
•Container transport volume: 142,000 TEU(FY2019: 156,000 TEU, -9% YoY)
■Medium-Term Business Plan
Our basic guiding principle is "to create group synergy to supply new client value and sustain growth," and we will diversify our ship models to reduce market fluctuation risks as our key strategy. For ship management, we will step up safe-operation initiatives while providing superior services by promoting digitalization, aiming to attract more clients. We will also work with TSUNEISHI SHIPBUILDING to strengthen our efforts to reduce environmental impact through the development and replacement of next-generation environmental ships.
【Environment Business】
■FY2020 Overview
With the push for waste disposal and recycling to be handled domestically, our sales reached a record-high 13.1 billion yen (+600 million yen YoY). Unit prices of orders taken at the Fukuyama factory increased, while the Saitama factory expanded its business territory to target the greater metropolitan area. The new business of boosting the recycling of valuable metals, such as copper, also contributed to sales.
•Sales: 13.1 billion yen (FY2019: 12.5 billion yen, +5% YoY)
■Medium-Term Business Plan
Aiming to help solve environmental issues and achieve sustainable growth by creating new value, we will reduce CO2 emissions by investing in facilities that improve energy efficiency in treatment processes. We will also augment manufacturing facilities for products that recycle waste into civil and architectural materials and improve the recycling rate of waste to support achievement of the SDGs.
【Energy Business】
■FY2020 Overview
COVID-19 negatively impacted fuel oil sales volume and the falling cost of crude oil triggered retail prices to decline, resulting in a downturn of income.
•Sales: 16.9 billion yen (FY2019: 23.9 billion yen, -29% YoY)
■Medium-Term Business Plan
Although COVID-19 and crude oil prices have significantly impacted business, we aim to improve customer satisfaction and to secure profits by taking various measures, including proposing products at service stations that accommodate customer needs, expanding non-oil earnings by improving services, and increasing the number of customers for vehicle inspections through the opening of the "Mach Shaken" Fukuyama-Akebono branch, which conducts speedy auto inspections (~ 45 minutes).
[FY2021 Enhancement Measures]
•Energy business: in anticipation of declining domestic demand for heavy oil, enhance sales to expand non-oil earnings
•Auto service business: in addition to encouraging repeat use by existing customers, obtain new customers by enriching one-stop services, including auto inspections
•Overseas business: expand services, such as heavy machine rentals for construction and vehicle maintenance, in Paraguay and the Philippines
【Life & Resorts Business】
■FY2020 Overview
In addition to closures in response to the state of emergency declaration for COVID-19, most group reservations were cancelled, causing a decline of revenue.
•Sales: 3.3 billion yen (FY2019: 7.8 billion yen, -58% YoY)
■Medium-Term Business Plan
In this challenging business environment due to the COVID pandemic, we are working to enhance operations by reevaluating businesses, such as withdrawing from the Onomichi Station commercial space leasing business and spinning off TSUNEISHI RESORT. We will continue to strictly implement measures to prevent the spread of COVID-19 and operate with consideration of safety and security, placing the highest priority on the safety and health of our customers and staff.
For further information, please contact:
Communication Dept.
TSUNEISHI HOLDINGS CORPORATION
+81-84-987-4915
pr@tsuneishi.com