TSUNEISHI SHIPBUILDING receives Approval in Principle for LNG dual-fuel bulk carrier KAMSARMAX GF: CO₂ reduced by 40% or more compared to EEDI reference line
May 17, 2021
[Products]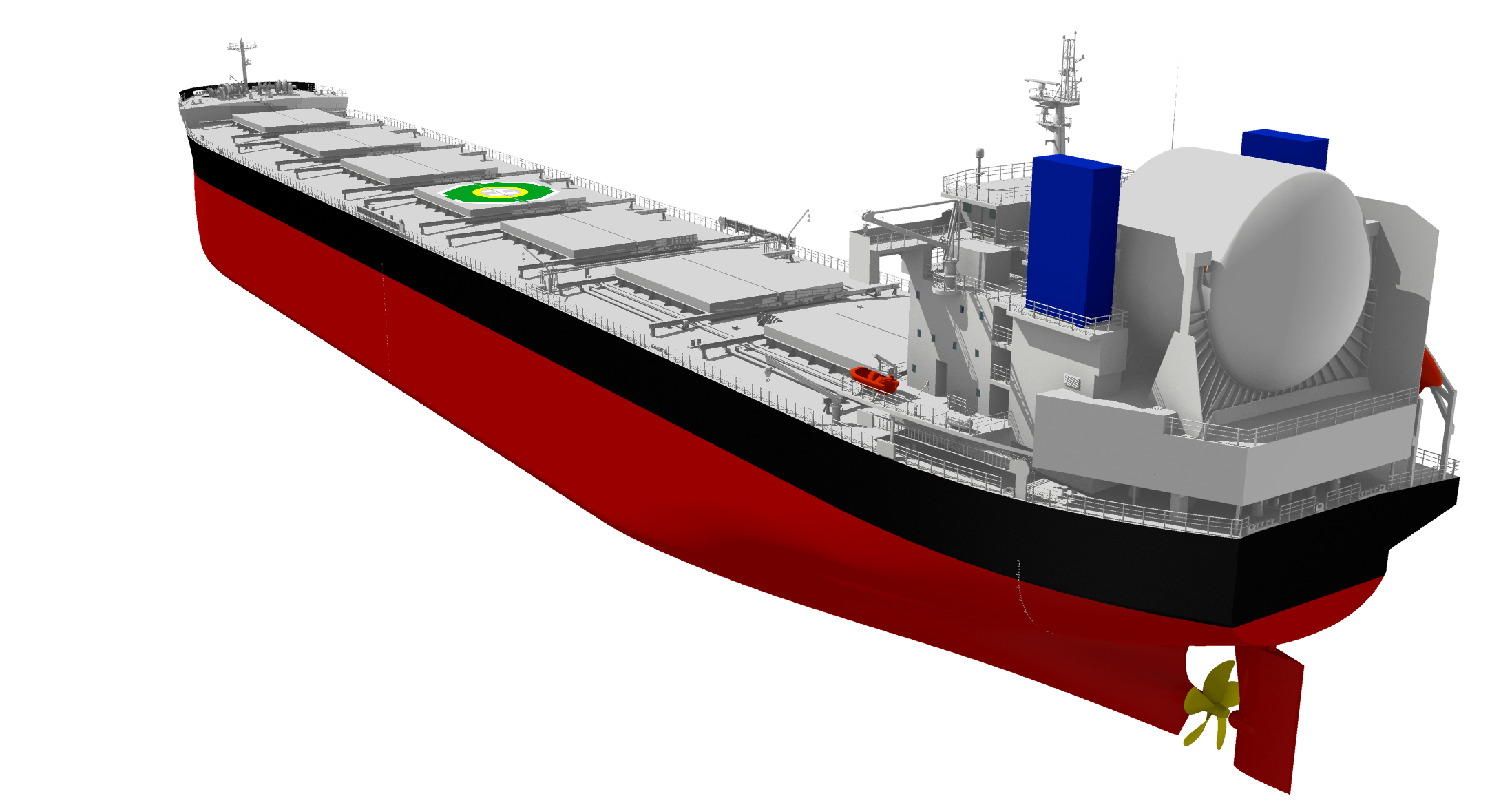 On March 30, TSUNEISHI SHIPBUILDING (HQ: 1083 Tsuneishi, Numakuma-cho, Fukuyama, Hiroshima, Japan; President: Sachio Okumura) received Approval in Principle (AiP) from Lloyd's Register for its LNG / fuel oil dual-fuel bulk carrier KAMSARMAX GF.
The GF in "KAMSARMAX GF" stands for Gas Fuel. This eco-ship combines the versatility of KAMSARMAX with the high environmental performance of LNG fuel. Designed to use LNG as its primary fuel, it has achieved a reduction of carbon dioxide (CO₂) emissions by 40% or more compared to the EEDI* reference line and meet the reduction rate by a large margin for EEDI Phase 3 that will take effect in 2025. In addition, sulfur oxides (SOx) and nitrogen oxides (NOx) have also been greatly reduced.
By obtaining Approval in Principle from the Lloyd's Register, which established and certifies technical standards, we have enhanced the specificity of basic design and enabled smooth development into detailed design.
Comment from Sachio Okumura, President of TSUNEISHI SHIPBUILDING
"With the needs for environmental performance of ships increasing year by year, TSUNEISHI SHIPBUILDING has been accelerating its research and development into environmentally-friendly technologies. The "KAMSARMAX GF" plays an important role in the transition from heavy oil-fuelled ships to next-generation ships fuelled by hydrogen, etc. We will continue our efforts at sales activities so that our ships can help solve the problems of many customers who are dealing decarbonisation challenges."
Comment from Seiji Hamanaka, Technical Support Office Manager of Lloyd's Register
"We are proud to support TSUNEISHI SHIPBUILDING with its ongoing decarbonisation efforts by awarding Approval in Principle for its LNG dual-fuel bulk carrier design. Since its creation in 2005, TSUNEISHI SHIPBUILDING has been further enhancing its KAMSARMAX design to align with everchanging regulations and requirements, and this is the next step towards meeting the IMO's GHG emission targets."
Taking the opportunity of acquiring the AiP of KAMSARMAX GF, TSUNEISHI SHIPBUILDING will continue to reduce the environmental burden by driving both the development of zero-emission ships and the shift to LNG fuels for other ship models as well.
KAMSARMAX GF specifications
・Length overall: 229m
・Breadth: 32.26m
・Depth: 20.15m
*EEDI: Energy Efficiency Design Index. An international regulation by the International Maritime Organization (IMO) to address CO₂ reduction for new ships. Bulk carriers are mandated to reduce CO₂ by a minimum of 30% from the reference line in 2025.
About TSUNEISHI SHIPBUILDING Co., Ltd.
Marking its 100th anniversary in 2017, TSUNEISHI SHIPBUILDING (Fukuyama, Hiroshima, Japan) is the anchor company of the TSUNEISHI Group, which mainly engages in shipbuilding industry and maritime transport. With manufacturing bases in Japan (Tsuneishi Factory, the HQ), Philippines, and China, the company builds bulk carriers, container carriers, tankers, etc.
URL: https://www.tsuneishi.co.jp/english/
President: Sachio Okumura
Field of Business: Shipbuilding, ship repair
Established: July, 1917
Capital: 100 million yen
Employees: 869 (as of December, 2020)
Business Locations: Tsuneishi Factory (Fukuyama, Hiroshima, Japan)
Shipbuilding Affiliates:
TSUNEISHI HEAVY INDUSTRIES (CEBU), Inc. (Cebu Island, Philippines)
http://www.thici.com/
TSUNEISHI GROUP (ZHOUSHAN) SHIPBUILDING, Inc. (Zhejiang Province, China)
http://www.tsuneishi-zs.com/
ASTILLERO TSUNEISHI PARAGUAY S.A. (Villeta, Central, Paraguay)
http://www.tsuneishi.com.py/
TSUNEISHI IRON WORKS Co., Ltd. (Fukuyama, Hiroshima, Japan)
https://www.tsuneishi-iw.jp/
TSUNEISHI TRADING Co., Ltd. (Fukuyama, Hiroshima, Japan)
https://www.tsuneishi-trading.co.jp/
TSUNEISHI ENGINEERING Co., Ltd. (Fukuyama, Hiroshima, Japan)
http://www.tsune-e.com/
MIHO SHIPYARD CO., LTD. (Shizuoka, Shizuoka Prefecture, Japan)
http://www.mihozosen.co.jp/
For further information, please contact:
Communication Dept.
TSUNEISHI HOLDINGS CORPORATION
+81-84-987-4915
pr@tsuneishi.com