TSUNEISHI SHIPBUILDING completes the EEDI Phase 3 design for the main bulker models such as KAMSARMAX
May 11, 2021
[Products]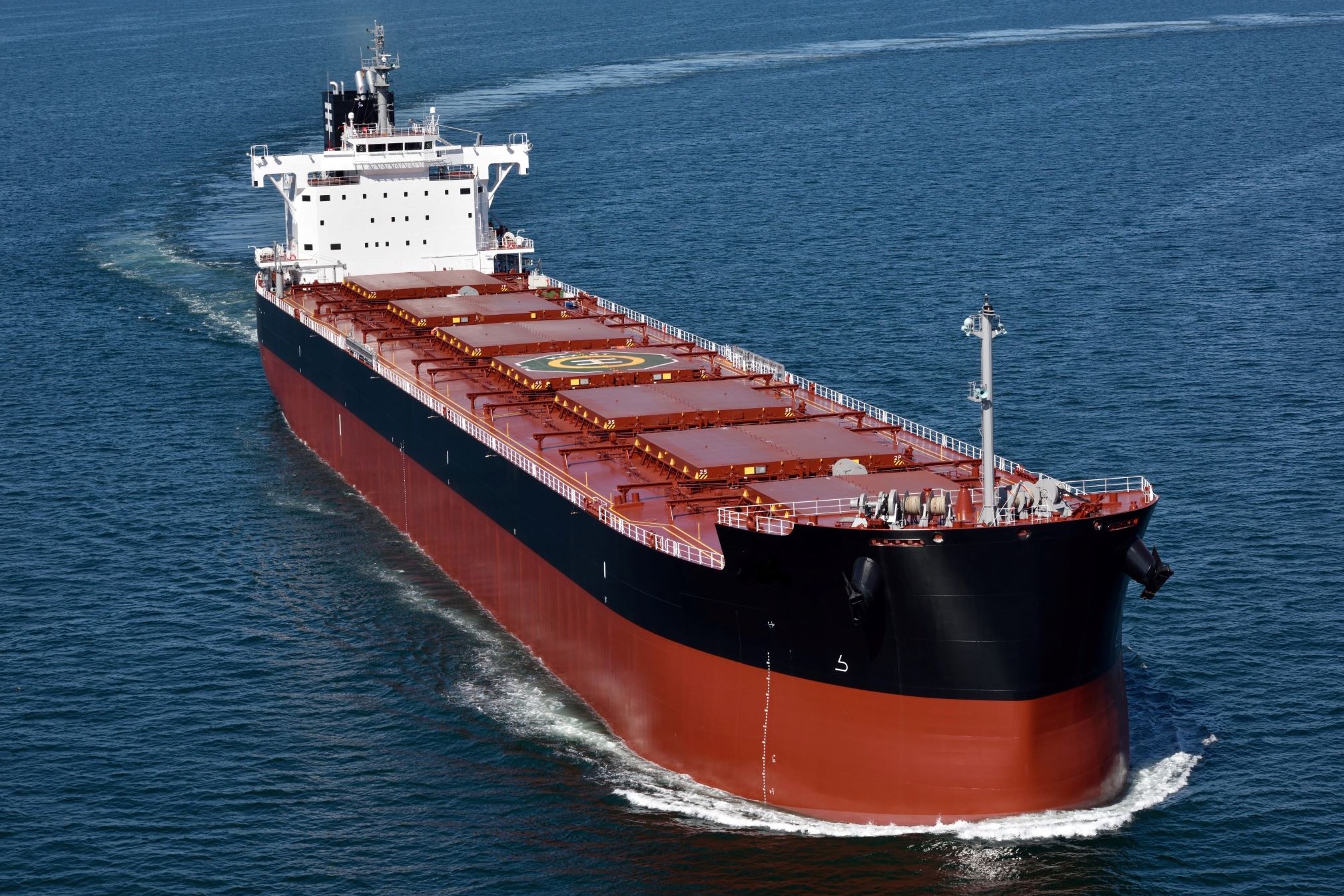 TSUNEISHI SHIPBUILDING Co., Ltd. (HQ: 1083 Tsuneishi, Numakuma-cho, Fukuyama, Hiroshima, Japan; President: Sachio Okumura) has completed the development of its main bulker models which comply with the EEDI(*1)Phase 3 regulation. It is engaging in sales activities, and has obtained the orders for KAMSARMAX, etc. from Japanese ship owners.
EEDI is the regulations for CO₂ emissions reduction. EEDI Phase 2 (20% reduction from the standard ratio) is currently applied and in force. In an attempt to reduce the environment burden and to improve the fuel efficiency, TSUNEISHI SHIPBUILDING has achieved in advance the Phase 3 (30% reduction from the standard ratio) which will only be applied for the new ships contracted after 2025.
The ship designs being completed and achieved the EEDI Phase 3 are KAMSARMAX, WIDE KAMSARMAX, TESS64 AEROLINE, TESS42 and the latest Ultramax design of TESS66 AEROLINE(*2), all 5 designs. The Phase 3 is achieved by using the conventional fuel oil with our own innovative fuel efficiency technology.
Comments from President Okumura Sachio of TSUNEISHI SHIPBUILDING
"Whilst the movement in response to the global warming is being highly concerned, we would like to develop our ships in advance which have to be met with the EEDI Phase 3 regulations and provide them to our valuable customers who always giving us their strong support.
We shall continue to make efforts for further easing the environment burden, and enhance the new environment technology to meet our customers' expectation"
*1 EEDI : Energy Efficiency Design Index, is the requirements for new ships designed and built to comply with the regulations of the IMO for CO₂ emission reduction.
*2 TESS66 AEROLINE : "AEROLINE" is TSUNEISHI's own fuel saving technology. The unique streamline design on both the bow and accommodation house of the ship reduce about 20% wind resistance.
About TSUNEISHI SHIPBUILDING Co., Ltd.
Marking its 100th anniversary in 2017, TSUNEISHI SHIPBUILDING (Fukuyama, Hiroshima, Japan) is the anchor company of the TSUNEISHI Group, which mainly engages in shipbuilding industry and maritime transport. With manufacturing bases in Japan (Tsuneishi Factory, the HQ), Philippines, and China, the company builds bulk carriers, container carriers, tankers, etc.
URL: https://www.tsuneishi.co.jp/english/
President: Sachio Okumura
Field of Business: Shipbuilding, ship repair
Established: July, 1917
Capital: 100 million yen
Employees: 869 (as of December, 2020)
Business Locations: Tsuneishi Factory (Fukuyama, Hiroshima, Japan)
Shipbuilding Affiliates:
TSUNEISHI HEAVY INDUSTRIES (CEBU), Inc. (Cebu Island, Philippines)
http://www.thici.com/
TSUNEISHI GROUP (ZHOUSHAN) SHIPBUILDING, Inc. (Zhejiang Province, China)
http://www.tsuneishi-zs.com/
ASTILLERO TSUNEISHI PARAGUAY S.A. (Villeta, Central, Paraguay)
http://www.tsuneishi.com.py/
TSUNEISHI IRON WORKS Co., Ltd. (Fukuyama, Hiroshima, Japan)
https://www.tsuneishi-iw.jp/
TSUNEISHI TRADING Co., Ltd. (Fukuyama, Hiroshima, Japan)
https://www.tsuneishi-trading.co.jp/
TSUNEISHI ENGINEERING Co., Ltd. (Fukuyama, Hiroshima, Japan)
http://www.tsune-e.com/
MIHO SHIPYARD CO., LTD. (Shizuoka, Shizuoka Prefecture, Japan)
http://www.mihozosen.co.jp/
For further information, please contact:
Communication Dept.
TSUNEISHI HOLDINGS CORPORATION
+81-84-987-4915
pr@tsuneishi.com