TSUNEISHI HEAVY INDUSTRIES (Cebu) of the Philippines completes 300th ship
April 30, 2021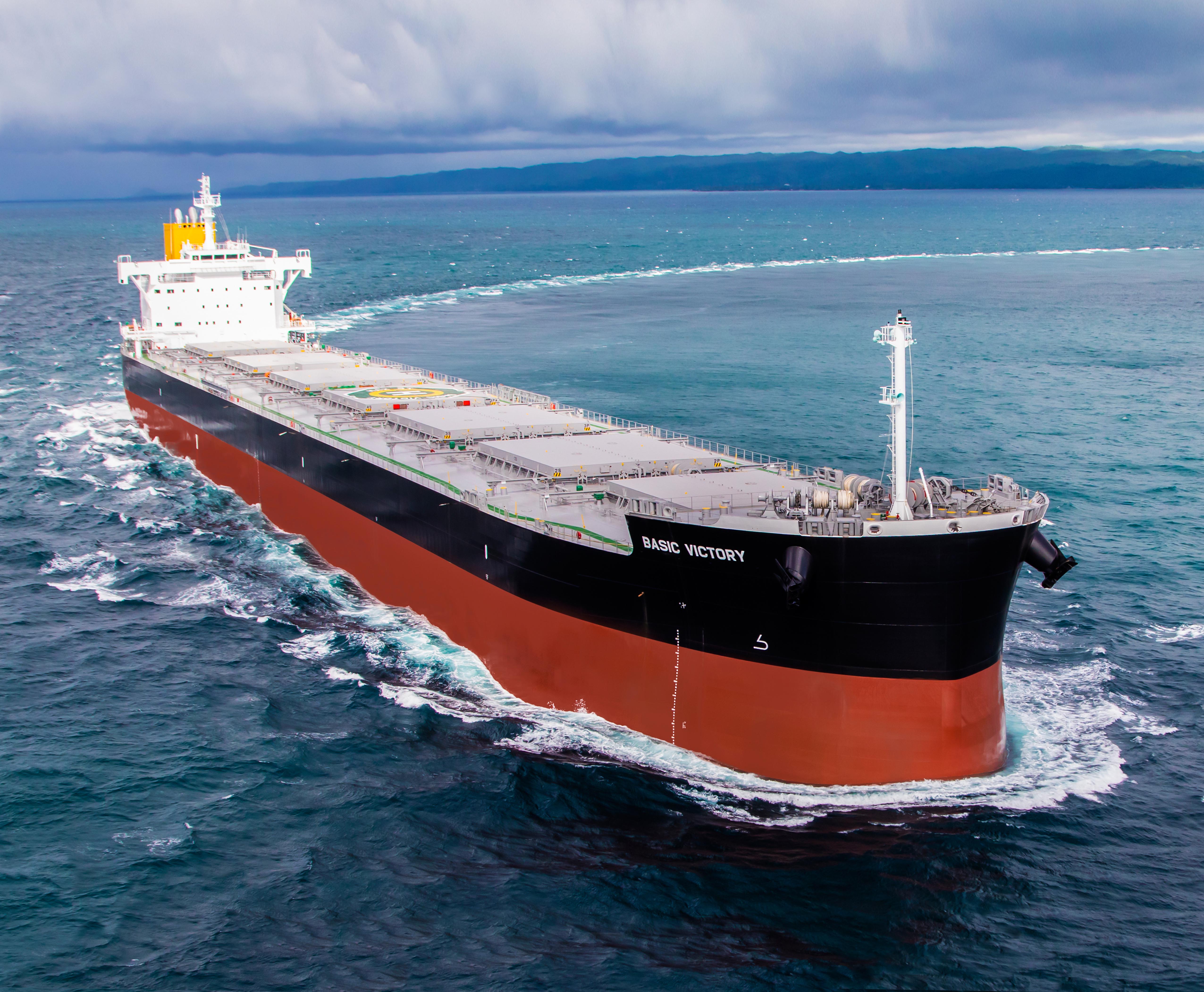 On March 3, TSUNEISHI HEAVY INDUSTRIES (Cebu), Inc. (Abbr.: THI; Location: Balamban, Cebu, Philippines; President: Akihiko Mishima), the Philippines subsidiary of TSUNEISHI SHIPBUILDING Co., Ltd. (HQ: 1083 Tsuneishi, Numakuma-cho, Fukuyama, Hiroshima, Japan; President: Sachio Okumura), has completed and delivered its 300th ship, an 82,000 DWT KAMSARMAX bulk carrier named BASIC VICTORY.
THI was established in 1994 and completed its first ship, the bulk carrier named SEA AMELITA in 1997. It has since built its 100th ship in 2009 and 200th ship in 2015. THI has steadily developed its shipbuilding record mainly with bulk carriers, and also with container carriers, pure car & truck carriers, tugboats, and other ships. Construction of its 300th ship is an exceptional achievement for a Japanese-affiliated overseas shipyard.
THI also conducts a range of activities for the sustainable development of the region. Aiming for a prosperous coexistence with the local community, these long-term initiatives include providing support for the construction of a hospital and educational institutions, and other facilities that are vital to regional progress, as well planting trees and offering scholarships to students organized and implemented by TSUNEISHI FOUNDATION (Cebu).
THI President Akihiko Mishima commented, "I am delighted that we have reached the milestone of completing the construction of our 300th ship. THI will continue to build high-quality ships that match market needs through the teamwork of our employees in Japan and the Philippines. We will not forget to sustainably grow alongside the local community and continue to be a company that is essential to customers and the local community."
■TSUNEISHI HEAVY INDUSTRIES (Cebu) History
1994 Established
1997 Completed first ship, SEA AMELITA
2002 Supported the rebuilding of the local public market that had burned down
2004 Completed second shipbuilding berth
2007 Completed first pure car & truck carrier
Supported the construction of a state hospital
2009 Achieved construction of 100th ship
2011 Launched scholarship system for high school and college students
2015 Achieved construction of 200th ship
2019 Completed first container carrier
Marked 25th anniversary
2021 Achieved construction of 300th ship
■TSUNEISHI HEAVY INDUSTRIES (CEBU), Inc.
THI is a joint venture between the TSUNEISHI Group and Aboitiz Group and is located on Cebu Island of the Philippines. It is one of the top shipyards in the Philippines with over 10,000 employees including those at affiliates, and mainly builds medium-sized bulk carriers. The Philippine Economic Zone Authority has awarded THI the Outstanding Exporter Award and Outstanding Community Projects Award in recognition of its contributions to the growth of the Philippines' export economy and its CSR activities that support the development of the region.
URL:http://www.thici.com/
Business: Shipbuilding and ship repair
Established: September 1994
Employees: Approx. 11,400 (as of December 2020, including subcontractor employees)
Location: West Cebu Industrial Park-SEZ, Buanoy, Balamban, Cebu, Philippines 6041
Shipyard area: Approx. 1,470,000 square meters
Main facilities: two slipways, one building dock, two floating cranes, etc.
Ship types delivered: bulk carriers, container carriers, pure car and truck carriers, and tugboats
For further information, please contact:
Communication Dept.
TSUNEISHI HOLDINGS CORPORATION
+81-84-987-4915
pr@tsuneishi.com
+81-84-987-4915