TSUNEISHI SHIPBUILDING launches its first TESS42 bulk carrier – Featured with versatility, improved loading capacity, and enhanced environmental performance
March 12, 2021
[Products]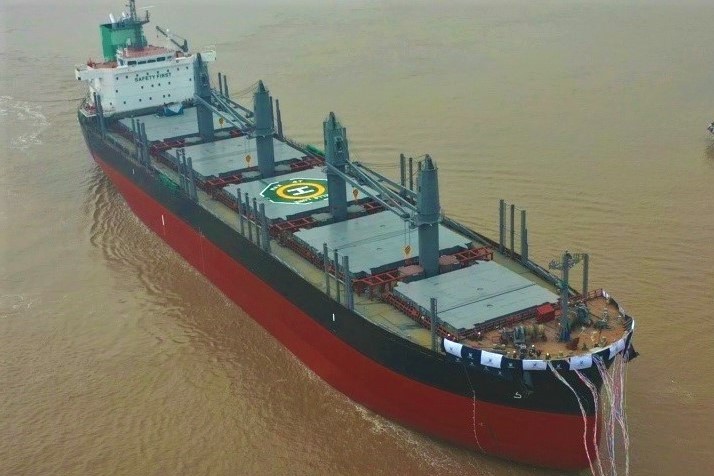 TSUNEISHI SHIPBUILDING Co., Ltd. (HQ: 1083 Tsuneishi, Numakuma-cho, Fukuyama, Hiroshima, Japan; President: Sachio Okumura) launched its first TESS42 bulk carrier at the Group company in China, TSUNEISHI GROUP (ZHOUSHAN) SHIPBUILDING (Address: Xiushan, Daishan County, Zhoushan City, Zhejiang Province, China) on February 1st, 2021.
While maintaining the versatility of the same overall length as TESS38, the deadweight capacity of TESS42 is increased by about 2,000MT at the same draft and by about 4,000MT at full load. TESS42 drives the trend toward larger handy sizes in the new shipbuilding market. It also has excellent trading flexibility for carrying the three major bulk cargoes of iron ore, grains, coal, as well as lumber, hot coils, sulfur, etc.
Due to the unique hull form, which reduces resistance, and our exclusive fuel efficiency technologies of MT-FAST energy saving device, etc., compared with TESS38, the fuel consumption has been reduced by over 4% per ton mile. Its cruising range is significantly increased as well. And the environmental performance has also been improved.

Length over all : 180m
Breadth : 32.2m
Depth : 15.4m
DWT : 42,200MT
Cargo capacity : 52,400 m³
Draft : 10.75m
Gross tonnage : 26,700
For more detailed information about TESS42, please refer to the website products information page : https://www.tsuneishi.co.jp/english/products/tess42/
Up to now TSUNEISHI SHIPBUILDING has completed and delivered more than 500 ships of TESS series. It will continue to provide customers with high quality ships that are both environmentally friendly and economical.
About TSUNEISHI SHIPBUILDING Co., Ltd.
Marking its 100th anniversary in 2017, TSUNEISHI SHIPBUILDING (Fukuyama, Hiroshima, Japan) is the anchor company of the TSUNEISHI Group, which mainly engages in shipbuilding industry and maritime transport. With manufacturing bases in Japan (Tsuneishi Factory, the HQ), Philippines, and China, the company builds bulk carriers, container carriers, tankers, etc.
URL: https://www.tsuneishi.co.jp/english/President: Sachio Okumura
Field of Business: Shipbuilding, ship repair
Established: July, 1917
Capital: 100 million yen
Employees: 869 (as of December, 2020)
Business Locations: Tsuneishi Factory (Fukuyama, Hiroshima, Japan)
Shipbuilding Affiliates:
TSUNEISHI HEAVY INDUSTRIES (CEBU), Inc. (Cebu Island, Philippines)
http://www.thici.com/
TSUNEISHI GROUP (ZHOUSHAN) SHIPBUILDING, Inc. (Zhejiang Province, China)
http://www.tsuneishi-zs.com/
ASTILLERO TSUNEISHI PARAGUAY S.A. (Villeta, Central, Paraguay)
http://www.tsuneishi.com.py/
TSUNEISHI IRON WORKS Co., Ltd. (Fukuyama, Hiroshima, Japan)
https://www.tsuneishi-iw.jp/
TSUNEISHI TRADING Co., Ltd. (Fukuyama, Hiroshima, Japan)
https://www.tsuneishi-trading.co.jp/
TSUNEISHI ENGINEERING Co., Ltd. (Fukuyama, Hiroshima, Japan)
http://www.tsune-e.com/
MIHO SHIPYARD CO., LTD. (Shizuoka, Shizuoka Prefecture, Japan)
http://www.mihozosen.co.jp/
For further information, please contact:
Communication Dept.
TSUNEISHI HOLDINGS CORPORATION
+81-84-987-4915
pr@tsuneishi.com