TSUNEISHI SHIPBUILDING renews Products information page
January 21, 2021
[Products]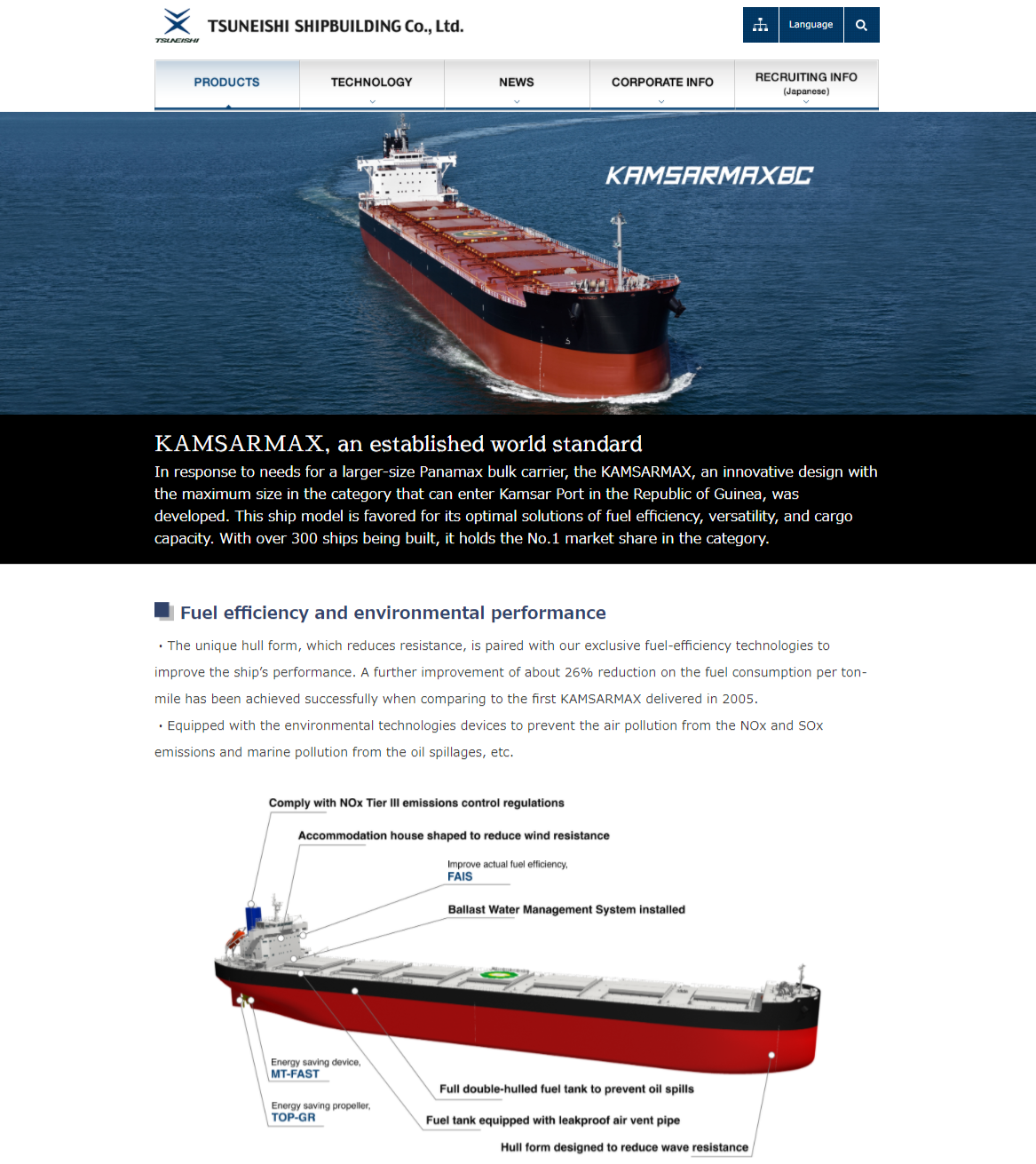 TSUNEISHI SHIPBUILDING Co., Ltd. (HQ: 1083 Tsuneishi, Numakuma-cho, Fukuyama, Hiroshima, Japan; President: Sachio Okumura) has renewed its Products information page on the official website.
The renewed page introduces the functions, features, and details of each of our signature ship models, such as our best-selling KAMSARMAX and the new and large WIDE KAMSARMAX that has inherited the KAMSARMAX name. We aim to enable customers to find all the information they need within the page.
For the revised Products information page, we consolidated the ships built by TSUNEISHI SHIPBUILDING into three main features. The first is "fuel efficiency and environmental performance" which is directly related to customer running costs and is also an important social issue. The second is "versatility" which is the outcome of optimum solutions derived from our unique big data and expertise. The third is "loading performance" which achieves large-volume transport without compromising usability. To promote and facilitate visualization of these features, we use computer graphics to show the entire ship drawings, and silhouettes to show cross-sectional drawings. The Technology introduction page has also been revised to describe the features of the unique technologies utilized on our ships.
For this revision, we adopted the optimum design for mobile devices, such as smartphones and tablets, to ensure that the required information is readily accessible.
TSUNEISHI SHIPBUILDING will continue to expand the information on the website to improve customer convenience.
Products page: https://www.tsuneishi.co.jp/english/products/
Technology page: https://www.tsuneishi.co.jp/english/tech/new/new01/
■ About TSUNEISHI SHIPBUILDING Co., Ltd.
Marking its 100th anniversary in 2017, TSUNEISHI SHIPBUILDING (Fukuyama, Hiroshima, Japan) is the anchor company of the TSUNEISHI Group, which mainly engages in shipbuilding industry and maritime transport. With manufacturing bases in Japan (Tsuneishi Factory, the HQ) and three overseas factories in Philippines, China, and Paraguay, the company builds 30,000-ton to 180,000-ton class bulk carriers, container carriers, tankers, cruise ships, etc.
URL: https://www.tsuneishi.co.jp/
President: Sachio Okumura
Field of Business: Shipbuilding, ship repair
Established: July 1917
Capital: 100 million yen
Employees: 910 (as of December 2019)
Business Locations: Tsuneishi Factory (Fukuyama, Hiroshima, Japan)
Shipbuilding Affiliates:
TSUNEISHI HEAVY INDUSTRIES (CEBU), Inc. (Cebu Island, Philippines)
http://www.thici.com/
TSUNEISHI GROUP (ZHOUSHAN) SHIPBUILDING, Inc. (Zhejiang Province, China)
http://www.tsuneishi-zs.com/
ASTILLERO TSUNEISHI PARAGUAY S.A. (Villeta, Central, Paraguay)
http://www.tsuneishi.com.py/
TSUNEISHI IRON WORKS Co., Ltd. (Fukuyama, Hiroshima, Japan)
https://www.tsuneishi-iw.jp/
TSUNEISHI TRADING Co., Ltd. (Fukuyama, Hiroshima, Japan)
https://www.tsuneishi-trading.co.jp/
TSUNEISHI ENGINEERING Co., Ltd. (Fukuyama, Hiroshima, Japan)
http://www.tsune-e.com/
MIHO SHIPYARD CO., LTD. (Shizuoka, Shizuoka Prefecture, Japan)
http://www.mihozosen.co.jp/
For further information, please contact:
Communication Dept.
TSUNEISHI HOLDINGS CORPORATION
+81-84-987-4915
pr@tsuneishi.com