TSUNEISHI GROUP (ZHOUSHAN) SHIPBUILDING exhibits at Marintec China 2019, Asia's largest international maritime exhibition: Introducing TSUNEISHI Quality to the world
November 25, 2019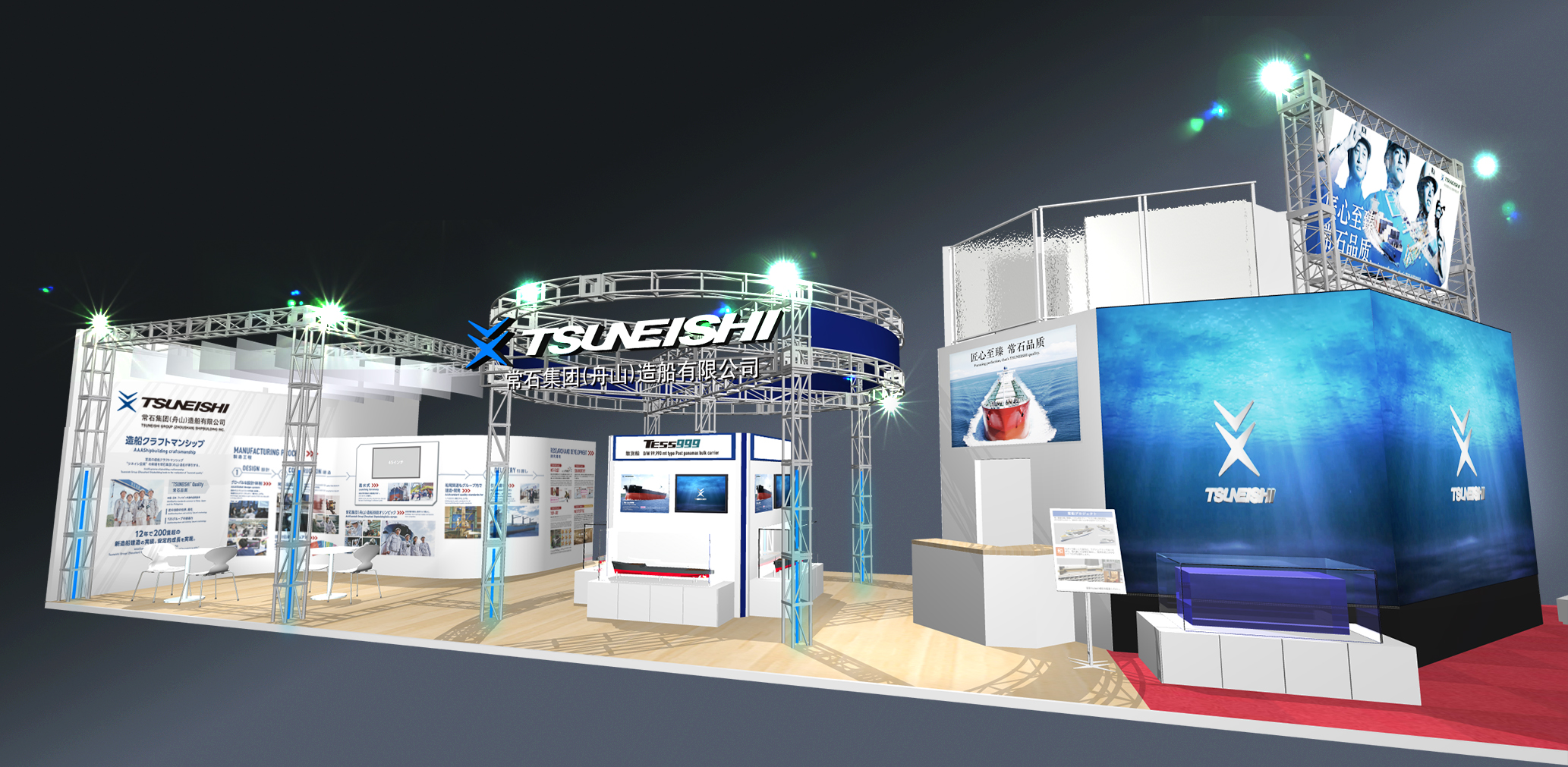 TSUNEISHI GROUP (ZHOUSHAN) SHIPBUILDING, Inc. (Location: Xiushan Island, Daishan County, Zhoushan City, Zhejiang Province, China; President: Jiro Sato; hereafter: TZS) will exhibit at Marintec China, the international maritime exhibition being held at the Shanghai New International Expo Centre in Shanghai, China from December 3rd to 6th, 2019. We will promote the strengths of TZS, such as its completion of 200 vessels in the last 12 years and its steady operational environment that will continue to support this rapid growth.
Marintec China, with a history of 40 years, is the largest maritime exhibition in Asia with the participation of over 2,000 exhibitors. TZS is participating for the third time, following 2015 and 2017. One distinctive feature of our booth will be two large screens that display videos of the three ship types: bulk carrier, container carrier, and product tanker, on which we have been currently focusing. Besides exhibiting the models of the propellers developed by TSUNEISHI SHIPBUILDING, TZS's headquarters in Japan, we will also prepare a stage on which employees will present our business activities and partnerships with local communities. One corner of the booth will be dedicated to one of our group company, TSUNEISHI TRADING Co., Ltd., to promote the comprehensive capabilities of the TSUNEISHI Group.
Launched as a business to build large hull-body blocks in 2003, TZS marks its 16th anniversary this year. Though it is the newest of the three main TSUNEISHI SHIPBUILDING factories, it has grown strongly to have the capability to build many of TSUNEISHI SHIPBUILDING's first new-model ships. In addition to the ongoing construction of bulk carriers and container carriers, TZS completed its first product tanker in March 2019. We have developed an enterprise to flexibly accommodate the needs of clients and the changes in market conditions and will continue to supply the world with high-quality ships.
※ About Marintec China 2019
Dates: December 3-6, 2019
Venue: Shanghai New International Expo Centre
Organizer: Ministry of Industry and Information Technology of People's Republic of China, Shanghai Municipal People's Government
URL:https://www.marintecchina.com/en-us
※ About TSUNEISHI GROUP (ZHOUSHAN) SHIPBUILDING's booth in the exhibition
Exhibit location: Hall-N1E7A
Exhibit contents: Key products, R&D activities, etc.
■ About TSUNEISHI GROUP (ZHOUSHAN) SHIPBUILDING, Inc.
It is one of the overseas shipyards of TSUNEISHI SHIPBUILDING Co., Ltd. (Head office: Fukuyama, Hiroshima Prefecture, Japan), located in Zhejiang Province, China. It has the capacity to build about 30 vessels per year. Besides its main line of 30,000-ton to 100,000-ton class bulk carriers, it also builds container carriers, tankers, etc.
URL: http://www.tsuneishi-zs.com/en/
Business: Shipbuilding
Established: December 2003
Employees: 582 (as of March, 2019)
Location: Retiao Village, Xiushan Island, Daishan County, Zhoushan City, Zhejiang Province, P. R. of China
Shipyard area: Approx. 1,300,000 square meters
Main facilities: Two berths, one building dock, two 700-tonne gantry cranes, one 3,000-tonne floating crane, etc.
Ship types delivered: bulk carriers, container carriers, tug boats, etc.
For inquiries, contact:
Marketing & Communication Dept.,
TSUNEISHI HOLDINGS CORPORATION
pr@tsuneishi.com
+81-84-987-4915