TSUNEISHI SHIPBUILDING Launches New 1,900 TEU Container Carrier at its Philippines Site
May 14, 2019
[Products]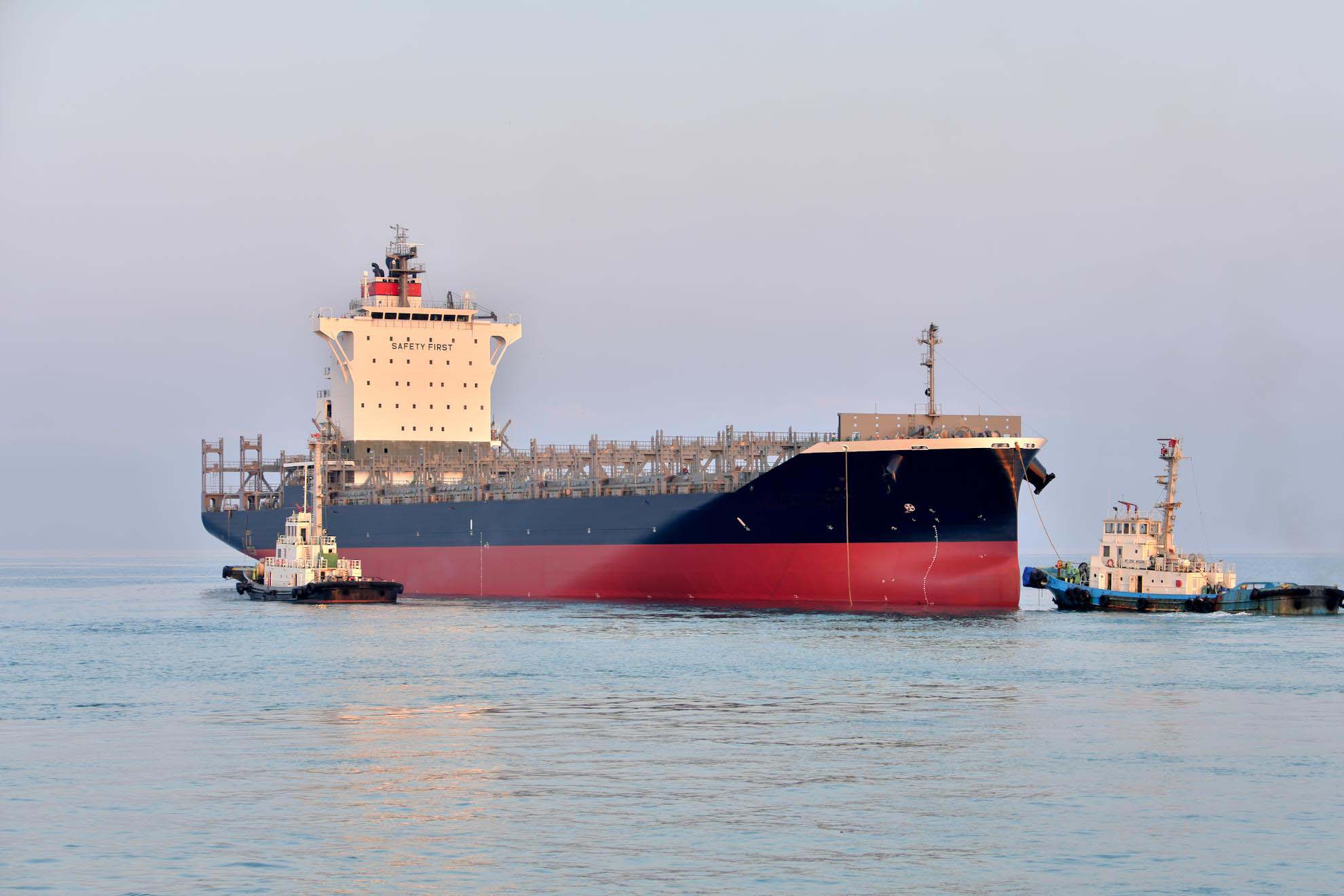 Feeder Container Optimized to Answer the Demands in Southeast Asia
TSUNEISHI SHIPBUILDING Co., Ltd. (HQ: 1083 Tsuneishi, Numakuma-cho, Fukuyama, Hiroshima, Japan; President: Kenji Kawano) launched the first ship of its new model, a 1,900 TEU container carrier, at TSUNEISHI HEAVY INDUSTRIES (CEBU), Inc. in the Philippines, a group company of TSUNEISHI SHIPBUILDING, on May 4, 2019.
The new 1,900 TEU container carrier was developed based on the concept of realizing "great loading capacity," "high stability performance," and "supreme F.O.C. performance," and is particularly well suited to addressing the needs of Southeast Asia. It features an improved load capacity yet stays under the maximum size to enter Thailand's Bangkok Port (Bangkok Max size), thereby achieving the largest container load capacity of 1,944 TEU for a Bangkok Max-size ship.
The hull form is designed to achieve high propulsion performance and was made with considerations toward reducing its environmental burden and improving the working conditions and safety of the crew. The ship includes our original TOP-GR*1 and MT-FAST*2 energy-saving technologies to achieve high fuel efficiency performance and is installed with the Ballast Water System and, to meet the heightened SOx emission restrictions, an SOx scrubber.
[About the 1,900 TEU Container Carrier]
Type: 1,900 TEU-type container carrier
Measurements: Total length: approx. 172 meters, breadth: 28.4 meters, depth: 14.5 meters
Full load draft:9.5 meters
Deadweight: Approx. 21,700 metric tons
Gross tonnage: Approx. 19,000 tons
TSUNEISHI SHIPBUILDING continues to strive to deliver high quality ships that achieve a high level of both economic and environmental performance for not only our mainstay of bulk carriers, but also for our product tankers and feeder container ships.
*1 TOP-GR:We designed and developed a highly efficient, low-vibration energy-saving propeller with an optimized blade number, diameter, aerofoil shape, and blade geometric distribution through precise
*2 MT-FAST: An energy-saving hull fitting that can boost propulsion efficiency by approximately 4% due to the multiple fins attached to the front of the propeller to adjust water flow. It was awarded the FY2018 Minister of the Environment's Commendation for Global Warming Prevention Activities.
■About TSUNEISHI SHIPBUILDING Co., Ltd.
Marking its 100th anniversary in 2017, TSUNEISHI SHIPBUILDING (Fukuyama, Hiroshima, Japan) is the anchor company of the TSUNEISHI Group, which mainly engages in shipbuilding and maritime transport. With manufacturing bases in Japan (Tsuneishi Factory, the HQ) and three overseas factories in the Philippines, China, and Paraguay, the company builds 30,000-ton to 180,000-ton class bulk carriers, container carriers, tankers, cruise ships, and other ships.
URL: https://www.tsuneishi.co.jp/
President: Kenji Kawano
Field of Business: Shipbuilding, ship repair
Established: July 1917
Capital: 100 million yen
Employees: 883 (as of December 2018)
Business Locations: Tsuneishi Factory (Fukuyama, Hiroshima, Japan)
Shipbuilding Affiliates:
TSUNEISHI HEAVY INDUSTRIES (CEBU), Inc. (Cebu Island, Philippines)
http://www.thici.com/
TSUNEISHI GROUP (ZHOUSHAN) SHIPBUILDING, Inc. (Zhejiang Province, China)
http://www.tsuneishi-zs.com/
ASTILLERO TSUNEISHI PARAGUAY S.A. (Villeta, Central, Paraguay)
http://www.tsuneishi.com.py/
TSUNEISHI IRON WORKS Co., Ltd. (Fukuyama, Hiroshima, Japan)
https://www.tsuneishi-iw.jp/
TSUNEISHI TRADING Co., Ltd. (Fukuyama, Hiroshima, Japan)
https://www.tsuneishi-trading.co.jp/
TSUNEISHI ENGINEERING Co., Ltd. (Fukuyama, Hiroshima, Japan)
http://www.tsune-e.com
MIHO SHIPYARD CO., LTD.
http://www.mihozosen.co.jp/
For further information, please contact:
Marketing & Communication Dept.
TSUNEISHI HOLDINGS CORPORATION
+81-84-987-4915
pr@tsuneishi.com