TSUNEISHI SHIPBUILDING and Hiroshima University Reach Agreement on Comprehensive Research Partnership
May 9, 2019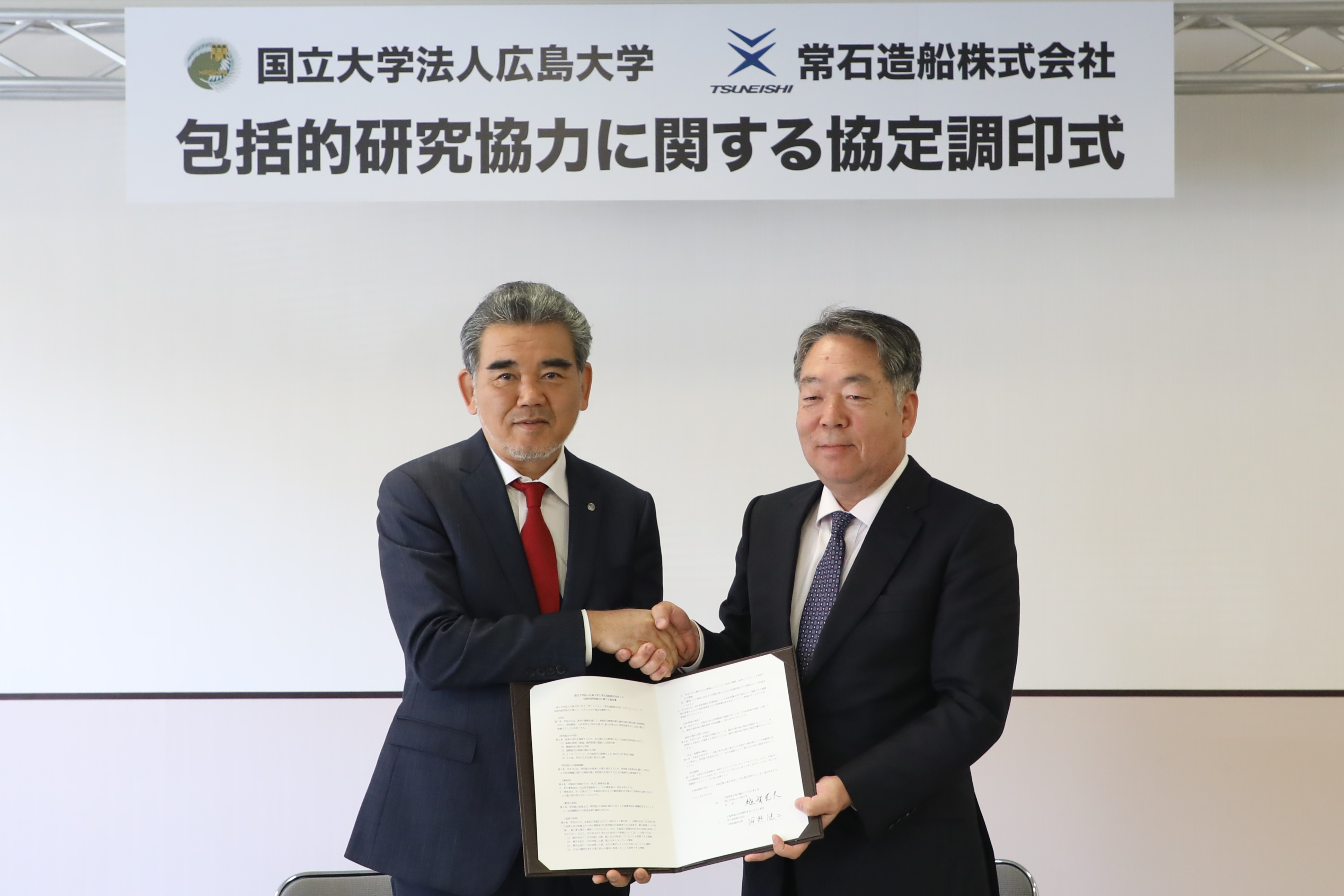 Strengthening Partnership to Develop Global Human Resources
TSUNEISHI SHIPBUILDING Co., Ltd. (HQ: 1083 Tsuneishi, Numakuma-cho, Fukuyama, Hiroshima, Japan; President: Kenji Kawano) signed an agreement with Hiroshima University on a comprehensive research partnership on May 8, 2019.
This research partnership agreement will help promote the research not only in the field of marine engineering but in a wide range of fields and personnel exchanges. Further efforts will be made to strengthen cooperation in the development of human resources. TSUNEISHI SHIPBUILDING, which operates globally, and Hiroshima University, which has extensive experience in receiving and sending out exchange students, hope to contribute to society by achieving results that advance their commonly shared goal of nurturing global human resources. A new research partnership committee will be established to realize the concept and both sides will establish a secretariat to further strengthen their cooperation.
With regards to research, TSUNEISHI SHIPBUILDING and Hiroshima University will take on the challenge of tackling a new theme. A new course titled "Ship Design Innovation Collaborative Research Laboratory" will be offered, in which research will be conducted on the theme of "Statistical Analysis of Design Data and the Utilization of AI". Ongoing joint research projects between TSUNEISHI SHIPBUILDING and the Graduate School of Engineering at Hiroshima University will also be continued. Such research will not only include studies on energy efficiency technology to help reduce the burden on the environment but will also advance research in such areas as noise reduction and improved air-conditioning performance in the ship's accommodation area to help improve the labor environment.
At the signing ceremony on May 8, President Kenji Kawano of TSUNEISHI SHIPBUILDING said, "Our partnership with Hiroshima University is giving our company the technological support to help us achieve rapid progress in our business. I hope this agreement will serve as an opportunity for us to deepen our win-win relationship, not only in the field of marine engineering but in a broader spectrum of areas and will play an important role in achieving mutual growth." Hiroshima University President Mitsuo Ochi commented, "I am very happy that we were able to sign this agreement at the start of this new Reiwa era. For us, this is the first comprehensive agreement signed with the shipbuilding industry that covers our entire university, and we wish to further strengthen this partnership by making use of our educational and research abilities."
[History up to now]
Since 2004, TSUNEISHI SHIPBUILDING and the Graduate School of Engineering at Hiroshima University have been conducting joint research regarding ships in the four areas (performance, construction, outfitting, and environment/shipbuilding) by making use of Hiroshima University's testing equipment and TSUNEISHI SHIPBUILDING's production sites. During these 15 years, of the 99 themes that were studied, 74% of the research results have been utilized on actual ships, including a bow design that improves energy efficiency by reducing wave resistance and the development of a shape for the accommodation area that reduces wind resistance, thereby showing how such collaborative research has contributed toward the construction of high performance ships.
In addition to the joint research, both organizations collaborated in other areas:
- TSUNEISHI SHIPBUILDING has provided internships for Hiroshima University students, including at its overseas sites.
- TSUNEISHI SHIPBUILDING employees have offered lectures conducted at Hiroshima University.
Under the situation that securing human resources has become a social issue, these efforts have paid off. Since the partnership began in 2004, TSUNEISHI SHIPBUILDING has hired 42 students from Hiroshima University (66 students for the TSUNEISHI Group overall), thus helping to ensure that the company is able to acquire outstanding talent.
TSUNEISHI SHIPBUILDING will continue to focus on forming industry-university collaborations with educational institutions in the region in order to enhance the abilities of both employees and students, thus improving customer satisfaction through our efforts to build high quality ships installed with the latest technologies, while also contributing toward helping to reduce environmental burden.
■About TSUNEISHI SHIPBUILDING Co., Ltd.
Marking its 100th anniversary in 2017, TSUNEISHI SHIPBUILDING (Fukuyama, Hiroshima, Japan) is the anchor company of the TSUNEISHI Group, which mainly engages in shipbuilding and maritime transport. With manufacturing bases in Japan (Tsuneishi Factory, the HQ) and three overseas factories in the Philippines, China, and Paraguay, the company builds 30,000-ton to 180,000-ton class bulk carriers, container carriers, tankers, cruise ships, and other ships.
URL: https://www.tsuneishi.co.jp/
President: Kenji Kawano
Field of Business: Shipbuilding, ship repair
Established: July 1917
Capital: 100 million yen
Employees: 883 (as of December 2018)
Business Locations: Tsuneishi Factory (Fukuyama, Hiroshima, Japan)
Shipbuilding Affiliates:
TSUNEISHI HEAVY INDUSTRIES (CEBU), Inc. (Cebu Island, Philippines)
http://www.thici.com/
TSUNEISHI GROUP (ZHOUSHAN) SHIPBUILDING, Inc. (Zhejiang Province, China)
http://www.tsuneishi-zs.com/
ASTILLERO TSUNEISHI PARAGUAY S.A. (Villeta, Central, Paraguay)
http://www.tsuneishi.com.py/
TSUNEISHI IRON WORKS Co., Ltd. (Fukuyama, Hiroshima, Japan)
https://www.tsuneishi-iw.jp/
TSUNEISHI TRADING Co., Ltd. (Fukuyama, Hiroshima, Japan)
https://www.tsuneishi-trading.co.jp/
TSUNEISHI ENGINEERING Co., Ltd. (Fukuyama, Hiroshima, Japan)
http://www.tsune-e.com
MIHO SHIPYARD CO., LTD.
http://www.mihozosen.co.jp/
For further information, please contact:
Marketing & Communication Dept.
TSUNEISHI HOLDINGS CORPORATION
+81-84-987-4915
pr@tsuneishi.com