TSUNEISHI SHIPBUILDING Launches its First Completed LRI Product Tanker
August 13, 2018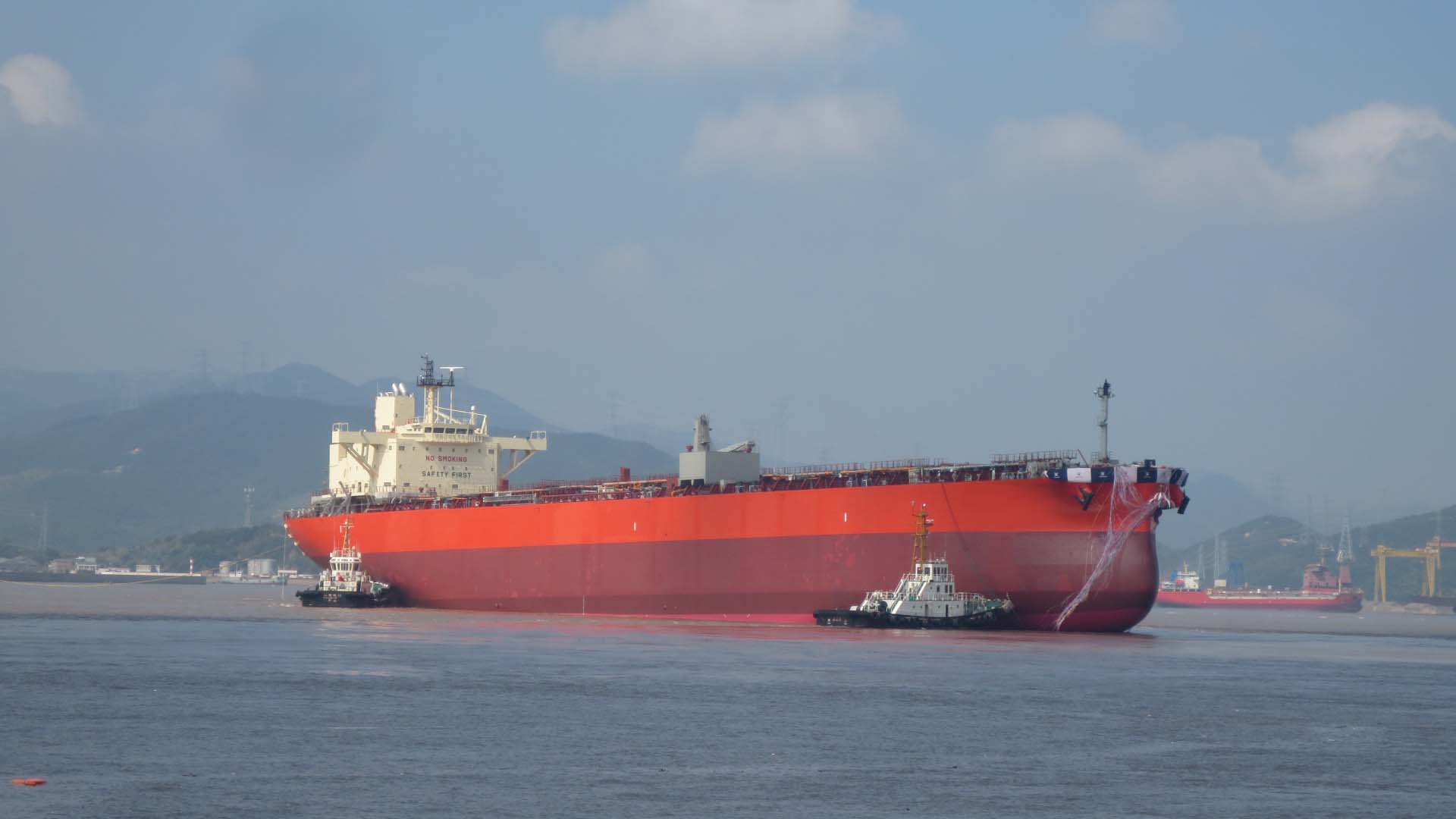 TSUNEISHI SHIPBUILDING Co., Ltd. (HQ: 1083 Tsuneishi, Numakuma-cho, Fukuyama, Hiroshima, Japan; President: Kenji Kawano) launched its first completed 77,000 DWT (LRI) (*1) Product Tanker at its Group company, TSUNEISHI GROUP (ZHOUSHAN) SHIPBUILDING, Inc.(Location: Xiushan Island, Daishan County, Zhoushan City, Zhejiang Province, P. R. of China; President: Jiro Sato; hereinafter, TZS) on August 10, 2018.
The 77,000 DWT (LRI) Product Tanker has a larger cargo tank than other standard LRI tankers, which improves transport efficiency. It also has a wider hull, thereby achieving the same level of draft and air draft as MR tankers (50,000 DWT) and enabling this tanker to enter ports that have restrictive draft limitations. The new LRI Product Tanker is equipped with our company's unique energy-saving technologies MT-FAST (*2) and TOP-GR (*3), and the hull and accommodation have been designed to reduce resistance and thereby improve propulsion efficiency. These efforts have enabled this tanker to achieve high energy-saving performance in addition to high fuel efficiency, thus realizing an improved level of environmental and economic performance.
TSUNEISHI SHIPBUILDING continues to develop a lineup of ships that extend beyond our mainstay of bulk carriers, as well as a diverse range of other ships, such as tankers and container carriers, in order to meet the various needs of the world's maritime market. The new 77,000 DWT Product Tanker is being rolled out along with the existing Aframax Crude Oil Tanker to fulfill the changing needs of the market.
*1. LRI: LRI stands for Large Range I, and refers to tankers weighing 55,000 – 80,000 tons.
*2. MT-FAST: An energy-saving hull fitting that can boost propulsion efficiency by approximately 4% by attaching multiple fins to the front of the propeller to adjust water flow. This was developed in partnership with Monohakobi Technology Institute (MTI), a NYK Line Group company.
*3. TOP-GR:We designed and developed a highly efficient, low-vibration energy-saving propeller with an optimized blade number, diameter, aerofoil shape, and blade geometric distribution through precise computer-based calculations and simulations.
■ About 77,000 DWT (LRI) Product Tanker
Type: 77,000 DWT (LRI) Product Tanker
Length x breadth x depth: About 228.0 metres x 38.0 metres x 19.3 metres
Full load draft: 13.3 metres
Deadweight: 77,000 metric tonnes
Gross Tonnage: 46,100 tonnes
Cargo hold capacity: 92,000 m3
Service Speed: 14.5 knots
Shipbuilder: TSUNEISHI GROUP (ZHOUSHAN) SHIPBUILDING, Inc.
■ About TSUNEISHI SHIPBUILDING Co., Ltd.
Marking its 100th anniversary in 2017, TSUNEISHI SHIPBUILDING (Fukuyama, Hiroshima, Japan) is the anchor company of the TSUNEISHI Group, which mainly engages in shipbuilding and maritime transport. With manufacturing bases in Japan (Tsuneishi Factory, the HQ) and three overseas factories in the Philippines, China, and Paraguay, the company builds container carriers, tankers, cruise ship, 30,000-tonne to 180,000-tonne class bulk carriers, and other ships.
URL: http://www.tsuneishi.co.jp/
President: Kenji Kawano
Field of Business: Shipbuilding, ship repair
Established: July 1917
Capital: 100 million yen
Employees: 880 (as of December 2017)
Business Locations: Tsuneishi Factory (Fukuyama, Hiroshima, Japan)
Shipbuilding Affiliates:
TSUNEISHI HEAVY INDUSTRIES (CEBU), Inc. (Cebu Island, Philippines)
http://www.thici.com/
TSUNEISHI GROUP (ZHOUSHAN) SHIPBUILDING, Inc. (Zhejiang Province, China)
http://www.tsuneishi-zs.com/
ASTILLERO TSUNEISHI PARAGUAY S.A. (Villeta, Central, Paraguay) http://www.glocal-japan.com/southamerica/
MIHO SHIPYARD CO., LTD.
http://www.mihozosen.co.jp/
TSUNEISHI IRON WORKS Co., Ltd. (Fukuyama, Hiroshima, Japan)
http://www.tsuneishi-iw.jp/
TSUNEISHI TRADING Co., Ltd. (Fukuyama, Hiroshima, Japan)
http://www.tsuneishi-trading.co.jp/
TSUNEISHI ENGINEERING Co., Ltd. (Fukuyama, Hiroshima, Japan)
http://www.tsune-e.com/
For further information, please contact:
Marketing & Communication Dept.,
TSUNEISHI HOLDINGS CORPORATION
+81-84-987-4915
pr@tsuneishi.com