TSUNEISHI SHIPBUILDING - First Completion and Delivery of New 2,800 TEU Container Carrier
April 25, 2018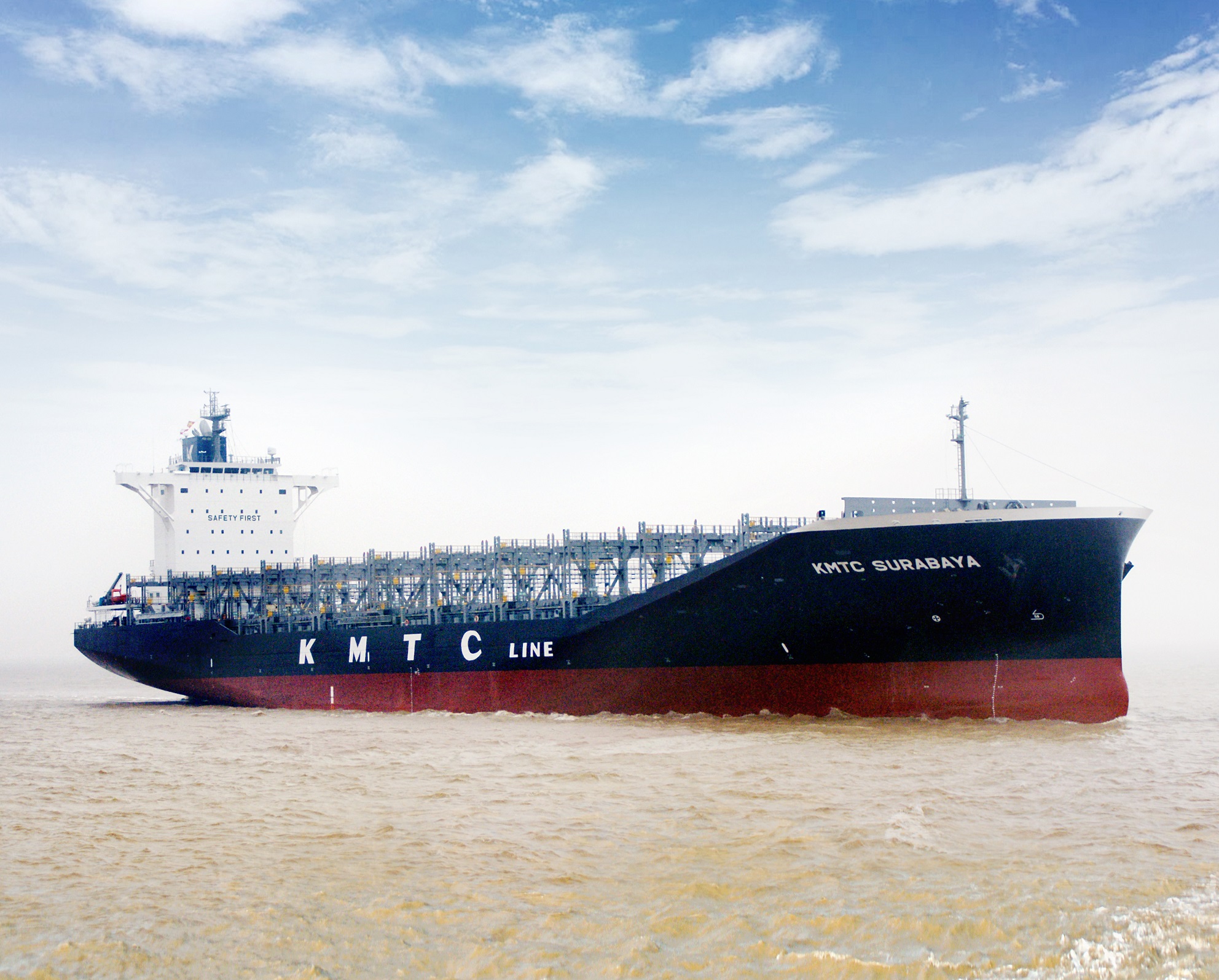 On 12 April, TSUNEISHI SHIPBUILDING Co., Ltd. (HQ: 1083 Tsuneishi, Numakuma-cho, Fukuyama, Hiroshima, Japan; President: Kenji Kawano) delivered the completed "KMTC SURABAYA" to the ship owner. This first "2,800 TEU Container Carrier", our new model container carrier, was built at TSUNEISHI GROUP (ZHOUSHAN) SHIPBUILDING, Inc. (Location: Xiushan Island, Daishan County, Zhoushan City, Zhejiang Province, People's Republic of China; President: Jiro Sato).
The 2,800 TEU Container Carrier is our response to the increased demand for container carriers, which are mainly used for medium- and long-distance regular routes, as the level of marine transportation of industrial materials and consumable materials increases along with economic growth in Asia and other regions. This vessel can handle up to 2,806 20-foot containers within its hold and on deck, with further options for the transportation of refrigerated containers and dangerous goods. In addition to the higher energy-saving performance and lower fuel consumption due to MT-FAST (*1), our proprietary energy-saving technology, and to the adoption of an electronically-controlled engine, this new vessel also achieves a faster service speed of 21.1 knots, an improvement of approximately 17% compared with the existing lineup of 1,020 TEU models, which improves both its environmental and practical performance.
We have received many orders for the 2,800 TEU Container Carrier since this model was launched in 2015. TSUNEISHI GROUP (ZHOUSHAN) SHIPBUILDING, Inc. will lead the construction. TSUNEISHI SHIPBUILDING, which has been focusing on bulk carriers, such as the "TESS" and "KAMSARMAX" that have been received very well in the market under our own brand, has expanded our lineup of tankers and container carriers to respond to the diverse needs of the global shipping market. We will continue to strategically diversify our ship designs and develop new types and models to stay ahead of future market demands.
※1 MT-FAST: Multiple-fin structure that attaches to the front of the propeller. This improves propulsion efficiency by about 4% by smoothing out water flow. It has been co-developed with MTI, a group company of NYK.
■About 2,800TEU
Vessel name: KMTC SURABAYA
Type:2,800TEU container carrier
Length/Breadth/Depth: About 200m×35.2m×16.8m
Load draft:11.5m
Deadweight:about 33,200 metric tons
Gross tonnage: about 28,500 tons
Main engine:M.A.N. - B&W 7G60ME - C9.5×1 set
Service speed: 21.1 knots
Building factory: TSUNEISHI GROUP (ZHOUSHAN) SHIPBUILDING
■ About TSUNEISHI SHIPBUILDING Co., Ltd.
Marking its 100th anniversary in 2017, TSUNEISHI SHIPBUILDING (Fukuyama, Hiroshima, Japan) is the anchor company of the TSUNEISHI Group, which mainly engages in shipbuilding and maritime transport. With manufacturing bases in Japan (Tsuneishi Factory, the HQ) and three overseas factories in the Philippines, China, and Paraguay, the company builds container carriers, tankers, 30,000-tonne to 180,000-tonne class bulk carriers, cruise ships and other ships.
URL: http://www.tsuneishi.co.jp/
President: Kenji Kawano
Field of Business: Shipbuilding, ship repair
Established: July 1917
Capital: 100 million yen
Employees: 880 (as of December 2017)
Business Locations: Tsuneishi Factory (Fukuyama, Hiroshima, Japan)
Shipbuilding Affiliates:
TSUNEISHI HEAVY INDUSTRIES (CEBU), Inc. (Cebu Island, Philippines)
http://www.thici.com/
TSUNEISHI GROUP (ZHOUSHAN) SHIPBUILDING, Inc. (Zhejiang Province, China)
http://www.tsuneishi-zs.com/
ASTILLERO TSUNEISHI PARAGUAY S.A. (Asuncion, Paraguay)
http://www.glocal-japan.com/southamerica/
MIHO SHIPYARD CO., LTD.
http://www.mihozosen.co.jp/
TSUNEISHI IRON WORKS Co., Ltd. (Fukuyama, Hiroshima, Japan)
http://www.tsuneishi-iw.jp/
TSUNEISHI TRADING Co., Ltd. (Fukuyama, Hiroshima, Japan)
http://www.tsuneishi-trading.co.jp/
TSUNEISHI ENGINEERING Co., Ltd. (Fukuyama, Hiroshima, Japan)
http://www.tsune-e.com/
For further information, please contact:
Marketing & Communication Dept.,
TSUNEISHI HOLDINGS CORPORATION
+81-84-987-4915
pr@tsuneishi.com