KAMBARA KISEN expands to North Europe with ship management services harnessing IT
April 5, 2018
[Services]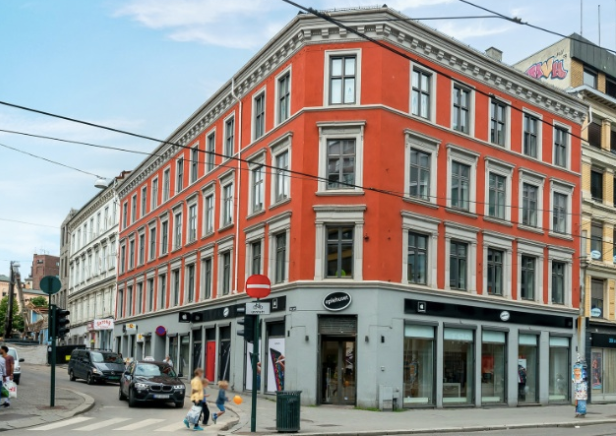 KAMBARA KISEN Co., Ltd.(HQ: 1083 Tsuneishi, Numakuma-cho, Fukuyama, Hiroshima, Japan; Representative Director and President: Hirotatsu Kambara) has established a Norway office (Storgatas 17, 0184 Oslo, Norway)under the overseas subsidiary Union Marine Management Services Pte. Ltd. (3 Harbour Front Place #12-01 Harbour Front Tower 2 Singapore; Managing Director, Vinay Gupta; hereafter, UMMS) in a move to enhance the ship management services in Europe. The Norway office launched operations on March 19th and will start with the ship management business from April, 9th.
KAMBARA KISEN established UMMS in Singapore in 2012 to consolidate ship management functions for its owned fleet, expanding and improving ship management capabilities with the aim of enhancing the quality and competitiveness. UMMS played a major role in actively addressing the Port State Control and application of IT to ship management methods for its managed vessels. UMMS independently developed the cloud-based ship operation system, "Intuit Ship"*1, a one-stop platform that processes all activities required for ship operation including ship maintenance, cargo management, supply and equipment ordering/purchasing, management and training of seafarers, reporting between ship and shore, ship inspection tracking, and troubleshooting. Almost all tasks that require communication between ship and shore can be executed through this intuitive system. A notable feature is that an owner can access all data and information on the same level as the management company regarding the ship in service. This fits the needs of traditional European ship owners who wish to be as involved as possible in operation / management of their own ships. UMMS also strives to develop the dedicated pool of competent seafarers, having established training centres in the Philippines in 2013 and in Vietnam in 2016. Its efficient and high-quality ship management services with the concept of "Medium Sized Ship manager" have been supported by esteemed clients trusting UMMS - the company started managing one ship when launched in 2012, expanding to 35 ships by the end of 2017. Nearly half of these, 15 ships, have been entrusted by third-party owners mainly in Europe.
KAMBARA KISEN took notice of the scarcity of ship management companies in North Europe that provide technical management services primarily by local experts located within stone throw distance to third parties at competitive cost, and decided to expand its ship management services in Oslo, Norway. As unit head, Lars Spildo, who has supervised the ship management division at a Nordic shipping company for many years, was appointed. Together with other ship management staff who have gained extensive experience on the front lines of reputable shipping companies, UMMS Norway will respond to the booming demand for ship management services being rendered locally, catching the needs of quality and efficiency oriented European shipping companies.
Hirotatsu Kambara, President of KAMBARA KISEN, comments, "Our management style harnessing "Intuit Ship" in all respects of vessel operation, is gaining attention especially among European shipping companies, and we have been steadily receiving a growing number of commissions from other shipping companies. On the other hand, there are few options in the Nordic region other than to entrust ship management tasks to distant Asian ship management companies, so we detected a need for services in closer proximity. For the next stage of growth for UMMS, we will attentively absorb the needs of European owners by harnessing the expertise of experienced local superintendents too.
*1 Intuit Ship is a ship management system that links the owner, the ship itself, and the ship management company through a cloud-based portal site. This streamlines the flow of ship management activities by integrating and sharing the numerous information related to the operation of ships among concerned parties.
■KAMBARA KISEN Co., Ltd.
KAMBARA KISEN was founded and started shipping business in 1903, is the origin of the TSUNEISHI Group and has led the TSUNEISHI Group for over a century. KAMBARA KISEN today provides liner service network linking China and Japan and its liner service has been expanded to India, Australia, the Middle East, and beyond using the hub port of Shanghai, as well as non-liner services to globally transport a variety of cargoes KAMBARA KISEN links lifelines of the world, while contributing to the revitalization and development of local economies.
URL: https://www.kambara-kisen.co.jp/
Representative Director and President: Hirotatsu Kambara
Business Field: Marine transportation and other shipping-related services
Foundation: 1903
Paid-up Capital: JPY100M
Employees: 53 (Japan based shore staff, as of December 2017)
Branch Offices: Tokyo, Niigata, Kanazawa, Osaka, Tianjin, Nanjing, Ningbo, and Xiamen
Overseas affiliates: Shanghai, Dalian, Qingdao, Singapore and Netherlands
Cargo:
Liners—Clothing, furniture, furnishings, etc.
Non-liners—Silica sand, coal, petroleum coke, steel products, automobiles, etc.
Owned Fleet: 2 car carriers, 28 bulk carriers, 5 container carriers (as of 2017)
■Union Marine Management Services Pte. Ltd.
Union Marine Management Services Pte. Ltd. is a ship management company that was established in Singapore in 2012. It currently provides full management services to 35 ships (as of December, 2017) entrusted by KAMBARA KISEN and other third party clients. With the concept of "Happy Ships," its ship management activities are bridging the world.
URL: http://www.unimarships.com/
Managing Director: Vinay Gupta
Business Field: Ship management
Foundation: 2012
Paid-up Capital: USD400,000
Employee: about 60 (as of December, 2017)
Overseas affiliates and branches: Singapore, India, Philippines, Vietnam, and Norway
Norway Office Tel:+47 400 03 940
Other Group Companies in shipping related segment:
KAMBARA LOGISTICS Co., Ltd.
http://kambara-logistics.com/
KAMBARA TUG AND MARINE SERVICES Co., Ltd.
http://www.kambara-tugmarine.com/
KAMBARA MARINE K.K.
Kambara Kisen (China) Shipping Co., Ltd.
http://www.kambara-kisen.cn/
SHANGHAI KAMBARA INT'L TRANSPORTATION CO., LTD.
TSUNEISHI GROUP (ZHOUSHAN) ENGINEERING SERVICE Inc.
Union Marine Management Services Pte. Ltd.
http://www.unimarships.com/
KAMBARA KISEN SINGAPORE Pte. Ltd.
http://www.kambarakisen.com.sg/
KMNL LODESTAR SHIPPING B.V.
Adrie Marine Electronics Solutions Pvt. Ltd.
http://www.adriemarine.in/
For further information, please contact:
Marketing & Communication Dept.,
TSUNEISHI HOLDINGS CORPORATION
+81-84-987-4915
pr@tsuneishi.com