TSUNEISHI HEAVY INDUSTRIES (CEBU) Acquires ISO 9001 / 14001: 2015 Certification
October 31, 2017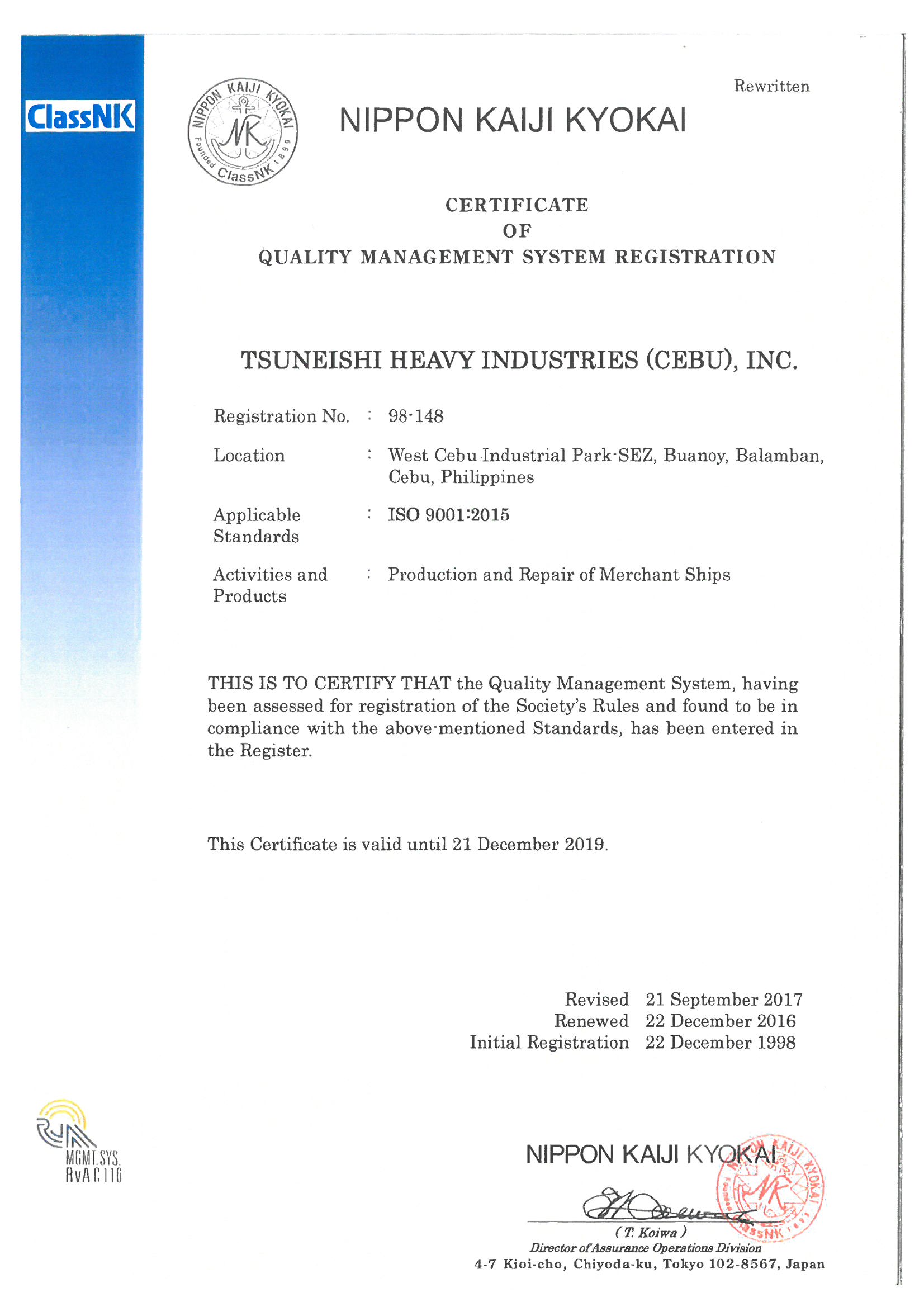 TSUNEISHI HEAVY INDUSTRIES (CEBU), Inc. (Abbr.: THI; Location: Balamban, Cebu, Philippines; President and CEO: Akihiko Mishima) acquired ISO 9001 / 14001: 2015 Certification on September 21, 2017.
In order to meet the standards of ISO 9001 / 14001: 2015, especially the updates of the revision from 2008 to 2015, from July, 2016, THI constructed Task Force teams to be trained to comprehend and understand the updates. All of the departments made collaborative efforts to implement PDCA (plan, do, check, act). After internal audits and management review, an external audit was conducted by ClassNK. Finally, THI was certified as conforming to the standards of ISO 9001 / 14001: 2015.
The acquisition of ISO 9001 / 14001: 2015 Certification indicated that THI can consistently provide products and services that meet customer and regulatory requirements, and manage environmental aspects, fulfill compliance obligations, and address risks and opportunities.
From now on, THI will endeavor not only to meet quality requirements of regulation and customers, but also to build the ships that are more environment friendly by realizing energy saving and improving fuel consumption performance and emission performance. Moreover, THI will value CSR greatly to contribute to the economic and social development as well as the quality of life in the region.
Registration No.:
 98-148(ISO 9001:2015) / 03-052E(ISO 14001:2015)
Applicable Standards:
 ISO 9001:2015 / ISO 14001:2015)
Activities and Products:
 Production and Repair of Merchants Ships
Registration Organization:
 NIPPON KAIJI KYOKAI (ClassNK)
Acquisition Date: September 21,2017
– About TSUNEISHI HEAVY INDUSTRIES(CEBU), Inc. –
TSUNEISHI HEAVY INDUSTRIES (CEBU), Inc. (THI) is a joint venture between Japan-based shipbuilder Tsuneishi Group and the Aboitiz Group. The company is one of the top shipyards in the Philippines, and builds mainly 30,000 ton to 180,000 ton class bulk carriers. It employs over 10,000 people including the ones from the subcontractors. As THI has been providing various supports to the community, and contributing greatly to the economic growth and development of Philippines, especially in export business, since 2004, Philippine Economic Zone Authority(PEZA) has awarded THI Outstanding Export Business Prize, Community Project Prize, etc., for ten times.
URL:http://www.thici.com/
Business: Shipbuilding
Established: September 1994
Employees: Approx. 10,000 (as of January 2017, including subcontractor employees)
Location: West Cebu Industrial Park-SEZ, Buanoy, Balamban, Cebu, Philippines 6041
Shipyard area: Approx. 1,470,000 square meters
Main facilities: Two slipways, one building dock, two floating cranes, etc.
Ship types delivered: Bulk Carriers, Pure Car and Truck Carriers, Tugboats
- For inquiries regarding this matter, contact: -
Marketing Communication Dept., CSV Division,
TSUNEISHI HOLDINGS CORPORATION
pr@tsuneishi.com
+81-84-987-4915