TSUNEISHI SHIPBUILDING establishes office in Shanghai, China —Enhancing relationships with shipowners in China—
September 19, 2017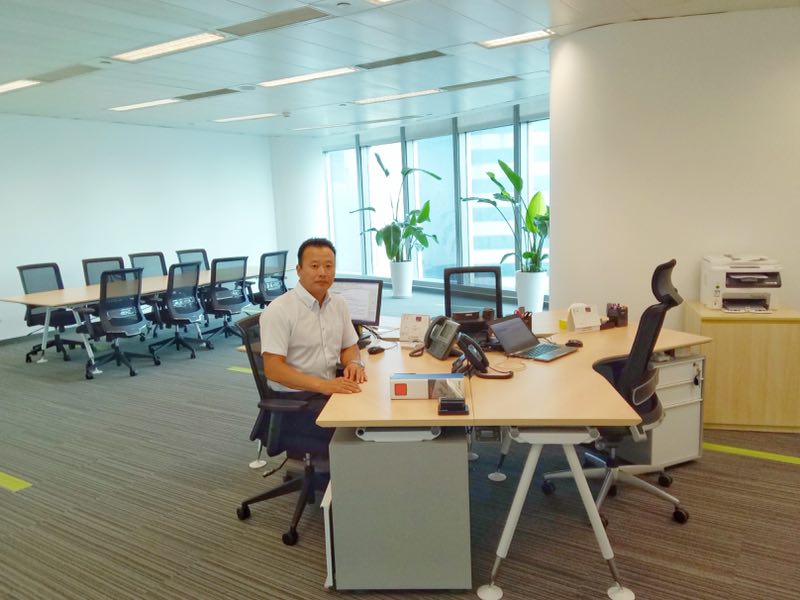 TSUNEISHI SHIPBUILDING Co., Ltd. (HQ: 1083 Tsuneishi Numakuma-cho, Fukuyama-shi, Hiroshima; President: Kenji Kawano), now celebrating its 100th anniversary, is pleased to announce the establishment of the TSUNEISHI SHIPBUILDING Co., Ltd. Shanghai Representative Office (hereinafter "Shanghai Office") on 1st August 2017.
Chinese shipowners are progressing rapidly as the Chinese government advocates the Belt and Road Initiative with the target of becoming a maritime trade superpower. The objective of the Shanghai Office is to strengthen relationships with these shipowners by regularly calling on them and conducting market research, thereby gathering information on a timely basis for more effective and efficient business expansion.
TSUNEISHI SHIPBUILDING has sought to expand its shipbuilding business in China especially with TSUNEISHI GROUP (ZHOUSHAN) SHIPBUILDING, Inc. (Zhoushan City, Zhejiang Province, China). Its presence is enhanced by being the first 100% foreign capital company to be named to the shipbuilding "white list" (a list of companies that meet China's shipyard evaluation criteria) in May 2017. TSUNEISHI SHIPBUILDING will push for further growth by establishing activities in the shipping industry in Shanghai, which has seen remarkable expansion in recent years.
■TSUNEISHI SHIPBUILDING Co., Ltd. Shanghai Representative Office
Address: #1904 Hongyi Plaza, 288 Jiujiang Road, Huangpu District, Shanghai, China
Director: Mr. Piao Fanzhu
Activities: Research of the Chinese market, regular calls on Chinese shipowners, liaising with TSUNEISHI SHIPBUILDING (HQ) and others
■About TSUNEISHI SHIPBUILDING Co., Ltd.
Marking its 100th anniversary in 2017, TSUNEISHI SHIPBUILDING (Fukuyama-shi, Hiroshima) is the anchor company of the TSUNEISHI Group, which mainly engages in shipbuilding and maritime transport. With manufacturing bases in Japan (Tsuneishi Factory, the HQ) and three overseas factories in the Philippines, China, and Paraguay, the company builds container carriers, tankers, 30,000-tonne to 180,000-tonne class bulk carriers, and other ships.
URL: http://www.tsuneishi.co.jp/
President: Kenji Kawano
Field of Business: Shipbuilding, ship repair
Established: July 1917
Capital: 100 million yen
Employees: 897 (as of December 2016)
Business Locations: Tsuneishi Factory (Fukuyama-shi, Hiroshima, Japan)
Shipbuilding Affiliates:
TSUNEISHI HEAVY INDUSTRIES (CEBU), Inc. (Cebu Island, Philippines)
http://www.thici.com/
TSUNEISHI GROUP (ZHOUSHAN) SHIPBUILDING, Inc. (Zhejiang Province, China)
http://www.tsuneishi-zs.com/
ASTILLERO TSUNEISHI PARAGUAY S.A. (Asuncion, Paraguay)
http://www.glocal-japan.com/southamerica/
MIHO SHIPYARD CO., LTD.
http://www.mihozosen.co.jp/
TSUNEISHI IRON WORKS Co., Ltd. (Fukuyama-shi, Hiroshima)
http://www.tsuneishi-iw.jp/
Tsuneishi Trading Co., Ltd. (Fukuyama-shi, Hiroshima)
http://www.tsuneishi-trading.co.jp/
TSUNEISHI ENGINEERING Co., Ltd. (Fukuyama-shi, Hiroshima)
http://www.tsune-e.com/
For further information, please contact:
Marketing Communication Dept., CSV Division
TSUNEISHI HOLDINGS CORPORATION
+81-84-987-4915
pr@tsuneishi.com