TSUNEISHI GROUP (ZHOUSHAN) SHIPBUILDING, Inc. operates world's largest 19 MW shipyard solar station
September 19, 2017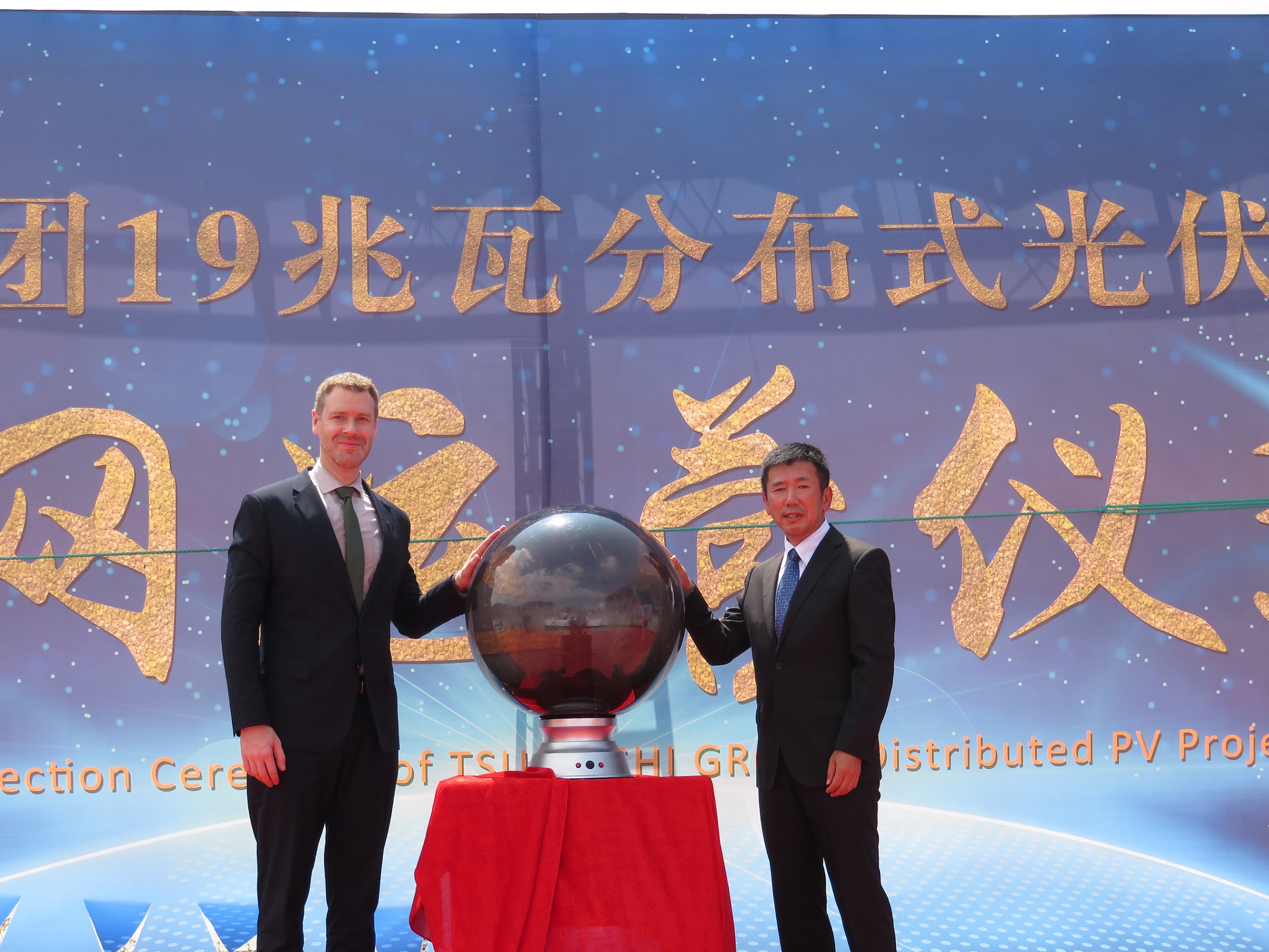 TSUNEISHI GROUP (ZHOUSHAN) SHIPBUILDING, Inc. (Location: Xiushan Island, Daishan County, Zhoushan City, Zhejiang Province, P. R. of China; President: Sachio Okumura) has completed a building-integrated photovoltaic (BIPV) system with a gross demonstrated capacity of 19 megawatts and began operations on 14th June.
This BIPV system replaces the factory roof, using solar panels made of tempered glass that are strong and durable yet lightweight. Over 72,000 solar panels with an estimated 25-year lifetime output of 418 million kWh have been installed. This is the largest distributed photovoltaic system in Zhoushan City and the largest BIPV system in the world.
The project was brought to fruition in partnership with clean energy solutions developer Asia Clean Capital Ltd. (ACC), the long-term owner of the solar system which is responsible for its design, construction, and running maintenance. Generated electricity will be supplied mainly to the TSUNEISHI GROUP (ZHOUSHAN) SHIPBUILDING factory and office, and surplus power will be sent to transmission networks. This is expected to lower electricity expenses and lower factory management costs sustainably.
A ceremony was held on 3rd August at the Zhoushan factory to mark the completion and launch of the system. Okumura said: "I am delighted that the large-scale photovoltaic project has been safely completed after a year of work. The TSUNEISHI Group, with a history of over 100 years, has positioned shipbuilding as its core business. As one of its overseas bases, the TSUNEISHI Zhoushan factory has proclaimed sustainable growth as its goal and is working assiduously to flourish over the next century. We can aim for this goal only if we have the support of local government, residents, and partner companies. In our spirit of seeking to grow together with the local community, which is part of the TSUNEISHI Group's DNA, we will responsibly address protection of the environment and contribute to the region through our ongoing growth."
– About TSUNEISHI GROUP (ZHOUSHAN) SHIPBUILDING, Inc. –
This shipyard, the Chinese group company of TSUNEISHI SHIPBUILDING Co., Ltd. (Head office: Fukuyama, Hiroshima Prefecture, Japan) located in Zhejiang Province, China, has the capacity to build about 30 vessels per year, centred on bulk carriers in the 30,000-100,000 ton range, as well as containers, tanker vessels and livestock carriers.
URL: http://www.tsuneishi-zs.com/en/
Business: Shipbuilding
Established: December 2003
Employees: Approx. 4,300 (as of December 2016, including subcontractor employees)
Location: Xiushan Island, Daishan County, Zhoushan City, Zhejiang Province, China
Shipyard area: Approx. 1,300,000 square metres
Main facilities: Two berths, one building dock, two 700-tonne gantry cranes, one 3,000-tonne floating crane, etc.
Ship types delivered: Bulk carriers, Container carriers, Tug boats, livestock carriers, etc.
For inquiries, contact:
Marketing Communication Dept., CSV Division,
TSUNEISHI HOLDINGS CORPORATION
pr@tsuneishi.com
+81-84-987-4915