TSUNEISHI Group FY2016 Consolidated Results Achieved sales of over 10 billion yen in the environment business for the first time from diversified business segments
May 29, 2017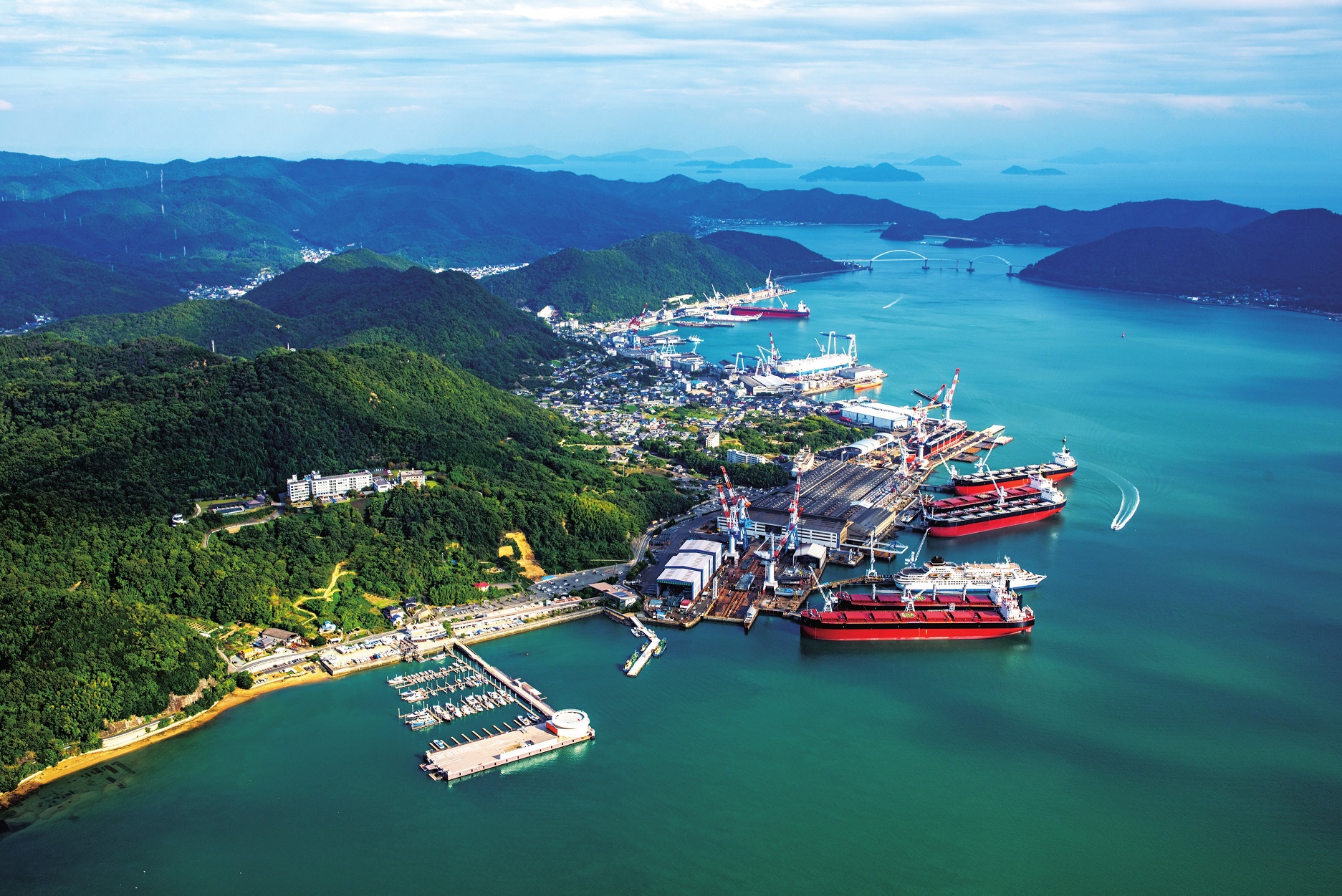 TSUNEISHI HOLDINGS CORPORATION (HQ: 1083 Tsuneishi, Numakuma-cho, Fukuyama-shi, Hiroshima; President: Hirotatsu Kambara) is pleased to announce the FY2016 consolidated results of the TSUNEISHI Group.
Consolidated sales for TSUNEISHI HOLDINGS (32 companies including TSUNEISHI HOLDINGS) in the fiscal year ending December 2016 came to 203.8 billion yen, a year-on-year (YOY) decline of 34.5 billion yen (-14%). By segment, shipbuilding business output was nearly flat with the construction of 45 ships, but ship orders declined markedly due to the impact of last-minute orders before environmental regulations went into effect in 2015. Sales came to 154.3 billion yen, a YOY decline of 24.8 billion yen (-14%). Our shipping business, affected by the dry bulk market downturn, recorded sales of 26.9 billion yen, a YOY decline of 5.7 billion yen (-17%). However, we boosted our sales in the environment business by newly consolidating two companies and earned 11.3 billion yen, a YOY increase of 4.3 billion yen (+61%). Our energy business sales were 18 billion yen, a YOY decline of 4.2 billion yen (-18%) due to falling oil prices and a drop in sales of new/used cars. Sales of our life & resorts business were 13.1 billion yen, a YOY increase of 500 million yen (+4%). MIROKU-NO-SATO, Shimanami Village, and other facilities enjoyed record-breaking visitor numbers, while Bella Vista SPA & MARINA ONOMICHI also maintained its high occupancy rates.
1. Shipbuilding Business                         
Securing orders for various ship types by promoting a strategic product mix
Shipbuilding is the core business of the Group. In response to falling ship prices and ocean freight affected by excess shipping tonnage worldwide, we will promote a strategic product mix and build a structure to accommodate diverse needs. Besides our core bulk carrier ship model, we also construct container carriers, livestock carriers, and tugboats. This has been further augmented this fiscal year with the addition of MIHO SHIPYARD, a new group subsidiary that mainly builds fishing boats. By around 2023, we aim to lower the construction ratio of bulk carriers and shift to other ship types, such as tankers and container carriers. In 2017, we will complete capital investments at the TSUNEISHI factory (mother factory) that have been in the works since 2014, so productivity is expected to further improve.
We will also prepare for the impending labour shortage caused by a declining population and work to improve productivity while maintaining the quality that TSUNEISHI is known for. Ongoing initiatives include research of new technology, joint research with Carnegie Mellon University of leading-edge robotic technologies, etc., and active implementation of IoT with the objectives of information sharing and visualisation.
TSUNEISHI SHIPBUILDING marks its 100th anniversary in 2017. We plan to invest in the next 100 years by updating company uniforms, building new dormitories for unmarried workers, and more.
2. Shipping Business                            
Further boosting synergy of the overseas shipping, logistics, and coastal businesses for active rollout
KAMBARA KISEN's overseas shipping business focusses on liner routes that originate in Shanghai and connect to regional ports in Japan. In addition to sustaining a coordinated business with Regional Container Lines, a major Thai shipping company, we have formed alliances with other shipping companies to provide convenient lines and services for our clients. We have also updated our fleet, selling some of the older ships and retaining newly built ships.
As a logistics company, KAMBARA LOGISTICS had been preparing up to and through 2016 for approval and certification as an AEO customs broker and AEO warehouse operator under the AEO (Authorized Economic Operator) programme. Both were granted on 17th January 2017 by the Director-General of Kobe Customs. As an AEO customs broker, we can develop our logistics business more actively.
KAMBARA TUG AND MARINE SERVICES, which operates coastal shipping, launched the tugboat UTSUMI at TSUNEISHI HEAVY INDUSTRIES (CEBU), Inc. (THI) in the Philippines in 2016, bringing tugboat ownership to eight vessels. In addition to tugboats for large ships, we are also planning operations for transporting floating structures and offering harbour transportation.
3. Environment Business                         
Enriched value chain and improved recycle rate
In 2016, we added TOKO SHOJI and Sunny Creation Planning as consolidated subsidiaries to expand consolidated sales and further enrich the value chain. The TSUNEISHI KAMTECS group of companies makes it possible to offer a safe, trustworthy one-stop waste disposal service to customers with services ranging from sales/environmental consulting, collection/transport, and intermediate processing, to recycling/converting to high-added value and final disposal. As business has expanded, the number of employees has grown exponentially over the past three years (359 as of the end of December 2016, +17% YOY), so this has contributed not only to better sales but to expanded employment as well. With various new technologies, we will address the recycling rate issue and intend to improve this to 75% by 2019 and to 90% by 2021.
TSUNEISHI KAMTECS marks its 50th anniversary in 2017. We will cultivate our services that have been enriched through M&A and aim to further expand our business.
4. Energy Business                            
Expansion of the EV business and sales in Paraguay and the Philippines
In April 2016, TSUNEISHI C VALUES launched sales of electricity in Japan. At the same time, we have been actively developing business in Paraguay and the Philippines. In Paraguay, we extended the sales channels of our existing used parts business to Bolivia. Our plans are to expand in the business of selling and renting out heavy machinery and farm equipment and to roll out manufacturing/sales of compact electric vehicles (EV). In the Philippines, we intend to roll out sales especially of E-Trikes (electric tricycles), golf buggies, and EV, as well as sales and rental of heavy machinery and sales of forklift trucks.
In the EV business, our golf buggies were implemented at JFE Setonaikai Golf Club, and we plan to expand this in Japan and abroad. To develop compact EV, we will design 3D drawings of the body frame in-house and continue to sell these in China, the Philippines, and Paraguay.
5. Life & Resort Business
Brand enhancement and redefinition of "Bella Vista Quality" to reach the next stage
With the concept of "Enhancing the value of Setouchi and connecting it to the future," TSUNEISHI LR operates a broad variety of life & resort businesses to enhance the lifestyles of people of all ages.
Bella Vista SPA & MARINA ONOMICHI is at the centre of our hotel business. Our restaurant Main Dining Erretegia won the Gold Award of the 2016 JCD Design Award, and the Ribbon Chapel won the 57th BCS Prize (2016). In addition to these accolades, the West Japan Railway Company will inaugurate its TWILIGHT EXPRESS MIZUKAZE in June 2017 that includes a stop at Bella Vista, and the Setouchi sightseeing vessel "guntû" will be inaugurated in October 2017. We will take these opportunities to further enhance our brand value and Bella Vista Quality.
In our amusement park segment, we executed initiatives at MIROKU-NO-SATO, in particular the opening of the "Athletic Park" playground in 2016, offering limited-time attractions, and bringing the music festival "Music Resort utatane 2016 Shimanami" to the resort. These successful initiatives contributed to steady visitor numbers. In 2017, our focus will be on the opening of the new "Dinosaur Park" area where 20 "dinosaurs" will emerge. We also plan to roll out seasonal attractions.
- For further inquiries, please contact -
TSUNEISHI HOLDINGS CORPORATION
Marketing Communication Group, CSV Department
pr@tsuneishi.com