Start of operation at the Wakamatsu Steel Factory of an electrical furnace capable of producing steel ingots as large as 60 metric tons a per product
April 8, 2014
TSUNEISHI IRON WORKS Co., Ltd. (TIW) has initiated operation of an electric furnace capable of producing steel ingots as large as 60 metric tons a per product and also producing steel casting as large as 130 metric tons a per product at its Wakamatsu Steel Factory located in Wakamatsu, Kitakyushu, for the first time since the previous owners ceased operation some 28 months ago. The Wakamatsu Steel Factory is currently implementing plans to initiate operation of electric furnaces and other equipment for the manufacture of steel as part of an integrated system for the production of steel stock and machined steel products. In preparation for start of business operations and commercial production as early as this coming summer, TIW is currently proceeding with plans to acquire factory certification from relevant classification societies.
April 8 was the first day of operation both for the electric furnace and for the casting of molten iron, which was preceded by a short opening ceremony attended by TIW employees as well as invited dignitaries to celebrate the new venture and to pray for safe operation. After the ritual ceremony, visitors took a tour of the factory and received an explanation of operations from TIW President Masayuki Zaizen, who expressed his gratitude to the local community as well as to KOBE STEEL, LTD. and others for their cooperation in bringing this project to fruition. The Wakamatsu Steel Factory plans on achieving monthly production of 2,500 tons of steel ingots and 500 tons of cast steel products for a combined total of 3,000 tons by 2017.
TIW purchased this facility, which had previously closed down in May, 2013, and named it the Wakamatsu Steel Factory as part of plans to expand operations in the casting and manufacturing of steel products. In November, 2013, a contract was concluded with KOBE STEEL for the transfer of technology in the manufacture of steel ingots and steel casting products as well as the training of equipment operators for the facilities. The first products cast at the new facility included steel parts for the stern structure of an 82,000-ton bulk carrier for Tsuneishi Shipbuilding. Future plans call for the gradual expansion of sales to companies outside the Tsuneishi Group, both in Japan and around the world.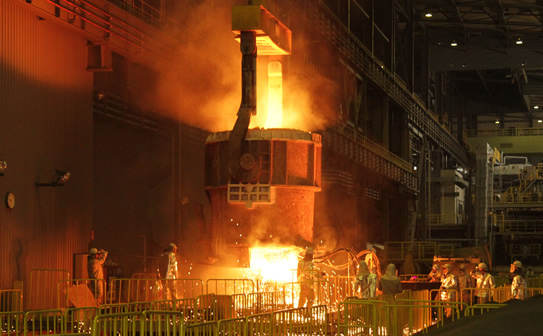 Wakamatsu Steel Factory
Factory Location

43-1, Koyomachi, Wakamatsu-ku, Kitakyushu-City, Fukuoka Prefecture

Total Site Area

Approx. 140,000 m²

Employees

76 (as of April 1, 2014)
TSUNEISHI IRON WORKS Co., Ltd.
President and CEO

Masayuki Zaizen

Business description

Steel Welding Works/ Machining Works/ Outfitting Works

Foundation

January, 1963

Stated Capital

100 million JPY

Employees

290 (as of April 1, 2014)

Locations

Registered Head Office (Fukuyama-City, Hiroshima-Prefecture)
Kusabuka Works/Pipe Division (Fukuyama-City, Hiroshima-Prefecture)
Tadotsu Works (Nakatado-District, Kagawa-Prefecture)
TSUNEISHI IRON WORKS Co., Ltd. is a subsidiary of TSUNEISHI HOLDINGS CORPORATION, which specializes in the shipbuilding and maritime shipping industries. Business activities include the supply of prefabricated hull modules, rudders, propeller shafts, and other component parts of stern structures as well as other outfitting projects to TSUNEISHI SHIPBUILDING Co., Ltd. and other shipbuilders around the world. With subsidiaries located in the Philippines and China, TIW also manufactures steel structures such as floating and fixed bridges.
― Contact Information ―
TSUNEISHI HOLDINGS CORPORATION
Marketing Communication Department
Mail:pr@tsuneishi.com