Trial operation of Japan's first shipboard electrical power supply system begins January 26th Capable of supplying power to an evacuation facility housing up to 500 people
January 24, 2014
Tsuneishi Holdings Corporation announces the start on January 26th of a trial operation at Numakuma Sunpal to test efficiency of a shipboard system for supplying electrical power during an emergency in which land-based power has been lost. This is the first time in Japan that trial operation of this system has been implemented. It involves recharging of multiple electric vehicles, which are then driven to and used to supply power to an evacuation center.
Loss of land-based electrical power networks during an emergency is, of course, is a major concern. This recently-developed electrical power supply system utilizes a generator that is not connected to any shipboard system to supply up to 15 kW of electrical power, which is enough to operate an evacuation facility housing up to 500 people. Ordinarily, vehicle-to-home (V2H) power systems involve the supply of power from a single vehicle, but since facilities like evacuation centers require significantly larger quantities of electrical power than an ordinary residence, it would be highly problematic to supply that much power continuously from a single electric vehicle.
Trial operation of this system involves the use of a ship docked at Tsuneishi Shipbuilding to supply electricity to a designated emergency facility at Numakuma Sunpal by recharging electric vehicles and driving them to the facility, thereby providing a continuous and stable supply of electrical power to the emergency facility and demonstrating the practicality of this approach as an emergency contingency. This trial operation is part of the Next Generation Energy Technology Verification Project initiated in November 2011 by the New Energy Promotion Council.
<System overview>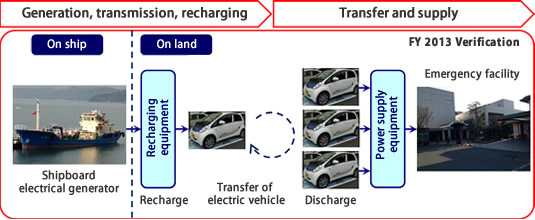 <Date and Venue>
| | |
| --- | --- |
| ■Time and date | :January 26, 2014 from 9:00 AM to 4:00 PM, weather permitting |
| ■Venue | :Numakuma Sunpal and Tsuneishi Shipbuilding Repair Wharf |
― Contact Information ―
TSUNEISHI HOLDINGS CORPORATION
New Business Development Department
TEL:084-987-1216