TESS45 Sets Off Again It's been made more compact to accommodate diverse operation patterns.
April 9, 2012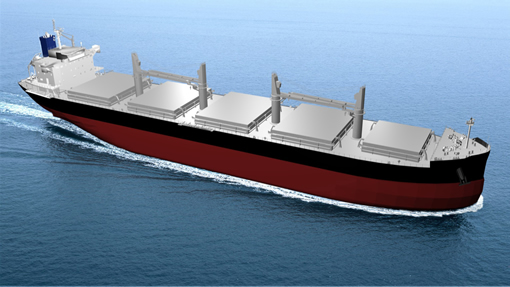 Tsuneishi Shipbuilding Co., Ltd. (hereinafter called Tsuneishi Shipbuilding Company, CEO: Takao Kawamoto) released a new ship, "TESS45BOX," offering customers additional value by downsizing the 45,000-ton bulk carrier, TESS45, which won a high reputation in the 1990's for being able to cover diverse patterns of port calls by 37,000-ton to 45,000-ton bulk carriers, and adopting the box shape. This is the first new TESS45 series model released in a decade.
TESS45 is a successor to Tsuneishi Shipbuilding Company's original TESS40,*1 a model developed for the demand of jumboizing Handymax Bulker by European owners at the beginning of the 1980's. Beginning in 1984, 108 ships were built over 18 years, including TESS40 and TESS45. Since TESS52 was developed to accommodate increased worldwide sea transport, the TESS45 series was not built after August, 2001. But about 900*2 37,000-ton to 45,000-ton level bulk carriers remain in operation and we have been developing this model, anticipating a demand for replacement with the same type of ships, including TESS40 and TESS45.
TESS45BOX was built based on the TESS45, keeping a deadweight capacity of 45,000 tons but shortening the ship length to 183 meters to allow a more flexible choice of anchorage sites. By introducing the new box shape, we offer a versatile ship model suitable for transporting square-shaped cargo including pulp and steel products such as pipes as well as bulk cargo including grains and iron ore. Its box shaped hold enables easy loading and unloading of cargo and increases values for customers by improving efficiency for both cargo handling and maintenance. Moreover, to increase the profitability of operation, fuel efficiency has been enhanced by introducing our new environmental technology and improving the ship shape using knowledge acquired through the development of the TESS series *3 over 30 years.
We are now promoting this ship targeting clients not only in Japan but also overseas, and we've received an order for 3 ships from an amicable overseas ship owner. We plan to start building them at Tsuneishi Group (Zhoushan) Shipbuilding Inc. in 2014.
| | |
| --- | --- |
| ※1 |  It has been developed so that more cargo can be loaded while maintaining the length and width of an approximately 37,000-ton level ship, formerly a major model. |
| ※2 | Researched by us based on the data issued by a shipping market research company, Clarksons Research Services Ltd. in UK. Most were built from the 1970's to the 1980's. |
| ※3 | The first ship model of this series, TESS40 (40,000-ton bulk carrier) was built in 1984. After that, TESS45, TESS52, and TESS58 were developed. On January, 2012, the 300th ship of the Handymax series was built. |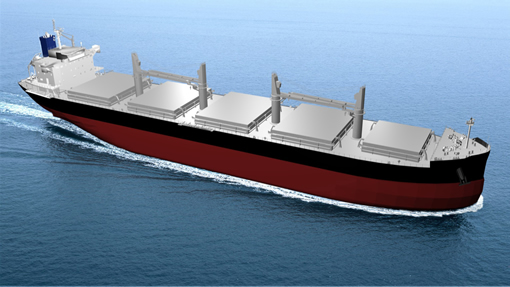 Major Characteristics of TESS45BOX
Type
Deadweight 45,400 mt bulk carrier
Length x Breadth x Depth
About 183 m x 30.40 m x 16.5m
Full Load Draft
11.59 m
Deadweight Capacity
45,400 mt (metric ton)
Main Engine
Mitsui MAN B&W Diesel 6S50MC-C 8.2
Other Characteristics

・Multiple number of wing-shaped structure "MT-FAST" is attached to in front of the propellers.
 By rectifying water flow, the drive efficiency is improved by about 4%.
 It was co-developed with Nippon Yusen Kaish Line's group company, MTI.
・"SEAWORTHY" which reduces resistance of waves at the bow, is mounted.
It reduces resistance of even high waves and up to about 5% of sea margin can be reduced with cargo loaded. It was co-developed with Hiroshima University.
・An accommodation space whose shape reduces wind pressure is included. It was co-developed with Hiroshima University.
・Heavy cargo including steel products can be loaded and the ship bottom structure is strengthened.
・Ballast water treatment equipment is included as standard.

Building Factory
Tsuneishi Group (Zhoushan) Shipbuilding Inc. (Group company in China)
- Contact for this information -
Tsuneishi Holdings Corporation
Company Communication/CSR Room
Miyaso/TEL: 084-987-4915