Wind Resistance of Vessel's Superstructure Reduced by 10%- NYK and Tsuneishi Shipbuilding Jointly Develop New Energy-saving Technology, the MT-COWL -
July 4, 2011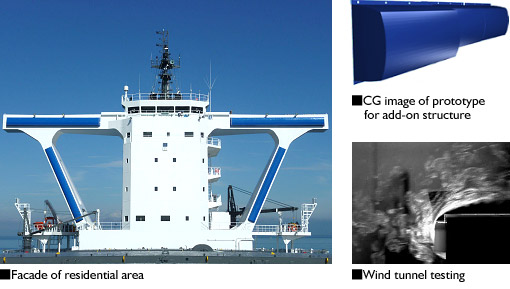 Nippon Yusen Kabushiki Kaisha (NYK Line; head office: Chiyoda-ku, Tokyo; president: Yasumi Kudo) and Tsuneishi Shipbuilding Co. Ltd. (head office: Fukuyama City, Hiroshima Prefecture; president: Takao Kawamoto) have jointly developed a new energy-saving technology called the MT-COWL, which reduces the wind resistance of the vessel's superstructure. A wind tunnel test using a model showed that wind resistance was reduced by 10 percent.1 Applying this percentage to a 180,000 DWT bulk carrier, a reduction in CO2 emissions of 520 tons a year can be realized as a result of the enhanced fuel efficiency.
The innovative MT-COWL technology lowers wind resistance by attaching an add-on structure to the facades of the bridge wings and support pillars for the vessel's superstructure, which creates corners with a slanted shape to reduce the effects of wind resistance. To reduce the wind resistance of the residential area, the two companies have developed various structural forms for the area including a slanted -corner configuration, and applied the structure to an 180,000 DWT bulk carrier that has a wider superstructure than other vessels. Moreover, focusing on the fact that the facades of bridge wings and support pillars account for 30 percent of the total superstructure, the two companies have pursued R&D into shapes and developed the MT-COWL technology, which will further reduce wind resistance.
A prototype of the MT-COWL has been installed on a 180,000 DWT bulker, Cardinal Victory, and tested during the vessel's trial voyage. Cardinal Victory was ordered by NYK Line, which took delivery of the vessel on July 4.
With an eye to applying this technology to newly built vessels as well as existing ones, the results acquired during the shipboard tests will be analyzed and utilized for ongoing R&D activities.
As awareness toward environmental issues is heightened, NYK Line and Tsuneishi Shipbuilding position CO2 reduction as the first priority, and have engaged in joint R&D projects to advance the propulsive capability and environmental performances of vessels. With the aim of reducing fuel consumption, in February 2008 the two companies developed MT-FAST,2 an energy-saving hull appendage fitted to a vessel's hull in front of its propeller, and installed it on vessels built by Tsuneishi Shipbuilding.
※1
Assumed to receive a wind speed of 17 knots (about 9 meters/second wind velocity) at an ordinary navigation speed of 15 knots. The relative wind velocity is calculated as 32 knots (about 17 meters/second wind velocity).
※2
An energy-saving hull appendage that can be attached to a ship's hull just in front of its propeller to catch the energy from the swirl flow generated by propeller rotation. A fuel saving of approximately 4 percent of has been confirmed.
(MT-FAST: http://www.monohakobi.com/en/solutions/environmental/mtfast.html)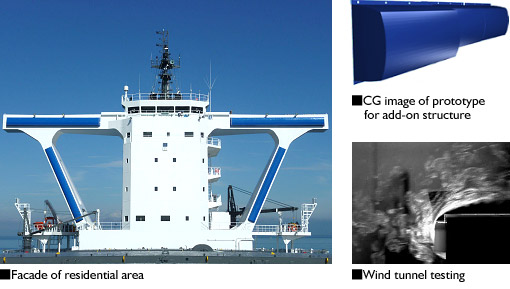 ■About NYK

Nippon Yusen Kabushiki Kaisha is one of the world's leading transportation companies. At the end of March 2011, the NYK Group was operating 827 major ocean vessels, as well as fleets of planes, trains, and trucks. The company's shipping fleet includes 143 containerships, 344 bulk carriers, 57 woodchip carriers, 118 car carriers, 86 tankers, 29 LNG carriers, three cruise ships, and 47 other ships. NYK's revenue in fiscal 2010 was about $22 billion, and as a group NYK employs about 54,000 people worldwide. NYK is based in Tokyo and has regional headquarters in London, New York, Singapore, Hong Kong, Shanghai, Sydney, and Sao Paulo.