The 100th bulk carrier with 82,000 ton loading capacitysince the「KAMSARMAXBC」first one, 6 years ago, has been completed
February 8, 2011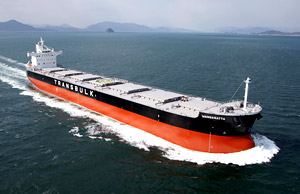 Tsuneishi Shipbuilding Co., Ltd. (Hereinafter called Tsuneishi Shipbuilding Company, CEO: Takao Kawamoto) completed construction of the 100th originally developed bulk carrier with 82,000 ton loading capacity, "KAMSARMAX BULKER*1"named "WANGARATTA" at Tsuneishi Factory (Fukuyama City, Hiroshima Prefecture) on February 8th. Since the first ship was completed in February, 2005, 100 ships of this type have been built within 6 years. This is exceptionally fast, compared to some of the Tsuneishi Shipbuilding Company's other best selling products, including the "TESS"Handymax Series*2, with 200 ships built over 24 years. We have received about 200 orders for KAMSARMAXBULKER ships in total, and our share of 80,000 ton class bulk carriers is over 50%*3 worldwide during the past decade. It became one of the Company's best selling products.
The major characteristic of "KAMSARMAX BULKER" is better transportation efficiency, by increasing the loading capacity of the bulk carrier "PANAMAX BULKER*5" which can pass through Panama Canal*4 from the traditional 70,000 ton class to 82,000 ton ahead of other companies in the shipbuilding industry. To satisfy the needs for larger capacity ships, while maintaining the width needed to navigate the Panama Canal, we focused on the ship's length. From 225 meters as ordinary length of this ship class, we increased length to 229 meters, complying with the port entry limit for Kamsar Port, is a major bauxite shipping port in Guinea. By lengthening 4 meters, we could increase the cargo hold's capacity. Since KAMSARMAX BULKER has increased loading capacity while still able to pass through the Panama Canal, it's popular with lots of customers both in Japan and overseas, and steadily extends the number of completed ships.
At the same time we increased loading capacity, we tackled enhancement of economic efficiency and environmental capability. By improving the bow profile, and attaching energy-saving fin "MT-FAST"*6  to the front part of propellers, we decreased the resistance of waves and water currents and use the projectile energy more efficiently to lessen fuel consumption. We set the goal of CO2 emission*7 reduction per ton mile of our ship and aim for reductions of 40% by 2020, compared to our ships built in 1990. The latest model of The CO2 emission of "KAMSARMAX Bulker" which will be completed after 2014 will create about 12.3% less emissions, with daily fuel consumption of about 30.4 tons.
CEO, Takao Kawamoto said "With the support of ship owners and our dealing companies, who understand the new challenges, I'm sure that our KAMSARMAX Bulker will become a ship model with a strong presence in the nationwide shipping market. We'll continue to improve KAMSARMAX Bulker's environmental capability, fuel consumption, operational profitability, and loading efficiency more and more so that our clients will continue to be satisfied with our ships."
| | |
| --- | --- |
| *1 | It is named after the fact that the ship size is complied with the port entry limit (maximum length, 229 meters) in KAMSAR port which is the major bauxite port in Guinea on the west coast of Africa. We obtained the trademark for this name in Japan, and it is pending in many countries. |
| *2 | It is named after the abbreviation of "Tsuneishi Economical Standard Ship". In 1984, TESS40 (40,000 ton type bulk carrier), the first model of Handymax series of which loading capacity is 40,000 ton to 50,000 ton, was completed. After that, the ship variation was expanded to TESS45, TESS52, and TESS58. In 2007, the 200th ship was completed. |
| *3 | Refer to the following chart. |
| *4 | Important canal for the marine route between Pacific Ocean to the east coast of America. |
| *5 | It is called Panamax Bulker because the ship's width and draft are complied with the passing limitations of Panama Canal among the commercial ships in the business of international transportation of bulk including coal, crop, and iron ore. |
| *6 | The multiple wing-shaped structure which is attached to the front of propellers. By fixing up the water current, the driving efficiency has been improved by about 4%. This technology has been developed, cooperating with MTI Corporation which is a group company of NYK line. |
| *7 | Calculated based on the fuel consumption for transporting 1 ton load in 1 mile. |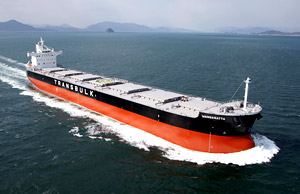 Major Characteristics of KAMSARMAX BULKER "WANGARATTA"
| | |
| --- | --- |
| Type | Deadweight: 82,100 mt bulk carrier |
| Name | WANGARATTA |
| Length×Breadth×Depth | About 229m x 32.26m x 20.05m |
| Deadweight | 82,206mt |
| Gross tonnage | 43,012 tons |
| Main Engine | Mitsui MAN B&W Diesel 6S60MC-C(Mark7) |
| Horse Power | Consecutive max. output: 9,710kw x 97.4 revolution/min. |
| Service speed | 14.5 knots |
― Contacts for this information ―
Tsuneishi Holdings Corporation
Company Communication/CSR Room: Miyaso
TEL: 084-987-4915