Coating Factory starts operation at TSUNEISHI Factory.M Ballast tanks can be coated, following new coating standards.
November 10, 2009
Tsuneishi Shipbuilding Company of TSUNEISHI Holdings Corporation (Head Office:1083 Tsuneishi Numakuma-cho Fukuyama-city Hiroshima, CEO: Takao Kawamoto) established a new coating factory at the TSUNEISHI Factory.Operations began on November 1st. To meet new coating standards, ballast tanks can be coated efficiently at this factory.
The factory is 111 meters long and 90 meters wide, with two lines where air-blast type surface treatment and coating can be done twice. Also, ballast tanks for 14 vessels (KAMSARMAX 82 type bulk carriers) can be coated in a year. The factory also enables the work not to be affected by adverse weather or temperatures, and the work process is secured to a specified work site. We aim to increase efficiency by about 28% by 2011.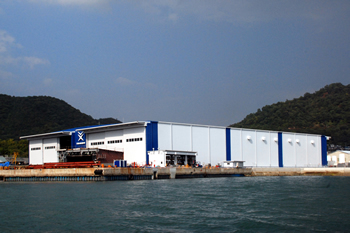 Outlook of New Coating Factory
〈MEMO〉New Coating Standard
International Maritime Organization (IMO) established this standard. This standard will be applied to the vessels which are contracted after July 1st, 2008. Also, all vessels completed after July 2012 are supposed to clear this standard.
This new standard makes requirements including double coating after surface treatment on the ballast tank, a certain thickness of dried coating film, and edge treatment of steel parts.