"Tadotsu Technical Olympics" Technical skills competition held on November 14th
November 12, 2009
Tsuneishi Shipbuilding Company of TSUNEISHI Holdings Corporation (Head Office: 1083 Tsuneishi Numakuma-cho Fukuyama-city Hiroshima, CEO: Takao Kawamoto) will hold the "Tadotsu Technical Olympics" from 8 a.m. on November 14th (Sat.) at Tadotsu Factory (1-1 Hikaghi Minato-machi, Tadotsu-cho, Naka-Tado-gun, Kagawa Prefecture). Participants will compete at technical skills crucial to shipbuilding, including such skills as welding and carrying. Under the theme "Mindful Technique" to train technicians to improve their mental approach to technique, 9 types of competitions for skills including welding and coating painting will be held.
Our Technical Olympics started in 2001 to showcase welding skills at the Tsuneishi Factory. The event has grown every year since, and now it is one of the challenges for the whole factory. At the Tadotsu Factory, this event started from 2006, and this year about 140 technicians will compete.
Any interest the media might have in featuring this event would be quite welcome.
-Note-
Date:
November 14th (Sat.) 2009
Opening Ceremony :
8:00 a.m. to 8:30 a.m.
Competition :
9:00 a.m. to 11:30 a.m.
Judging :
11:30 a.m. to 12:00 a.m.
Announcement/
Closing Ceremony :
12:00. to 12:45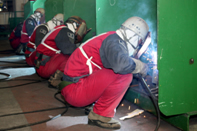 Technical Olympic in the last year
Categories of Competition
Cutting Wide Flange Beam
Bead Writing
Slinging
Mobile Crane Carriage
CO2 Semi-Automatic Welding
Pipe Production
Forklift 0perating
Wire Connection
Free Challenge