Tsuneishi Shipbuilding Company hands over an AFRAMAX Tanker to CLIO MARINE INC.
May 20, 2009
Tsuneishi Shipbuilding Company, TSUNEISHI Holdings Corporation (Head Office: 1083 Tsuneishi Numakuma-cho Fukuyama-city, Hiroshima, CEO: Takao Kawamoto) handed over a crude oil tanker with a capacity of 107,500 MT deadweight (AFRAMAX tanker*) to CLIO MARINE INC. at the Tsuneishi factory.
<Main Specifications>
Class:
107,000 MT crude oil tanker
(AFRAMAX tanker)
Name:
"TH SOUND"
L×W×D:
243.8m × 42m × 21.3m
Deadweight tonnage:
107,687MT
Gross tonnage:
60,205
Main engine:
MAN-B&W 6S60MC-C (MARK7)
Horse power:
13,560kw
Service speed:
About 15.40 knots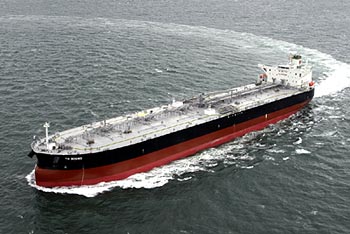 *What's an Aframax Tanker?
"AFRA" stands for Average Freight Rate Assessment, a tanker freight rating system used by tanker brokers in London since April, 1954. Ships fall into one of six classes, depending on their size and capacity.
Today, tankers of approximately 80,000 to 120,000 deadweight tons are called AFRAMAX Class Tankers.