Introducing a new core design system, mainly for 3D-CAD
March 11, 2008
TSUNEISHI Shipbuilding Company of TSUNEISHI Holdings Corporation (Head office: 1083 Tsuneishi, Numakuma-cho, Fukuyama-city Hiroshima, CEO: Katsushige Kambara) is introducing a special core design system for ships, focused mainly on 3D-CAD, and will begin sequential deployment of the new system from April. Using this system, the design process, data, changes in design, and 3D-CAD drawings can be managed together and our company's design system will undergo significant changes. By 2011, the new system will be in use on more than 700 computers.
This solution product for ship design systems is called the "SmartMarine Enterprise," manufactured by Intergraph Corporation (CEO: Gerhard Sallinger, Address: Huntsville, AL, USA). Tsuneishi Shipbuilding Company spent several years examining and comparing various systems and began trial operations last October before making a final decision to introduce this project.
With effortless sharing of common design information, the system will allow ships to be built more efficiently and with greater uniformity than ever before at design offices scattered worldwide, including the Cebu factory in the Philippines and our Shuzan factory in China. Additionally, ready access to the 3D model will permit younger workers and trainees to image ship structures easily so that they can work more efficiently. Based on the input design data, the system can also calculate various values including weight and work hours at the shipbuilding site and will prove very useful in developing new ship designs, considering its target costing for total cost reduction.
Our company was among the top 5 in the world in terms of ship construction volume (2006 figures). Our goal is to achieve 300,000,000,000 yen in sales and become a company holding the top share of the mid-size carrier market, with the highest possible profit margins.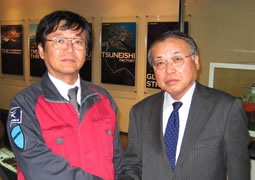 Concluding the agreement
(Yasunori Kobatake, executive director of TSUNEISHI Holdings Corporation and Kazuyuki Umeda, president of Japan Intergraph Corporation)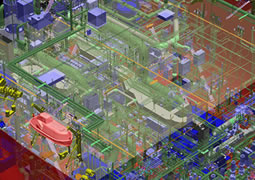 Sample image of "SmartMarine Enterprise"